How to clean your Apple Watch and Apple Watch bands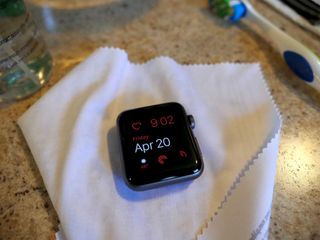 Your Apple Watch is an incredibly resilient piece of technology. It has to be! Not only will folks take their Apple Watches for the occasional swim or dip in the dish-filled sink, it spends quite a bit of its time pressed against your oil-laden, sweat-covered skin. Over time, you'll find that your Apple Watch gets coated in all kinds of grub and grime but it doesn't have to stay that way! With a bit of elbow grease and just a few moments of your time, you can have a sparkling clean Apple Watch again!
How to clean your Apple Watch
Before we begin, I want to point out that Apple says you should avoid using soap, cleaning products, abrasive materials, compressed air, and heating devices (like a hair dryer) when you clean your Apple Watch. That said, I've used mild cleaning products and soap to clean a number of Apple devices without issue. I would suggest avoiding abrasive materials and heating devices at all costs. Apple explains why:
Unless you've got a seriously grimy Apple Watch, all you're going to need is a microfiber cloth and some water.
Do not clean your Apple Watch while it's connected to the charger. Fresh, purified water — especially distilled water — is your best choice for cleaning your Apple Watch. Purified waters contain less chemical compounds (other than H2O) so they're far less likely to interfere with the electrical components of your Apple Watch.
Turn off your Apple Watch.
Dampen your (nonabrasive) microfiber cloth with some water and wipe clean your Apple Watch.
Dry your Apple Watch with a microfiber cloth.
How to clean your Apple Watch's Digital Crown
If you've ever gone to spin the Digital Crown on your Apple Watch only to find it resisting movement or sticking, this is how you remedy the situation!
Turn off your Apple Watch.
Turn on your faucet and adjust the temperature until the water is warm.
Hold the Digital Crown under the stream of water for about 10 to 15 seconds. If you've got a leather band on your Apple Watch, remove it before sticking your Watch in the water. Nylon, metal, and fluoroelastomer bands are fine.
While it's under the stream of water, turn and press the Digital Crown. As long as water is running between the space in between your Apple Watch's housing and the Digital Crown, you should be able to dislodge any debris with this technique.
Dry your Apple Watch with a microfiber cloth.
If you've got a stainless steel Apple Watch and need to do some deep cleaning, check out this piece from my colleague Daniel Bader:
How to clean, buff, and remove scratches from your stainless steel Apple Watch
How to clean your Apple Watch bands
Just like the Apple Watch itself, your Apple Watch bands are likely to get grimy over time — especially if they're porous. You can give your bands a nice, thorough cleaning with these techniques!
In the interest of limiting wear and tear or accidental damage, Apple is pretty conservative in its suggestions for cleaning your Apple Watch bands. Here's what the company recommends:
In my experience, a lightly dampened cloth was not enough to clean away the dirt, lint, and grime that collected on my most worn band (a black woven nylon band that, sadly, Apple doesn't offer anymore). With the knowledge that it runs counter to Apple's official recommendations for cleaning your bands, here's what I do to clean my nylon Apple Watch bands (for metal and leather bands, I adhere to Apple's guidelines).
Gather your supplies:

Some paper towels
Your nylon Apple Watch bands
A bowl
Warm water
A spare toothbrush with soft bristles
Mild soap

Add the warm water and a touch of mild soap to the bowl.
Drop your nylon Apple Watch bands in the warm water and allow them to sink to the bottom of the bowl.
Remove your nylon Apple Watch bands from the bowl shortly after they sink to the bottom (this means they're saturated with water).
Place your nylon Apple Watch bands on the paper towel(s) and gently brush the surface of your bands with the soft-bristle toothbrush.
Repeat steps 3 - 5 for particularly pesky grime.
Dry your nylon Apple Watch bands by patting them with a dry paper towel (do not scrub).
Allow your nylon Apple Watch bands to air dry (can take up to several hours).
Questions?
That's all it takes to get your Apple Watch and Apple Watch bands so fresh and so clean (clean). If you have any questions about the process, be sure to leave a comment!
Master your iPhone in minutes
iMore offers spot-on advice and guidance from our team of experts, with decades of Apple device experience to lean on. Learn more with iMore!
Mikah Sargent is Senior Editor at Mobile Nations. When he's not bothering his chihuahuas, Mikah spends entirely too much time and money on HomeKit products. You can follow him on Twitter at @mikahsargent if you're so inclined.