How to control what photos, statuses, and check-ins your friends tag you in with Facebook for iPhone and iPad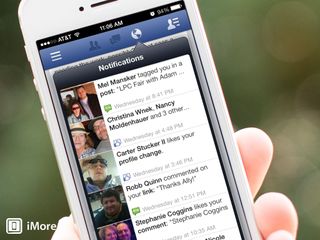 We've all had those times where our friends and family members upload Facebook photos of us that we preferred they didn't. At that point, your option is really to delete the photo or hide it from your timeline. And what if you don't want your location shared but friends start checking you in places without your knowledge?
If you prefer screening the content people tag you in before it ends up on your Facebook timeline, you can easily do so by changing some account settings. Here's how:
Launch the Facebook app from the Home screen of your iPhone or iPad.
Tap on the menu icon in the upper left hand corner.
Scroll down and tap on Account Settings in the left hand navigation menu.
Under the top section titled Who can add things to my timeline?, tap on the second option labeled Review posts friends tag you in before they appear on your timeline?
SImply turn this option to On.
That's it. You'll now be notified when you get tagged not only in an image, but in a status or check-in and you'll have to approve it. If it's something you don't want your Facebook friends seeing, just dismiss it and it'll never get published to your Facebook timeline.
Do you use privacy settings like these for Facebook to prevent information you don't want shared from ending up on your timeline? How has it worked out for you?
iMore senior editor from 2011 to 2015.
Am I right in saying that this doesn't stop these posts being shown in friends news feed? This is where most tags in photos, check-ins and status's will be seen first regardless of whether you stop it from being posted on your own personal timeline.
Thank you for signing up to iMore. You will receive a verification email shortly.
There was a problem. Please refresh the page and try again.