How to control your Philips Hue lights when you're away from home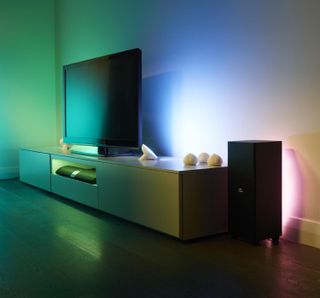 (Image credit: Philips)
Whether you simply forgot to turn out the lights before you left home or, for security reasons, you want to make it look like your vacant home is occupied, you can control your Philips Hue lighting setup whilst you're away from your house.
If you'd like to add a Philips Hue set up to your home, I'd recommend going for one of the starter kits since it includes the necessary HomeKit-enabled Philips Hue bridge.
See at Amazon (opens in new tab)
There are two methods for remote control: the Philips Hue app and Apple's HomeKit. Let's take a look at how to set up both methods!
How to set up remote access with the Philips Hue app
By logging in to the Philips Hue app with your Philips Hue account, you can use the Philips Hue bridge to control your lights while you're away from home and set up location-based triggers to turn on the lights when you arrive and turn them off when you leave.
Launch the Hue app.
Tap Explore.
Tap Log in to My Hue.
Tap Log in.
Enter your Philips Hue account details and tap Log in.
Tap Yes to indicate you trust the Philips Hue app.
The app will indicate you're Logged in.
How to set up remote access with HomeKit and the Home app
Using HomeKit to control your Philips Hue setup while you're away from home actually means using a so-called Home Hub to control your devices. A fourth generation Apple TV and an iPad can both function as a Home Hub — they take in the commands you dictate while you're away and communicate that information to the devices on your home network.
How to make your Apple TV a Home Hub
Open Settings on your Apple TV.
Scroll down and click to open Accounts.
Make sure you're signed in with your Apple ID.
Click to open iCloud.
Scroll down to HomeKit and check to see that it says Connected.
If the HomeKit setting reads Not Connected, click to connect.
How to make your iPad a Home Hub
Launch Settings on your iPad.
Scroll down and tap Home.
Tap the switch to enable Use this iPad as a Home Hub.
If you have trouble getting your Home Hub set up, head here for some troubleshooting tips:
How to make your Apple TV or iPad a Home Hub
Once you've got your Home Hub all set up, it's as simple as launching the Home app or talking to Siri to control your Philips Hue lights! Your commands will make their way to the iPad or Apple TV you've got at home and it'll tell the Philips Hue bridge what you want to make happen. The bridge will take those commands the distance (to your lights) and BOOM! — your living room lights have been turned off while you're away from home.
Questions?
Run into trouble trying to get remote access set up? Want to learn more about Philips Hue lights? Let me know in the comments or over on Twitter and we'll get things figured out!
Mikah Sargent is Senior Editor at Mobile Nations. When he's not bothering his chihuahuas, Mikah spends entirely too much time and money on HomeKit products. You can follow him on Twitter at @mikahsargent if you're so inclined.
IFTTT works for time-based automation away from home for those who don't own an Apple TV or don't have an iPad logged into the same iCloud account as your HomeKit Home's owner.

Too bad if you lose power while you're away, when the power comes back the lights will stay on and you won't know until you get home.

I wouldn't be surprised if some HomeKit/IFTTT solution in the future can notify you when power is restored (even if it can't notify you of power loss). Until then, it is true that Hue lights will all come on when power is restored, but I don't think it's a big deal. Hue lights are all LED, which don't use a whole lot of power, so having some lights on for a few hours extra will cost pennies. If you're really worried about power failures at home, you could purchase something like the iSocket 3G, which uses a small device with a battery to notify you via cellular networks that your power is out, but at $199, you'll never break even with any savings you get from being able to log in and turn off your Hue lights remotely after a power failure.

Thanks I was worrying that I couldn't control them without being home which honestly would defeat the purpose.

Good luck doing it with the Apple HomeKit when you are away from home. It used to work, but now I just get "updating" or "no response" when I'm not at home. Doesn't matter if the Apple TV gen 4 is on or off or the ipad. The only way I can control them is with the HUE app, which is, honestly, not very user friendly. I've been in the "industry" for nearly 30 years and cannot get this to work and I see that I'm not the only one, as it is more often than not an issue for most other people.

I'm confused as to whether I should use the Apple Home app or the Hue App for automation. for example, I can schedule the light to turn off at a certain time in both apps. which one should I use? do I have access to the same features in both apps? say I want to have the white bulb turn on at a certain time and slowly bright until reaching full brightness, can both apps automate this behavior?
Get the best of iMore in in your inbox, every day!
Thank you for signing up to iMore. You will receive a verification email shortly.
There was a problem. Please refresh the page and try again.