How to replace the back cover of an iPhone 4 or iPhone 4s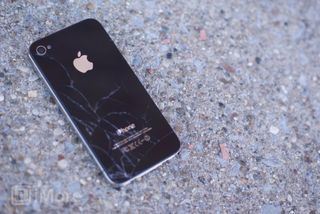 Not only that, this particular iPhone repair is one of the simplest of them all. The process is the same for both the iPhone 4 and iPhone 4s. Replacing the back panel also fixes any issues you may have with a hazy camera or cracked lens since it's built in to the back panel. So if any of these issues sound like you, follow along and we'll walk you through.
(opens in new tab)
Anytime you make any hardware repairs, make sure to do them in a dry, clean place. You don't want any liquid or dirt getting inside your device. I typically perform repairs on a cool, clean surface and use a few white sheets of printer paper. The paper makes it easy to spot screws. As always, be careful. With this particular walkthrough, remember that if you ever need to take your phone back to Apple for repair or replacement, you'll need to replace the default back.
What you need to replace the back of an iPhone 4 or iPhone 4s
iMore recommends using only quality and genuine parts from a reputable supplier like eTech Parts. They have quality parts, tools, and much more for all your repair needs.
Note that the back covers are different for different models of the iPhone 4 so be sure that you select the correct link below. For example, if you have a Verizon or Sprint iPhone 4, you'll want to choose the CDMA back cover in whatever color you want. If you have an AT&T iPhone 4, you'll want to choose the GSM in whatever color iPhone 4 you have.
You can of course browse eTech's site for colors and designs. Many other companies make them as well. Just be aware that some backs that aren't OEM could cause reception issues, especially if they're metal. They also could be low quality. So just be certain you're checking reviews or asking for feedback before buying a non-stock back cover.
Taking off the back casing
(opens in new tab)
With a #00 Phillips screwdriver, carefully remove the 2 screws located on each side of the charging port
Set the screws aside
Hold your phone with both hands and firmly but gently slide the back casing up by applying even pressure and pushing up
The back casing should simply slide up, you should then be able to lift it up and set it aside
Putting on the replacement
Line up the casing by sliding it in place from the top (slide down, opposite of how you removed the original back)
Firmly (still gently) slide the casing into place, you should hear it click into place
Replace the 2 screws by the charging port. Be careful not to screw them in too tight, as you could strip them.
(opens in new tab)
You're done! You can now enjoy having a different back on your iPhone 4. This is great for users who have been waiting for the white iPhone as long as you're okay with the front not being white. (The front panel is replaceable as well, but the process is much more extensive.)
If you've modded your iPhone 4 (or any iPhone for that matter), post your pics in our forums and let us know how it went!
Get the best of iMore in in your inbox, every day!
iMore senior editor from 2011 to 2015.
I put that same back on my iPhone, i love it

Thanks! I had no idea it was so simple. That stainless steel back looks really nice!

I need to get that back, I wish they weren't on backorder right now. Sweet looking.

I put a flat silver colored back on mine.. the one in the pic is gun metal.. or grey and beveled.. Didnt want to add bulk to my phone.. I love it though.. it matches the rest of the iDevices and macs now.

Thanks for the info. I was wondering how this worked...looks pretty easy to me.
BTW, looks like you can order a new back here:
http://cnn.cn/shop/advancedsearchresult.php?keywords=metal+iphone+4&image.x=0&image.y=0

Mine is taking forever to get here. Ordered it a month ago!

I thought Apple was replacing the Phillips screws with Torx screws now.

Does the apple bumper still work with this?

When I put that back on my phone my bars disappeared and my reception was horrible. It sucks because I love the look.

Much simpler than the 3GS, and the 3G

I'd get it if my parents would let me.It seems so worth it. You shuold probably go to your Cingular/AT T dealer and see if they have a sample or something. That's what I would do if I was even considering buying it

impossible richard.
the steelband that goes around the device is the antenna

Oh, and the new "Torx" screws are five-point, not six. You won't find them at your local store or anywhere else yet. Apparently, the new units are coming with them, and if you take an older phone in for service that's what you get back.

@webvex kinda sucks but you could get some putty of some sort and stick it in a screw. Let it dry and you have a makeshift screwdriver.

Tipb is a little behind I see. Maybe copying someone else video. On the 19th on youtube another person from another site made a video using the same back and explain how to change it. Take a look.http://www.youtube.com/watch?v=r-96jZDHKE&feature=playerembedded Look how close they look alike.

Let my correct this. Not exact the same. Sorry. Just the same cover from cnn and how to change it.

Posted on Thanks so much for this post. As a writer, my trauanl inclination is to stay in my cave and write my books. Marketing is hard for me, but your tips are things that I can do!Katherine KaneTraining The City Dog(available on Amazon)

Can I put on the mophie air pack case, If I use the metal back case.

I had that back on and my signal in poor reception areas (work) went from bad to worse. So I'm back to the stock glass.

Guys, a new casing on an iPhone 4 should have nothing to do with bad reception. The antennae is in the band. A back will not affect reception.

Allyson, Dan
I had the problem of signal reception when I put this back on my iPhone 4. I ordered the silver metal back without the bevel. While my signal didn't disappear completely it did drop one or two bars and when in a fairly low service area such as where I work where I only get 1 or 2 bars in the building, i could only get 1 bar and would drop into edge pretty easily and even searching and no service a few times whereas I have never not had service with the glass back or even my 3GS when I had it

Antennae? Do you have bugs in your phone? Perhaps you meant "the antenna is" or "the antennas are". At any rate, without trying this myself, I would think that a large sheet of metal in close proximity to the antennas could affect the signal. For one thing, you could have a shorting issue like antennagate, where your hand conducts between the antenna and the metal back. Even though the back isn't an antenna it could affect the impedance and tuning.

If the back is a conductive metal, couldn't it affect signal strength if it is in contact with the antenna?

Allyson. Would this process be applied when replacing a shattered back with a new one? If so, would save $$.
A website called Missionrepair.com did a great job in repairing my shattered backing for around $100 with shipping.
Ordering a new glass back and repairing it yourself should save you money.

Does replacing the back replace the lens cover as well? Mine is really scratched. Not sure if it affects images, but I can't believe how scratched it is.

Just as the glass back is not solid glass, the "metal" back is not solid metal. it's plastic on the inside just like the glass back. So there should be no signal interferance. In fact I'd go so far as to say the metal back is a plastic finish and not actual metal. I love my metal back and its very durable, no signal loss. Ordered from cnn.cn

BTW. Just checked Missionrepair.com and they will replace a shattered back plate on iPhone 4 for less than $50.00 with shipping. Less than half of what I paid a few months ago.

Guys as one user pointed out, the backs are still plastic, not metal. Still not buying the loss of signal stuff. Sorry. I had no loss whatsoever with this back and I had it on for a full month. Maybe longer.

/ Easily, the publish is rlealy the greatest on this laudable topic. I concur with your conclusions and will thirstily look forward to your future updates. Saying thanks will not just be sufficient, for the fantastic lucidity in your writing. I will instantly grab your rss feed to stay privy of any updates. Solid work and much success in your business enterprise!

Now go into camera
The case shows a black shadow around the top and bottom edges if the camera

Been wearing that back for a little while but after about a month it broke where the screws hold it on ao had to go back to glass and being super careful not to shatter it :/

On my old iPhone 3G I put a red back and then a few months later a blue back on and I'd say it was worth the hassle for any DIY person

And I'm only 15 so if I can do it. Anyone can

Oh yea forgot that if you don't experiance the problem the surely it doesnt exist lol.
Go stick a key next to the antenna on these phones and watch the signal drop. Same theory. It's in the vicinity of it and it messes with the reception. Maybe not for all of us but for some of us it does.

Bonjour j\'ai telecharger le fwrmiare 3.1.2 au moin 10 fois et c\'est toujours le meme fichier mais quand je veux downgrader mon iphone c\'est a dire passer de la 3.1.3 a la 3.1.2 je fait shift + restaure9 sur itune je veux ouvrir le dossier mais sa me dit aucun element je peut pas ouvrir le fwrmiare et je comprend pas pourquoi pourtant c\'est un format ipsw mais ce que je ne comprend pas aussi c\'est les gens qui on laisse9 une vide9o l\'on sur leur bureau mais c\'est une icone avec une note de musique tous sa une belle icone alors que moi sur mon bureau c\'est un dossier jaune normal quoi il doit me manquer un logiciel ou autre surement pouvez vous m\'aider?

would this void warranty??

If they knew about it yes. If you have to swap it just put the old back on.

I ordered the same case 3 weeks ago, but I think I may have gotten a defective one. Somehow the screws are not being held by the case. The original iPhone 4 Case has metal inside where the screw goes but the replacement case is al plastic and just has the holes. So Therefore If I slightly push the case it will slide off easily. Anyone else had similar problems

How's about the front! Mine is cracked. Another vid pls...quoted about $130-150 to replace!!!

@StevO Jobso I also found that I had that issue when I removed it from my phone.

@Jason - I never said that. I've seen several people replace backs on phones. I think people exaggerate issues that aren't there. Like anntenagate, that was ridiculous as well. All phones lose reception if you hold them where the antenna is covered. Things are frequently blown out of proportion.
@StevO Jobso
i noticed this on one of my backs. the left screw would continuously rotate no matter how tight i tried to screw it in, it never took. i think this problem has to do with the plastic, as you stated. the hole is a tiny bit too big and the screw just turns and turns and never catches. if you have this issue, send it back and request a new one. the holes can be hard to cut exactly to size. the one i got from cnn.cn was perfect
@Daniel - if you would have watched the video, you may of noticed i already mentioned this. when i took pics with flash, i got a bit of black or white in the right hand corners of the pics, due to the flash reflecting off the casing back to itself. a little annoying but i use flash about 1 time a month, if that, so it never bothered me.

Why does tipb not support html5? Huge, huge fail! Over 54% of ALL websites have support, but the one site that makes all their money talking about apple FAILS to support it?!? Huge, huge, huge, EPIC FAIL!!!

no the argument was whehetr your stupid ass comment was serious, because it was so dam stupid. hes black. stole an item he couldnt afford and didnt wanna work for. end of story. your 10 years old. get off youtube

I put the brushed aluminum back from cnn on my iphone as well. I love the look of it but I was disappointed that the apple logo and fcc info was not protected at all. I didn't want it to get scratched off in pocket sliding so I sprayed it with polyurethane before I installed it. It worked awesome...its like I have a homemade invisible shield on my phone (i covered the camera lens with a custom cut piece of screen protector and removed it when finished). I do have the stripped screw hole issue, but I use the apple bumper on my phone so I don't have to worry about the back coming off or the screws falling out. I'm sure you could fill a stripped hole with gorilla glue, let it dry, then rethread with the screws as well if that issue bothers you. Home Depot plus iPhone parts...who would have thought they would benefit each other!

Thanks! Great video. I'm not typically very brave in taking apart my stuff, but I could do this! Thanks for explaining how. Would love a video on exchanging front also. I know that one is a lot more complicated. Anyway, good job!

Thanks for explaining how to do this. Normally I wouldn't attempt to try something like this, for fear of shattering the glass, but you made it look super simple, that I think I could handle this. Great video, and very much appreciated. =)

@allyson
little late i know, dont know if you will see it but..
"Like anntenagate, that was ridiculous as well. All phones lose reception if you hold them where the antenna is covered."
no one is arguing that, certainly not me at least. but the issue is, with the iphone 4, you can easily cover the antenna with for what most people would consider a normal holding position. metal in the area will also effect the antenna on this phone, look up youtube videos where people will lay it on a table, take a key, and put it in the vicinity, not touching, just near the antenna and they loose service. this metal back could easily do the same and it does for a few of us. me being one of them. although it doesnt effect me that much, it still does.

It took over a month to arrive, then took me 10 minutes to swap the back. Sadly, it also took about 10 minutes for the apple logo to scratch (didn't think about coating with polyurethane).
I'm still fairly happy with it - I know front from back when I pick it up, which is what I was going for.

To:LovI have the newest version of iPod touch and your suppose to hold it down 4 seconds NOT tap it 2 times

Posted on Good info. Loose Park is easily the nseict park in Kansas City, however the Nelson Art gallery/Volker Park is my favorite night time park.For all the guys out there, if you're out on a date, take your girl there and it's in the bag.

The World Political field has gone to crap over the past couple elections due to extreme polarization. We need to stand up for our rights and take back our world from Big Pharma, Big Tobbacco, Big Insurance and really just big companies. It is time for our elections to stop being stolen.

Woow great way to fix it, would take some time to be care full . :)
Thank you for signing up to iMore. You will receive a verification email shortly.
There was a problem. Please refresh the page and try again.