How to fix Bluetooth connectivity problems in macOS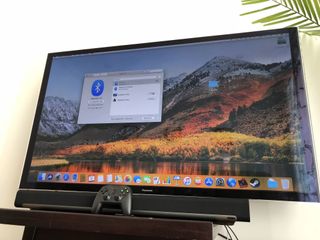 Last month, I found out that Valve's Steam Link application was coming to iOS and the Apple TV. Then I found out it wasn't. Now maybe once again it is? In any event, I got tired of the back and forth and I rolled my own "Steam Link" setup having my television connected with Steam in home streaming to my old MacBook Pro and bluetooth wireless controller. Unfortunately I ran into connection issues with my Nimbus Bluetooth controller (opens in new tab) and this is how I fixed it!
Some warnings
This fix will in reality be a reset of sorts. All of your currently connected devices will lose their connections and will have to be re-paired. So if you are using a Bluetooth keyboard and mouse while performing these steps, you WILL get disconnected!
Also be warned that you'll be using the command line interface with elevated super user privileges and any mistakes can cause your system to become inoperable. Be careful to accurately follow these instructions.
Resetting your Bluetooth configuration
If you're getting long connection hangs and cryptic connection errors, give these steps a try:
Start System Preferences.
Select Bluetooth.
Click Turn Bluetooth Off.
Open terminal.
Type: sudo rm -R /Library/Preferences/com.apple.Bluetooth.plist.
Hit Enter.
Type in your user's password.
Hit Enter.
Restart you Mac from the .
Once restarted, navigate back into System Preferences.
Select Bluetooth.
Click Turn Bluetooth On.
Retry your Bluetooth pairing.
If all went well you will now be able to pair your ornery Bluetooth devices. Make certain to re-connect all other Bluetooth connections you may need as well.
Some background information
For those of you not into gaming, Steam Link allows you to stream games on the Steam platform from a powerful PC in your home to any other television in your home that the Steam Link device is connected to. Alternatively, if you have Steam installed on your Windows PC, Linux PC, or Mac, you can also stream your games to less capable devices also running Steam so that you can play virtually anywhere in your home on any computer.
Final comments
There you go! You'll be Bluetoothing all the things in no time! Do you have any connectivity issues you're dealing with? Have you solved your own Bluetooth issues in another way? Let us know in the comments!
Also note resetting the bluetooth module may help. A very well hidden menu, From the desktop, press both Shift and Option and then click on the bluetooth icon on the top menu, and you will see a new "Debug" menu on the dropdown menu. On that menu you will see "Reset the Bluetooth module" among other debug options

Thank you for the great tip!

Pretty much useless, unless you a) delete the bt cache before resetting, b) reboot your Mac right after resetting.
In reality, all these voodoo dances mean that your Bluetooth firmware is a bit off - either dig the not installed firmware updates in the EFI volume of your boot disk (disk0s1 usually) and try to figure out how to (re-) install them; or Google for 'brcmpatchram'/'brcmfirmwarerepo' and READ CAREFULLY - in case youve got a Broadcomm chip AND its firmware is loaded via USBRAM (as opposed to burned in the BT controller's EEPROM or other type of programmable nonvolatile memory (flash or whatever) - your symptoms are usually a 'working' bt controller (meaning you can see it in the devices in 'about this mac'), that can be turned on/off but cannot see/beseenby other bevices (seen this happen a lot on macmini 2014).
Get the best of iMore in in your inbox, every day!
Thank you for signing up to iMore. You will receive a verification email shortly.
There was a problem. Please refresh the page and try again.