How to flag an email message on iPhone and iPad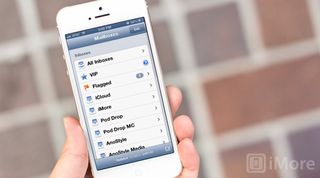 If you get an email that you want to easily find again later, maybe to follow up, maybe just to keep handy, you can flag it right in your iPhone, iPod touch, and iPad Mail app. Flagged messages are easy to spot, thanks to an icon, and even easier to find, thanks to a dedicated smart mailbox that keeps them all handy.
Launch the Mail app from the Home screen of your iPhone, iPod touch, or iPad.
Tap on the Inbox or other mail box that contains the message you'd like to flag.
Tap the Edit button in the upper right hand corner.
Tap on the message or messages you'd like to flag. They'll get highlighted.
Tap on the Mark button in the lower right hand corner.
Tap Flag.
An icon will appear next to the message so you'll know it's flagged.
Once you have a message (or messages) flagged, a special Flagged mailbox will appear in your Mail account list. Tap on it to see a list of all your flagged messages.
If you ever want to unflag a message, you'll repeat the same steps as above and choose Unflag the second time around.
Get the best of iMore in in your inbox, every day!
iMore senior editor from 2011 to 2015.
Why wont my flagged email in Mail.app transfer to Mac Mail?

It should be noted that this does not work with Exchange email accounts.

Rubbish. I think what you meant to say is "this does not work with Exchange *2003* email accounts". It works perfectly with exchange 2010 and exchange 2013. Also of note - you don't need to go through this long winded procedure. There is a flag button at the bottom of each email. Cheers, wizdude

Do you have any idea why my "flagged" emails would get "unflagged"? I have several messages that I want to keep flagged however over a period of a couple of days the message is still there but it is no longer flagged so I have to go looking for it. Thanks!
Thank you for signing up to iMore. You will receive a verification email shortly.
There was a problem. Please refresh the page and try again.