How to follow the 2014 Formula 1 season on your iPhone and iPad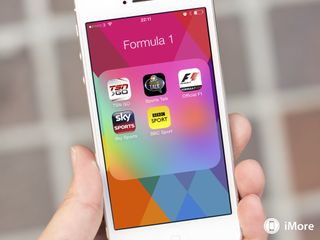 The 2014 Formula 1 season is officially here! It may seem like only yesterday we were watching the 2013 Brazilian GP wrap up the season, but a new one is upon us. Rule changes galore, drivers switching teams, it's all shaping up to be one fantastic season. And you can follow it all using your iPhone or iPad.
As much as we might want to be glued to our TV's watching every last minute, it just doesn't happen. But, with a smartphone in our pockets or a tablet in our bags we need never be too far away from the action. It's a shame it often depends on where in the world we are as to the apps available, but let's take a look at a few!
Updated just in time for the new season, the official timing app is now a free download supplemented by in-app purchases. This is an improvement on years past, where you'd have to cough up a substantial amount of cash up front just to download.
It's a little buggy and a little laggy at times, but you're going to get the absolute best F1 data from it of any app out there. Live timings on race day is a particularly awesome thing, and gives you a real second screen experience while you're watching the race. Or keeps you firmly informed if you can't be near a TV or the racetrack. The premium features are unlockable for $10.99 but if you just want the basic news and information it's completely free.
Sky Sports and Sky Sports Mobile TV
In the UK, Sky Sports has the main rights to broadcast coverage, and it's generally doing a pretty good job with it. The good news is Sky also has a healthy supply of mobile apps to complement the TV offering. Sky Sports has a dedicated F1 section with all the news and session timings for each race – though nowhere near as detailed as the official app – and driver bios.
Mobile TV is exactly as it sounds. The advantage to this over Sky Go is that you're not required to have a Sky Sports TV subscription to use it, you sign up for a mobile subscription. Sky Sports F1 is one of the channels included, and the £9.99 a month is worth the outlay for it should you be in need of watching the racing on your phone or tablet a lot this season (you also get access to all other Sky Sports channels for that price.)
A shout out to the other best app in the UK for following F1, and that's BBC Sport. BBC also has rights to cover the F1, and its BBC Sport app is arguably better than anything Sky has to offer. Video clips, news, radio coverage, all are available here. It's a pretty great all round sports news app, and it'll keep you well informed with all things F1 as well.
For our Canadian friends, TSN Go will be one of the better ways to get your fix. If you're a subscriber to the TV channels through a compatible service you'll be able to watch live TV. If you're not, you'll still be able to keep up with all the news and goings on from the paddock. But it's the mobile access to live TV – complete with commentary from the BBC team of Ben Edwards and David Coulthard – that makes this one a must have for Canadian fans.
For American F1 fans, NBC is the place to go for your main source of live action. Fortunately NBC also has a couple of mobile apps that will help you keep up on the go. To get most of the live video content through Sports Live Extra you need to be a cable subscriber of course, but it's at least an option. The app does have some odd interface choices, but you can set reminders for the live coverage so you never miss a session.
So, thats just a few of the apps out there to help you get your Formula 1 fix for the 2014 season. If you've got any personal favorites, be sure to share and drop them into the comments below, and let us know if they're specific to any part of the world!
Get more iMore in your inbox!
Our news, reviews, opinions, and easy to follow guides can turn any iPhone owner into an Apple aficionado
Awesome! Never expected to see this on iMore. Cant wait for it to start this weekend! Should be an exciting season. Hoping Vettel doesn't win a 5th WDC in a row....

Thanks Richard! I do like my F1 coverage, but I'll never spring for the live timing because I'm usually asleep. Most races are at about 05:00 Pacific, and I'd rather not get any spoilers before I watch DVR-ed races. Will be fascinating to watch the dawn of Turbo Era 2.0.

this is exciting, thanks! Didn't see that happening on a more or less American page either. :) all the more appreciate this post. The official f1 app looks amazing on both phone and pad... will be tough to decide which device Ill put next to the TV this weekend. Seems the perfect companion.

The TENplay app streams races in Australia on both iPhone and iPad (also desktop on their website). It's also free.

TENplay? Just in the aussie app store? Cant find it in Canada.

I think so. You can watch online at http://tenplay.com.au/sport/formula-1/live-stream but it's possibly restricted to Australia only... which is easy enough to bypass.

Hola! I will say no more. Also global time app with alarm if you happen to live in country like Canada where F1 coverage (post-Villeneuve) is atrocious and you rely on internet streaming for practices, pre-race show and post race interviews. Sent from the iMore App

Whats the name of the app? Hola? I'm in Canada too, and i hate TSN's coverage.