How to get notified when someone Messages your name on OS X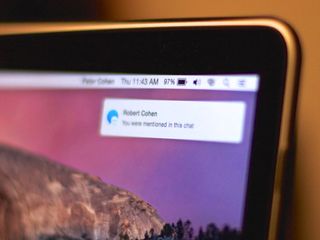 There's nothing more embarrassing than being part of a group conversation and missing some of it because you didn't know they were talking to you. If you'd like to make sure that when someone mentions you, you see it, follow these instruction to get the most out of Messages in OS X Yosemite.
This doesn't just work with iMessages: If you're on a Yosemite Mac that's linked to an iPhone, and you're using iOS 8 and Yosemite's Continuity features to get regular text messages sent to your Mac, Messages will also ping you on iOS, too.
To get notifications when someone messages your name
Open Messages.
Click on the Messages menu and select Preferences (Alternately, hold down the command key and press ,).
Check Notify me when my name is mentioned.
Close the preferences.
Whenever your name is used (either your full name or your first name), you'll see a message pop up indicating that you were mentioned.
Oh that's cool. Thank you! Sent from the iMore App
Thank you for signing up to iMore. You will receive a verification email shortly.
There was a problem. Please refresh the page and try again.