How the iMore team works on our iPhones, iPads, and Macs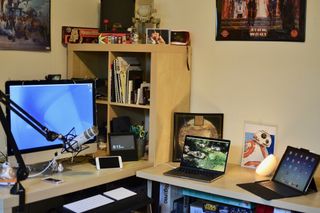 (Image credit: Lory Gil / iMore)
Being in the tech industry, the iMore team loves gadgets. Most of us fill our living rooms with way too many accessories for fun and convenience. But, there are some gadgets that we just can't live without. These are things we use daily to help us write, research, and exist in the tech world. This is how we work every day with our iPhones, iPads, Macs, and other tech accessories.
Rene
I have more of a studio than an office these days. Back shelves are Ikea. The top is boxes, next row is Lego Star Wars, Doctor Who, Marvel, and DC, next row is old gadgets, next row old gear. The standing desk is also Ikea. I have an old cheese grater Mac Pro that runs some stuff that still needs running. On top of it is the new Retina 5K iMac, a Magic Mouse 2 I never use, and a Magic Keyboard and Magic Trackpad I use constantly. Because of "the job" I have a bunch of Apple hardware. That's pretty much all I have through — everything else in my home is a cobbled-together fort made out of old aluminum and glass. Seriously. Kinda.
There's also a Logitech 910 web cam, a Heil microphone, and a Makie Onyx Blackjack audio interface I use to talk on the Internet, and a bunch of Hue lights and LED panels I can control with Siri. For cameras, I'm still using the Canon 5D Mark III, primarily with the 50mm f/1.4, because so prime — but I'm also increasingly using my iPhone for certain shots and video.
That's because iPhone 7s Plus, while not the most powerful or capable computing device I own, has increasingly become the most important. When its 5.5-inch display just isn't big enough for the work I have to do, I switch to either an iPad Pro or a 13-inch MacBook Pro. (I used to use the MacBook more, but now the iPad Pro fills that slot.)
When I'm in my studio I use a 27-inch Retina 5K iMac, which not only handles all the podcasting work but whose ridiculously glorious display keeps me updated on everything, always.
Through it all, my Apple Watch has become a persistent second screen. I can tell the time, get notifications, and control HomeKit accessories even when away from everything else.
Ren
I've left my cozy home office in New England to work in an even cozier home office in Montréal this summer, which means no beautiful hand-built desk or Retina iMac. Instead, I've been doing most of my work on my 13-inch MacBook Pro and 10.5-inch iPad Pro with Logitech keyboard and Apple Pencil.
While I have a desk, I'm rarely there save for recording the occasional iMore Show or Query with my trusty analog Audio Technica AT-2020 (connected to a digital Onyx Blackjack mixer interface). Instead, I've spent a lot of time working on my apartment's balcony in the summer sun, or visiting one of many cute Quebecois cafés. I get some of my best writing done out and about, and it's been no different in Montréal. For sound, I left the Sonos at home, instead relying on my trusty Bose QC35s at home, and my AirPods while on the road.
To augment my new, more portable office lifestyle, I also regularly carry around two external batteries: The 20,100mAh battery from my Tylt Energi Pro backpack, and the 8000mAh BatteryPro pack for mobile Apple Watch charges
Even without my iMac, I haven't lost too much screen productivity thanks to frequently using my iPad as a second screen — either via apps like Astropad or Duet Display, or by simply running the iOS version of an app I would otherwise use on my Mac (like Twitter, Notes, or the Music app).
I don't have all of my many, many other electronics that grace my studio, but I did bring a few Philips Hue lights, purchased a new Nanoleaf Aurora for lighting and ambience, and have the best quiet tower fan (a Seville 40-inch Tower Fan keeping me cool.
Lory
In the summer time, I'm all-in with all the tech. It's beta season, so I've got different operating systems running on all my devices, and use them all on the daily. I'll work on my iMac with a Magic Keyboard and Magic Trackpad, test betas on my MacBook Pro, use my iPhone SE as my daily driver, and test betas on my iPhone 7 Plus (shown angled up thanks to the Spigen Style Ring) and iPad Pro (with a sweet Logitech Slim Combo keyboard case). They're always connected and ready for work. I've also got my Amazon Echo Show sitting on my desk so I can listen to NPR on TuneIn, watch movies on Amazon Prime, or just look at my pictures from Amazon Photos. Oh, and I use it for how-to guides, too.
I've got my Rode Podcaster mic and stand for podcasting and my Logitech webcam for video meetings. I back up my data with a Western Digital My Passport Ultra. I use my Philips Hue Go Light to add a little extra lighting when taking pictures for articles.
I keep my Sphero BB-8 by my side because he makes me happy. I like to set him to demo mode, so he'll just look around on his own. I've also got a set of battery powered string lights wrapped around my iMac because sometimes, I just want it to feel like Christmas, even in July. That tiny Rey and BB-8 under my iMac are die-cast figurines a friend picked up for me in Japan.
Please ignore the mess on the shelves of my Kallax Workstation and the piles hidden under my Linnmon/Adils table.
Mike
This sty is where the proverbial magic happens, horrible lighting and all. I don't have much. I have the Retina 5K iMac I was given when I started the gig, along with the Magic Mouse and Magic Keyboard that came with it. My daily driver (Galaxy S8) sits atop a mid-2010 15-inch MacBook Pro that barely functions and is more paperweight than laptop at this point.
Those headphones are the greatest headphones I've ever had, the Audio-Technica ATH-M50x, which are studio-quality and come with a 4-foot cable, which is perfect for working at the desk, since the cable's never in my way.
That's really it. Aside from the world's greatest guitar tuner sitting over beside the stapler. It's a Snark, and it just clips to your headstock and tunes via the vibration of the strings. Never leave home without it.
Luke
This is my command central. I don't normally work at a kitchen table, but I'm currently in the process of moving and house-sitting for some friends, so this is what it looks like as of right now.
I don't have a ton of hardware, but at the center of it all is my 27-inch Retina 5K iMac. It's not only what I use to do most of my work, I pretty much use it for everything. Surfing the net, watching movies, editing photos, writing articles, recording podcasts, and everything else you can imagine. It's big, beautiful machine that I can't imagine living without.
Over on the left of the photo, you'll see my favorite podcasting microphone, the Yeti by Blue Microphones. It's the most versatile microphones I have ever used and it's great for recording podcasts with multiple voices. Just plop that sucker down in the center of a table and it will capture everyone with its omnidirectional mode. Since most days, I use it for Google Hangouts calls or recording my own voice, I threw a cheap pop filter on it to clean up the sound of my voice just a little bit.
Of course, my Nintendo Switch is one of my favorite gaming devices and I always keep it at my desk. Whether I need a break from writing thousands of words at once, or I'm playing the newest Switch title as much as I can so I can tell the iMore readers all about it, my Nintendo Switch is always within arms reach.
Speaking of games, the right side of the photo shows everything else I use to enjoy gaming on the go. First and foremost, the gold iPhone 7 is not only the device I use for everything, it's also full of games I like to play. The same thing can be said for the 9.7-inch iPad standing right beside it. In front of those to glorious mobile devices rests my favorite MFi controller the SteelSeries Nimbus, which makes marathon sessions of gaming on my iPhone or iPad a breeze!
Last but certainly not least are my daily headphones I use for work and play. The August EP650, are budget Bluetooth headphones I bought on a whim when I found out Amazon had them on sale. They cost me about $50 and I didn't expect much from them, but they have become my favorite pair of headphones I own. Now, make no mistake, these cheap cans aren't going to be as good as a nice pair of Bose or Beats; however, I haven't found any headphones that work as well as the August EP650 in the same price range, and that's good enough for me!
Mikah
Well folks, here it is! This is my desk, the place where I podcast, write, edit, design, Photoshop hilarious photos of my colleague Rene Ritchie, produce video, get distracted by Twitter, etc.
My main machine is a Mid 2015 15-inch MacBook Pro that's nearly always running in clamshell mode. You'll notice that fancy white contraption, I'm sure. It's a shelf from an over-the-door pantry organizer … no, I'm not kidding. Running your laptop in clamshell mode can be pretty hard on it because of the heat. I use the pantry organizer shelf to give it some room to breathe. I have two 24-inch Dell UltraSharp monitors that give me all the screen real estate I need. I'm a tall person, so I've got them both sitting atop risers (a 10.5-inch iPad Pro box and Smart Keyboard box on one side and a book called The Art of Looking Sideways on the other) that are also sitting atop risers (two Fitueyes computer monitor risers). For working at night, I installed two Luminoodle LED strips on the back of my monitors. The light strips are powered by USB, so I just plug them in when it gets dark. Because I'm ridiculous, I've also got an old UltraWide monitor I bought that hangs out above my desk. It's connected to a wall-mounted monitor arm from AmazonBasics. I keep the monitor connected to a Google Chromecast device and I use it for testing the Google Home, Chromecast, and just generally for having a dedicated monitor for entertainment. I've watched all nine seasons of The Office enough that it's pretty much background noise for me at this point; whilst writing, I'll often let it play in the background.
My 10.5-inch iPad Pro with Smart Keyboard and my Apple Pencil are always close by. I love typing on the Smart Keyboard (don't @ me) and I love the iPad Pro. It's a fantastic portable computer that keeps me from having to disconnect my MacBook from my more complicated setup. Although I prefer to work on macOS, I can absolutely survive on just the iPad Pro and iPhone … as long as I have the Smart Keyboard!
One of my monitors connects directly to the MacBook via its DisplayPort cable. The other is connected to an Elgato Thunderbolt 2 Dock (not pictured) via HDMI. The Thunderbolt 2 Dock connects to the MacBook's other Thunderbolt port. The Dock is connected to ethernet, the two USB 3.0 hubs built into the Dell monitors, a HooToo USB 3.0 hub, and the M-Audio AV42 speakers on either side of my monitors. I type on a Magic Keyboard and use a Magic Trackpad and Magic Mouse (my Magic Mouse is the older model with batteries) in tandem depending on what I'm working on. I like the Magic Trackpad for most things, but the Mouse comes in handy when I'm working in Photoshop.
For podcasting, I have a Rode Podcaster kit which includes a Rode Podcaster microphone, a boom arm, and a shock mount. I made my own pop filter using this Symphaudio mesh pop filter and some copper wire (I didn't like having a giant, adjustable gooseneck contraption on my boom arm). The microphone, which uses USB, is connected to the built-in USB hub on the back of one of the Dell monitors. I monitor my podcast audio using Sony's MDR7506 headphones. I also have a pair of AKG K545 headphones and Apple's AirPods, but I don't like to use either for podcasting. For work meetings, video podcasts, and interviews, I have a Logitech C920 HD Pro webcam that sits atop one of the monitors. It's a popular HD webcam and there's a reason for that: It's reliable and it captures good-looking video. That video is made better by the Neewer LED lighting panels on either side of my desk.
I keep all my office supplies in a Rolodex spinning organizer that sits between the monitor risers. A HooToo USB 3.0 hub sits beside it — I keep an Apple Watch charger and an iPhone Lightning dock plugged in for charging at any time. An iPhone SE and a Huawei Mate 9 sit close by — I use the iPhone SE for testing (which usually means I run the current version of iOS on the SE and the beta version on my main iPhone 7 Plus, because I'm ridiculous). The Huawei Mate 9 comes out when I need to know something about Android. I know it's not the pure, unadulterated Android experience, but it works fine for me. I also keep an Amazon Echo Dot on my desk. It's plugged in to the M-Audio speakers — I was pleasantly surprised to discover that the speakers can simultaneously output audio from two separate sources.
Last but certainly not least, all of this work happens on my absolute favorite desk: the Jarvis Bamboo Adjustable Standing Desk. I have three separate settings (one for standing and two for sitting at different heights) and I wouldn't trade this desk for anything! I stand on an anti-fatigue mat from Imprint to keep my feet, knees, back, and neck from getting all out-of-whack from standing for many hours. That, my friends, marks the end of your journey through my home office setup. I hope you had fun!
Joe
If this setup seems a little temporary, that's because it is. All of my setups are. While I do sometimes work at a desk, a lot of my time working is spent in a comfortable chair or on a couch. I don't like being tied to a desk, so I make an effort not to be. The writing app that I use, Ulysses, syncs everything over iCloud, letting me work from my iPhone, iPad, and Mac, and I like to take advantage of that.
Because of that, I don't like to lug a lot of tech around with me. I keep it pretty minimal as far what moves with me from workspace to workspace. I've got my Late 2013 15-inch MacBook Pro, which is where I do most of my work, from writing articles to editing photos.
On the iOS side of things, the iPhone 7 Plus has been my daily driver since it launched. I've also got a first-generation 12.9-inch iPad Pro. While the the Pro started as a secondary work machine and content consumption device, as time has gone on and iOS's capabilities have expanded, it's become more of a reliable work tool, and I prefer to use it when I'm writing longer pieces.
Finally, I've got my headphones. No matter where I'm working, it's good to be able to tune the noise out, and the Bose QC35 are the best tool I've ever used to do just that. It doesn't hurt that they sound excellent, so I try to be sure to take them with me whenever I move my setup.
How do you work?
Show us photos of your office setup in the comments or on our forums!
Master your iPhone in minutes
iMore offers spot-on advice and guidance from our team of experts, with decades of Apple device experience to lean on. Learn more with iMore!
Lory is a renaissance woman, writing news, reviews, and how-to guides for iMore. She also fancies herself a bit of a rock star in her town and spends too much time reading comic books. If she's not typing away at her keyboard, you can probably find her at Disneyland or watching Star Wars (or both).