How to lock your iPhone's camera lens when filming video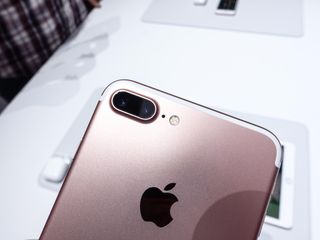 One of the coolest features of the iPhone 7 Plus is it's dual cameras that give you 10x digital zoom – or 6x digital zoom if you're shooting video – and 2x optical zoom as you're snapping your photos, but filming with this dual camera can be a lil' bit tricky, and not necessarily in the way you think.
If you haven't noticed it before, there's almost a flicker that appears on screen as you're capturing your video. This is because the lens switching produces a slight movement, which could ultimately mess up a video depending on what you're trying to shoot.
While not everyone is super bothered by this, there is a really easy way to stop your iPhone's cameras from automatically switching while recording video.
Here's how you can lock your iPhone's camera lens!
How to lock your iPhone's camera lens when filming video
Tap on Settings from your home screen
Tap Photos & Camera. You may have to scroll a wee bit to find it.
Tap Record Video. It'll be under the Camera section.
Tap Lock Camera Lens.
Your iPhone's camera lens should no longer switch automatically as you record your video and will stop you from shooting under a 2x zoom for the most stable, smoothest video possible!
How do you shoot video with your iPhone?
Do you prefer your camera lens to be locked? Or are you more of a fan of letting it do it's own thang? Let us know what you think in the comments below!
Cella writes for iMore on social and photography. She's a true crime enthusiast, bestselling horror author, lipstick collector, buzzkill, and Sicilian. Follow her on Twitter and Instagram: @hellorousseau
I do not have the lock camera. How come? ☹️ Sent from the iMore App

Do you have the 7 or 7 Plus? This tip is for the 7 Plus. I checked my settings. I have it.

Oh I see. I have a 7 Sent from the iMore App
Get the best of iMore in in your inbox, every day!
Thank you for signing up to iMore. You will receive a verification email shortly.
There was a problem. Please refresh the page and try again.