How many people does Green Chef feed?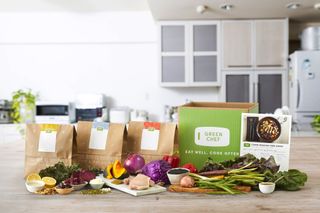 How many people does Green Chef feed?
Best answer: Green Chef meal kits are precisely proportioned for 2 or 4 people per box. If you want to stretch your food, try a different service, or you'll need to double-up on your order.Green Chef: Green Chef meal kits ($13/serving at Green Chef)
Green Chef portions are more strict
Green Chef offers a wide variety of meal plans; all of them made with organic ingredients. When the company says a box feeds two people, believe that it will only feed two people, for better and for worse. Most meal kits will come with a bit extra, whether that's a full onion when you only need half or enough spice to rub two more pieces of meat.
Green Chef is a bit more stingy. Many vegetables come portioned in the bag, so you might only get a third of a green pepper or some of a chopped onion. Spices and sauces met the recipe needs but didn't spill over. If you want to serve more than two people, I would suggest ordering more than one box or opting for a family plan.
While Green Chef's exactitude makes it hard to stretch these meals, this was never the meal kit service I would recommend if you are trying to fit a tight budget. Even the basic "Balanced Living" menu is fully organic, and Green Chef offers specialty menus like real Keto and Paleo plans, and gluten-free options that are the only kits certified by the Gluten Intolerance Group. Green Chef is a more specialized, high-end meal kit service.
The low-cal silver lining
There is a nice benefit to this stringency. Out of the eight possible meals I could have chosen for my next Green Chef order, all of them were 650 calories or less, and a couple hovered close to 500 calories. That's a relief among meal kit services, especially if you're counting calories.
The specialty menus offered even more low-calorie variety. The Keto menu, which cuts back on all carbs and most fruits and vegetables, offered five of six meals that were less than 500 calories each. The Paleo menu was similarly stacked with a mix of low-cal meals, and all were within the 450 to 650 calorie range. Searching the lists of recipes, the highest I could find was a vegan fried fritters over udon noodles at 900 calories.
How does Green Chef compare?
Most other services, from Blue Apron to Hello Fresh to the Amazon Meal Kits, ship meals that clock in well over 800 calories, and occasionally top 1000 calories for a single serving. That's not insane fast-food levels of intake, and there is certainly better nutritional value in these kits than in an express meal. Still, if I'm cooking three nights a week, it's nice to know I'm not consuming as many calories as if I'd simply ordered takeout food.
The meals are also flavorful and filling. I've cooked a few very low-calorie meals, including a Keto meal with heavy restrictions, and if I hadn't introduced them as such my eaters would never have known something was amiss. Or I should say my "eater," since I ordered the two-person kit and only had enough food to feed one other.
Box for Two
Stricter Meal Kits

Green Chef keeps its organic boxes minimal, so these meals are a better choice for low-calorie eaters, not families looking to stretch.
Master your iPhone in minutes
iMore offers spot-on advice and guidance from our team of experts, with decades of Apple device experience to lean on. Learn more with iMore!