How to only allow apps to see your location while you're using them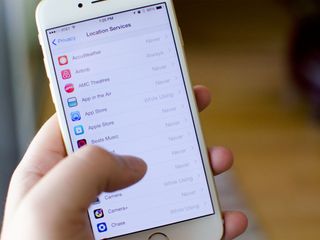 Prior to iOS 8, you only had two options when it came to sharing your location with App Store apps, share or don't share. That meant if you wanted an app to use your location while you were actively using it, but never in the background, you couldn't have both without changing settings. Now, you can have the best of both worlds by just changing a few settings.
How to restrict apps to only use your location while they're open
Launch the Settings app on your iPhone or iPad running iOS 8 or higher.
Tap on Privacy.
Tap on Location Services.
Find the app in the list you'd like to change location settings for and tap on it.
Choose which option you'd like that app to abide by.
Keep in mind that some apps may not show all three options. This is most likely because the developer has not yet implemented the while using this app option. If they do, you should see the option. It's not clear whether or not Apple will eventually require developers to use this setting. Personally, I don't think it's a bad idea. Do you?
Get the best of iMore in in your inbox, every day!
iMore senior editor from 2011 to 2015.
I agree. I hope all apps go to that format. I select Never if they don't and then turn it on if needed.

Major apps from especially from Major Stores like Home Depot.. need to have the "While in use" option. The reason being - people are going to get very annoyed having to go back and forth each time to change the setting when they would rather have it one and done.

I like this feature and have seen it on some apps but strangely one that does not have the 3 options is the one you demonstrated above - Facebook. I have a love-hate relationship with FB in that it is such a major part of my social life but I don't trust them with my data and tracking all my actions.

The Facebook app does have all 3 options. There was an update to the app on the 29th that might have placed it in. Have you checked the location options since then?

Unfortunately, most apps only have 2 choices - ALWAYS and NEVER. #appDevFail

Yep. Let's home they fix that as soon as possible. Sent from the iMore App

As HankAZ points out, most of the apps I use that feature location services only have two choices; Always and Never. To answer Allyson's question; yes, Apple should require developers to include the "When Using" option.

I think iOS now has more user-facing options (and complexity) than OS X. The fact that you can write a little article about each of these switches every day is a testament to how the OS is maturing, likely faster than many users can manage. Choices about privacy are definitely good to have. I would expect new app and update submissions will require the 3-way privacy switch. It's cool that it's all under the user's control, and easy to see when you know where to look. This and "battery shaming" are my favorite new non-obvious features in iOS 8. Allyson, you should write an in-depth article about the biggest power hogs you've noticed on your phone!

Require it! Sent from the iMore App

All apps should offer it -- wish they did now ;-)

The "Apple Store" app only has two choices: Never and Always. So much for Apple requiring this option for all developers. Sent from the iMore App

How does this affect Suggested Apps? I ask, because I noticed once I started changing apps from Always to Using, I started not seeing the Safeway or Starbucks app icons show up on the lock screen when I got close to their establishments.

I don't want my apps to follow me even when I'm not using them and wish there was an "follow me while using app" option. For example, I have the Nike running app and turned off the "follow me all the time" option. Then, when I went for a run, the app didn't track my mileage because the Location Services was off. I get a little nervous to think that every app is following me all the time.

I think Apple should require that apps support all 3 options within the next month or so. After all, this isn't just a privacy issue; it's also a power consumption issue. The more apps that are requesting frequent location updates, the more quickly your battery will deplete. Sent from the iMore App

Absolutely! I have several that are not on board yet but once they add the "only while using" option I'll make changes.

The Yahoo weather app, and the built in weather app for notifications will always show location, because it runs in the background. If you check never, the Yahoo app will not show weather information. Too bad when you are not using notifications, it does not show. Funny thing, this only happens on the iPad. On the iPhone, if I am not reading notifications, location arrow is not showing.

Personally, I think it's a great idea!
(Do you see what I did there?) Sent from the iMore App

If they don't allow me to chose, only while using the app, I disable it completely unless its something like navigation.

Agree this should be required. Very simple way to give users more control over privacy.

I think it's a great idea to have that as an option in every app Sent from the iMore App

So here it is 3/10/2015 and most apps are using the "while using" option. But there's one that is not that stands out like a sore thumb. GOOGLE+. Yes, Google+ thinks they're too special to add that option. No problem for me though. I only used the app to set my location on the Google page in Safari. Now I delete Google+. Don't like it, don't use it. But @Allyson. do you have any notion why Google+ still only offers Always or Never? I left it on always for about an hour, and the location icon stayed on in the status bar the whole time. That's a big fail for Google.

Apple should make it mandatory to add all three options for new update of every app. I should be able to control when I want to share my location with all apps. This is really bugs me...

Of course they should be required to include the option "only while using" the app. The GPS wastes battery life. Why should I have to manually go into iPhone's ridiculous menu every time I want to enable or disable the GPS to run a specific app. Apple sucks!

Just found this article. Good info. And YES, all apps should be allowing the 'Only While Using The App' option for Location access. This is one setting that I wish Apple would require to be provided. I just get the feeling that selecting the "Always" means that some small part of the program will load and use up cpu, battery and location data, even if I have not actively started it up. It would be good of Apple to publish some clarification on this.
sldo, this would be a good item for concerned folks to add to the Apple Feedback site.
at www.apple.com/feedback/iphone.html Of the many apps I have on my iPhone, some offer the While Using choice but many also offer only the Always/Never... Bad app, bad.
It is a chore to have to periodically go through every app in the Settings screen to make sure some update or addition has not turned that setting on. (using the Privacy sub-screen makes checking this a little faster than via the individual apps' settings)
Thank you for signing up to iMore. You will receive a verification email shortly.
There was a problem. Please refresh the page and try again.