How to play iOS games on your TV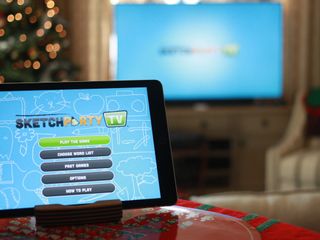 As much as I love playing games on my iPhone and iPad, I sometimes miss the big-screen experience of a console system. If you own a second-generation Apple TV or later, however, it's a simple trick to send your iOS game to your television.
It's true that bigger screens and bigger sounds can immerse you into a game the way a 4.7-inch or 10-inch screen with headphones can't quite manage — heck, it's one of the reasons I still own an Xbox. But you don't have to settle for playing your iOS games on their original screen if you'd prefer something more exciting.
To do so, you just need to use Apple's AirPlay Mirroring technology (available for the iPhone 4s or later, iPad 2 or later, first-generation iPad mini or later, or the fifth-generation iPod touch). AirPlay Mirroring lets you send the audio and video of whatever's on your iOS device's screen directly to your television — no wires needed.
How to use AirPlay Mirroring to play iOS games on your television
Make sure your iOS device and Apple TV are on the same Wi-Fi network.
Turn your Apple TV on.
Open Control Center on your iOS device by swiping from the bottom of the screen, then tapping the AirPlay button and selecting the Apple TV.
Turn on the Mirroring switch.
Open the game of your choice.
Voilà! You can now play your game on the big screen, using your iOS device as a controller. Some games — group fun like SketchParty TV, for instance — even build in different views for the TV and for your controller, to make it easier to play.
Get the best of iMore in in your inbox, every day!
Serenity was formerly the Managing Editor at iMore, and now works for Apple. She's been talking, writing about, and tinkering with Apple products since she was old enough to double-click. In her spare time, she sketches, sings, and in her secret superhero life, plays roller derby. Follow her on Twitter @settern.
This sounds good in theory but after trying multiple times over the last couple years I have gave up on AirPlay for games. AirPlay works well for things like streaming music and video to a tv but there is too much lag when it comes to games. For instance a Game like Tiny wings require precise taps and if your looking at your tv it will be a hair behind your actual Input on your device making it all but useless over AirPlay. Sent from the iMore App

I purchased the Sketch Party game as per iMore's suggestion for New Year's Eve and we had a blast. We played for hours. The mirroring did stop working during a couple of times during the game (played for 2+ hrs). AirPlay has been a problem being stable for long periods of time. Great game tho. Already getting repeating words so need to be able to purchase more...it may be available to do, but haven't checked.

Real Racing 3 also has a separate interface for iPhone/iPad when air played to TV. It makes the gameplay awesome! We should make a list of all these types of games. Sent from the iMore App

I can only speak for my own AirPlay experience, but I find it poorly suited for gaming. The input lag and stuttering makes most games unplayable. Maybe for games that don't require reflexive inputs, like word games or board-type games.

Streaming music can be a headache sometimes so gaming definitely hasn't been something I enjoy doing

As Nuttz565 said, it really depends on the game. The lag will kill anything that depends on timing. That rules out basically all the arcade type games, action games, etc. Unless you're doing it for show and are only playing on the device and having an audience watch on the TV.

In other words, in Stock iOS it's pointless. The way I mirror iOS gaming is,
#1 - Jailbreak the Device
#2 - Instead of using the AirPlay feature (got rid of my Apple TV) I use Apple's lightning A/V adapter for direct mirroring, so if there is lagging, it's likely the device itself.
#3 - Use controllers for all Jailbreak tweak to use a Playstation Controller with iOS (PC/Mac required for this to work though : /).
#4 - use my PS4 to control games on my iOS device. While this does sound like a more complicated process, I must say that for the most part I don't have a frustrating experience as I would doing this on Stock iOS.

Some of the other posters took the words right out of my mouth. Too much lagging for it to work on most games. And I have the fastest internet I can buy in my area. Such a shame.

I'm not sure that the internet speed in your area has much to do with it. Does Airplay not just require a local network?

AirPlay requires that your phone and Apple TV both be connected to the same wifi network in order to work (see video above). That said, and I may be wrong about this, but it stands to reason that if you have a slow wifi connection there may be additional lag with AirPlay. In my experience, and I have the newest generation Apple TV and an iphone 6 plus, with the fastest wifi I can buy - there is just too much lag to make it a worthwhile gaming experience.

Not a good article from Serenity. Lack the expertise to know that there will be gaming lag which will ruin the immersive experience.

good article good information provided about ios games http://www.topreviewz.com

If only their was a tweak for the Chromecast in Cydia. Posted via the iMore App for Android

You can also use apps on Mac or PC to act as an AirPlay receiver, in case you don't have an Apple TV or a TV at all. I used to use AirServer on my 27" iMac, until my Mac's Ethernet port died. When both devices are on wifi, lag and stuttering are more pronounced. AirPlay really kinda sucks unless the receiver is on Ethernet (or, for some reason, you're tethering to the computer over USB--that creates a network connection over which you can AirPlay as well). It's not so much that the connection has to be wide, it just has to have low latency. In my testing, it's never sent more than about 10-12 Mbps of video data (as a 1080p 60FPS stream). I switched to AirServer on my PC, outputting via DisplayPort to my iMac. The lag is still noticeable, but once it's settled in, it's usually playable with games that are more forgiving. AirServer is $12-15 per computer. There are other options in case AirServer doesn't work out for you - Reflector for $13, X-Mirage for $16, etc... One cool thing about using an AirPlay receiver app on the computer is that you can then capture that output and stream to Twitch or record for posting to YouTube. A developer of Vainglory posted this guide to their forums, I recommend you check it out if you might be interested in that kind of thing--it works for anything and everything that you'd play on your device.
http://forums.vainglorygame.com/index.php?threads/recording-streaming-va... (In my experience along those lines, Open Broadcaster Software with Intel Quicksync was the most optimal, but it still introduced a bit of lag to the AirPlay stream, possibly due to OBS spending some cycles showing its own preview window) I'm disappointed in Apple's Lightning to HDMI solution. It's not lag-free either - it's basically sucking an H.264 video stream down from the device and decoding it to put out the HDMI. There's compression artifacts and several frames worth of lag involved in that process, whereas with the last 30-pin devices (iPhone 4S, iPad 3), it was pretty much perfect.

Can you make a recommendation for Airplay enabled games that also let you use a Bluetooth controller? My ideal home gaming setup is to have an AppleTV + an iOS device + a tactile controller. Is there a way to search the App Store for games that are controller enabled and Airplay enabled at the same time?
Thank you for signing up to iMore. You will receive a verification email shortly.
There was a problem. Please refresh the page and try again.