How to quickly move recipients to different fields in Mail on iPhone and iPad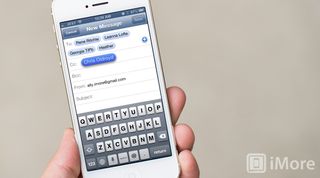 If you send a lot of emails on your iPhone or iPad that go to different people, you may want to blind copy some users, or all of them for that matter, so they don't see each other's email addresses. Regardless of the reason, if you forget there isn't a need to delete the email and re-enter it in the appropriate field. iOS actually gives you the ability to move them pretty seamlessly.
Here's how.
Launch the Mail app from the Home screen of your iPhone.
Tap on the Compose button in the lower right hand corner.
Type in the contacts or emails you'd like to send the email to.
Hold down on the one you'd like to move to a different send field and simply drag it to the new field and release your finger.
That's all there is to it. This is a great tool for times when you need to blind copy someone and accidentally but an address in the wrong field. Try it out and let us know how it works for you!
Get the best of iMore in your inbox, every day!
iMore senior editor from 2011 to 2015.
I was actually getting ready just before I read your always great How To articles Ally to send an email to 3 people so I tried your tip and sent 2 of them a BCC and it worked just great, Exactly as you said it would. Thank you as always for the tip. Invaluble info and I hope everyone new to iPhone and even myself reads your articles. They will learn what they might have never known before. Thank you.

That's good to know. I've been using iPhone for a long time and never knew that. Just when you think you know everything there's to about iOS you learn something new lol.

Can't tell you how much this was well received when it was first announced at the iPhone keynote (I forget which one it was). I've used it more times than I want to admit. Thanks for reminding us.

This is good to know. I learn something new every week.

Great tip. This will help me stop having to delete and re add the name. Thanks!

It's the little tips like this that can make our lives just a little easier. Your tips usually make my life much easier. Thank you.

That's a sweet little tip. I'm not a big user of the native Mail app, but I still launch it on occasion. Thanks for sharing.

Great tip. Eliminates the need to remove and re-add contacts.

Another great tip from the best iMore crew, use it all the time now.
Thanks iMore

You've really been bringing it with the tuts lately, nice work. I've been learning a few new things along the way.

Thanks Allison for another great post.

And to think... I've been erasing the emails and then writing the email address all this time. Thanks for the tip...

Great tip! I've been using iOS for years and didn't know this trick!

Dangit! I'm kicking myself for not having figured this one out already. So simple, so elegant...