How to hide recent and favorite contacts on the app switcher screen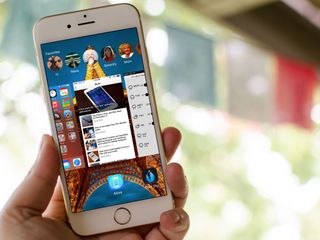 Your favorite and recent contacts are now easier to get to than ever, thanks to their inclusion on the iPhone and iPad app switcher screen. Double-click the Home button and they're right there at the top, ready and waiting for you to tap. But what if you don't want your contacts showing up there? What if you want to keep your private contactsfrom prying eyes? Luckily you can turn favorites, recents, or both right off!
How to remove favorite and recent contacts from the multitasking screen
Launch the Settings app on your iPhone or iPad.
Tap on Mail, Contacts, Calendars.
Tap on Show In App Switcher under the Contacts section.
Toggle Off the options for Phone Favorites and/or Recents.
If you ever want to re-enable either option, just follow the same steps again, and toggle them back On.
I personally prefer just having favorites show up so they stay static in the app switcher and don't continuously change, but you can set it up any way you like.
Get the best of iMore in in your inbox, every day!
iMore senior editor from 2011 to 2015.
Hey Allyson I was wondering if maybe you could help me with this issue but for some reason all my contacts I have updated with photos in their contact card but when they show up in my app switcher only very few maintain the picture in the switched while most show up blank despite having a picture. I was wondering if you had a solution or maybe knew someone who could help with this. Sent from the iMore App

Hmm, have you tried killing the phone and contacts apps and then rebooting? or try disabling and re-enabling them?

Thanks never liked seeing those contacts there. Sent from my iPhone using iMore Forums Mobile App!

Thanks for this, Allyson. I do wish something else could appear there instead, but it is great having control over these. I agree that having a static rogues gallery is best.

Good tip, Thank you so much iMore Sent from the iMore App

I love how the top of the tower looks like a golden road leading right to Peter.

Great tip, I also prefer having the favorites only. Thx Ally :) Sent from the iMore App

I discovered this some weeks ago. Turned both Favourites and Recents off. Didn't like seeing a bunch of ugly mugshots (my friends all look like lawyers or convicts, for some reason) in the switcher.

Since being a non iPhone user I learn a lot in depth stuff without a iPhone. Great Work.

Love this tip, been wondering how to do this. So simple all along. Thanks so much!

Thanks for the tip, I was too lazy too look it up but never liked the feature. I MIGHT like it as a widget in notification center, maybe Apple will do that in the future.

Does this get rid of the window that obscures half the screen in landscape mode? Bc it hasn't for me.. I must be doing something wrong.
Thank you for signing up to iMore. You will receive a verification email shortly.
There was a problem. Please refresh the page and try again.