How to scan, sign, and send a PDF from your iPhone or iPad, no printer required!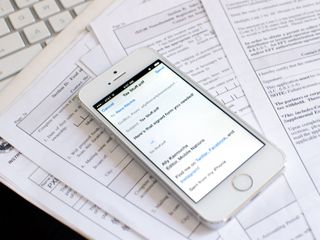 It's not uncommon nowadays for many of us to not have printers at home. For most of us our iPhones and iPads are a portable way to view and store documents. But what about times when you need to fill a form out and return it to someone? Most people immediately think they need a printer. Think again! With the help of a couple apps, you can scan, sign, and send PDF documents in just a few minutes. Here's how:
How to scan, sign, and send documents with your iPhone or iPad without a printer
There are lots of PDF scanning and editing apps in the App Store and the choice of what you use is completely up to you. I'm going to recommend the ones that I've found to work great in the past. I'm a huge fan of Readdle software and the workflow I use consists of two apps, Scanner Pro and PDF Expert. I use Scanner Pro for times I have a document I need to scan in and sign. If you already have the document in your email or somewhere else on your device, you won't need a scanning app like Scanner Pro, only a PDF editing app like PDF Expert. Same things goes for if you have a physical copy you can sign and just scan, just pick up Scanner Pro.
For scanning:
For editing, annotating, and signing:
How to scan a document to your iPhone or iPad
Use this set of directions if you have a physical document you need to sign and then scan to send.
Launch Scanner Pro, or another document scanning app of your choice. Just be aware the steps may be different if you're using a different app.
Take a photo of each page of the document in order to import it. Be sure to sign everything you need to before you do this.
After you're done importing, save it and tap on the Share button.
Tap on the Email button in the lower left if you're done. But if you need to manipulate a fillable PDF, continue on to step 5.
Tap on Open in... and then select PDF Expert, or whatever other document editing app you'd like to use.
How to sign and send a PDF document on your iPhone and iPad
Use this set of directions to not only sign, but edit and annotate documents, as well as complete fillable PDF forms.
Load the document in PDF Expert if you haven't already. Do this by opening it in your email or other app you have it stored in and tapping the Share button and choosing PDF Expert or the document editing app of your choice.
Tap on the document to launch it after it's imported.
Now tap on the Signature option in the bottom navigation.
Sign in the box that comes up and hit Done when complete.
Move the signature where it needs to be and resize it. Tap Done in the popup when you're satisfied with its placement.
If you're done editing everything, tap on Actions in the lower right hand corner.
Now tap on Send by E-mail.
Choose the option for file type. For most people, Document will suffice. Some people may want the second option.
Finish filling out your email and you're done!
It's worth noting too that we've only went over signing documents with PDF Expert but it's capable of a lot more including filling out forms. The steps are the same, you're just going to use different tools inside the app to do so.
That's all there is to it, you're done! Next time a printer or scanner isn't convenient, you'll be prepared for anything! These types of apps are extremely valuable tools for anyone who deals with signatures and contracts regularly such as real estate agents, building contractors, and self employed individuals who regularly need customer signatures. Save yourself some time and the cost of printer ink and save it all on your iPhone or iPad!
How do you handle PDF documents on iPhone and iPad?
This is my workflow for managing documents and PDFs on the go but I want to know what you're using as well, so let me know in the comments!
Get the best of iMore in your inbox, every day!
iMore senior editor from 2011 to 2015.
As I use Evernote for all of my documents, I use the build-in document camera to get snapshots of papers. It is also possible to annotate the snapshots in Evernote.

Also a great tool! I've used it a few times. I normally like Scanner Pro and PDF expert just because fillable forms i use frequently are easy to find and it's built around that but for quick stuff here and there, Evernote definitely works!

Do you have an annual subscription to EN?

I do. I find it worth it for uploading images and things I want to file for later. Most people get away with a free subscription. I go JUST over that limit each month :\

This is my exactly workflow - nice article! Works like a charm :)

If you are starting with a physical document, you don't need PDF Expert. Just sign the paper, scan it in and email it. Right? Sent from the iMore App

For sure, I guess I stuck that in there more for times when you need to fill stuff out, aka fillable PDF forms. I'll reword a little. :)

I've been using Sign Now for iPad for filling out PDF docs. Sent from the iMore App

Scanner Pro and PDF Expert is my workflow for working with PDFs on my devices, too. Though I don't have to actually sign stuff all that often, I do periodically have to scan and import other items. Note that if you do need to sign documents often, you can configure a saved signature stamp in PDF Expert.

If the document starts out as a PDF I will open it in GoodReader and sign from there. I can also use GR to fill in blanks.

Hi I have a question. I was wondering if you can scan more than one page of a document, and combine all the pages together?

Absolutely, you just keep snapping photos. I believe you can also drag scans on top of each other to merge them.

All of that is good information. Thanks. Now what if you need to fax something? Anyone know of a good fax app? Sent from the iMore App

You can fax directly from ScannerPro and pay per fax, like $.99 per fax. In a pinch, it works.

This.. There are cheaper options but in a world that's becoming faxless, it's great.

When I went to download this app, it did not mention 'Fax' anywhere in the description? I need the fax services as well, are we certain you can Fax from ScannerPro? I hate to pay for the app if Im unable to fax, even if I have to pay the .99cents, thats fine, just wanting to get some verification if this app truly will send a pdf to a fax machine?

Thanks for the tip! I know this would come in handy for me soon. Will be doing a few transactions online this quarter. And I already have both of the apps you mentioned, perfect!

I think you can combine documents to multipage pdfs with Paperscan. The app is cost-less, therefore you can try it. The app is easy to run and produces scans and pdfs of high qualitiy. You can send them to your friends, archive thrm in Dropbox or Google Drive or print them with AirPrint. And I need only one attempt to get a focused scan, because of the self-timer.

theres also print n share for printing and writepdf for pdf annotation and printing, i personally recommend these

I used tiny scan for a long while, but recently changed to scanner pro which offers a few more options that I find useful. For signing, there are excellent and dedicated tools like "DocuSign ink", "sign easy" and "sign now" makes it easy not only to sign but to share a signed document and have someone else sign it as well, also to add dates, initials and customize your signature. Besides the method Ally shows here, I recommend those apps if you need to sign documents all the time and is a lot better with a stylus of course.

I don't know why you would email your annotated documents in the "Document" format? For one, some apps, like Mail, won't recognize your annotations/Signature and won't display it. Secondly, if you don't flatten your annotations, they could be edited or deleted by whoever you are emailing them to. I can't think of any benefit to sending the Document unflattened, if there is please let me know. Thanks Steve

Hi , i already have a PDF in my mail and would like to send this doc to my contact numbers not to email adressess, how do i do that?