How to send and accept calendar event invitations on iPhone and iPad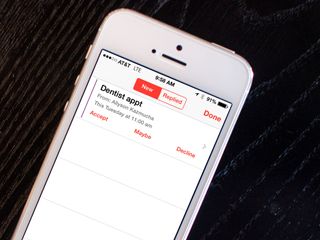 When you're creating an event or appointment in the iPhone or iPad Calendar app, you might want to add other people to it, and alert them about it. That's where invitations come in. If you're using a calendar service that supports it, like Apple's iCloud service or Microsoft's Exchange, all you need are the email addresses for the people you want to invite.
How to share an event on iPhone and iPad
Launch the Calendar app on your iPhone or iPad.
Either create a new event or tap an existing event that you'd like to share.
Tap on the Edit button in the upper right hand corner.
Tap on Invitees.
Add all the email addresses of the people you'd like to share the event with.
Repeat the process for each person you'd like to invite.
Tap Invitees in the top left when you're done in order to return to the previous screen.
Tap the Done button in the upper right hand corner.
How to accept an event invitation on iPhone and iPad
Launch the Calendar app on your iPhone or iPad.
Tap on the Inbox button in the lower right hand corner.
Tap Accept to add the event to your calendar. Tap Decline or Maybe to refuse the invitation or wait so you can decide later.
That's all there is to it. Do you use calendar invites regular with friends and family to stay on top of appointments and events that involve multiple people? How has it worked out for you so far? Be sure to let me know in the comments!
Get the best of iMore in in your inbox, every day!
Girl gamer, bookish sort, sci-fi and fantasy lover and writer. Now creating helpful content for Mobile Nations.
After I've accepted a calendar event I lose the ability to edit the event, and worse, am unable to delete the event. What am I doing wrong?

If you only have read access from the event planner, you can do nothing with the event. The event planner (entry creator) has to provide you access to read/write events. I hope that helps.

Is the iPhone 3GS able to accept calendar events? I'm having problems with my boyfriend's phone, adding calendars, thought maybe it's too old??

"Send Calendar Event" iPhone application just for sending (not sharing) events has been released and available for download on iTunes
https://itunes.apple.com/us/app/send-calendar-event/id680630944?mt=8&at=...

New app have just arrived to iTune store. You can now reply or forward a meeting. App name is "ReplyAll". Check it out.
itunes.apple.com/us/app/replyall/id749454893

On my calendar app there is no option that says invitees to click on.

No "invitees" on my IPhone either. I'm running the latest version of Ios 7. What's up with that?

Make sure you hit "edit" in upper right while looking at event. "Invite" will be down between "repeat" and "alert" Sent from the iMore App

Go into Settings > Mail, Contacts, Calendars > iCloud and make sure Calendars is ticked on.

I think that's dangerous. Turning on iCloud calendar stopped my iPhone calendar from syncing with MS Outlook; this caused me problems.

I don't have invites on my event either. Sent from the iMore App

•SHARE CALENDAR TO CONTACTS•
How do I share calendar events on iPhone 6 to a phone number or contact, NOT just an email address? It is driving me nuts! When I go to "edit" and hit "invitees," like normal, it won't let me add UNLESS it is an email address. It will let me add names that I type in as phone number short cuts that are bold, but that is only because the mold numbers invisibly hold email addresses that you may have placed it at one point or another (I just never use email, even in college, which is why this is an issue for me (of course.))

How can I insert a picture to a calendar event on my iPhone or iPad?
Thank you for signing up to iMore. You will receive a verification email shortly.
There was a problem. Please refresh the page and try again.