How to see unconfirmed calendar events in Calendar for iPhone and iPad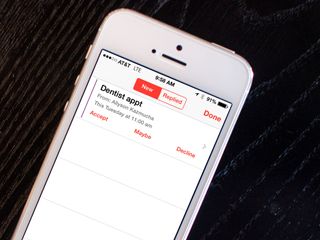 By default, the Calendar app on your iPhone or iPad won't show events you haven't confirmed on your calendar view. If you don't like this behavior and would like to see all events — declined or not — in all calendar views on your iPhone or iPad, all you've got to do is change a setting. Here's how!
When you choose to show declined events in the Calendar app, you won't actually receive notifications for them. You'll simply see them in your Calendar app. You'll only ever receive notifications if you change your RSVP to either maybe or attending.
How to see shared events you previously declined in Calendar for iOS
Launch the Calendar app on your iPhone or iPad.
Tap on Calendars in the bottom navigation.
Turn On the option for Show Declined Events, it's all the way at the bottom.
Tap Done at the top right.
Girl gamer, bookish sort, sci-fi and fantasy lover and writer. Now creating helpful content for Mobile Nations.
Hi Ally. I Have a bug on my 5s where i try and decline a bunch if meetings within calendar. If i do it quickly enough the calendar App crashes. Wonder if you have exp this? Sent from the iMore App
Thank you for signing up to iMore. You will receive a verification email shortly.
There was a problem. Please refresh the page and try again.