How to stop Facebook from tracking your location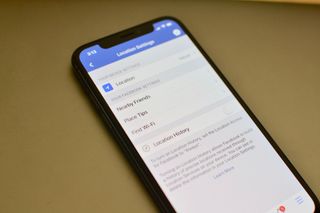 One of Facebook's many features is that you can "check in" from your current location, letting your friends and family know where you are or where you've been. You can also use Facebook to let your friends know where you are right now using the Nearby Friends feature.
If you take a moment to consider what this means, you'll understand that it means Facebook is keeping tabs on your every movement. As The Wall Street Journal recently uncovered, this data is being used for more than just helping you get in touch with your friends.
If you don't feel comfortable sharing your every move with a bunch of advertisers, you can protect your privacy and disable location tracking.
How to disable location tracking in Facebook on iPhone and iPad
If you want to burn the entire Facebook location tracking ability to the ground. The easiest way to stop it is to disable location tracking for the Facebook app.
Launch the Settings app on your iPhone or iPad.
Tap on Privacy.
Tap on Location Services.
Tap on Facebook.
Tap on Never.
Facebook will not have any location tracking access, not for storing your location history while you use the app, not to let friends nearby know where you are. It's total darkness as far as location tracking is concerned.
How to stop Facebook from saving your location history
Maybe you like the check-in and Friends Nearby features of Facebook and don't mind sharing some of your location data with the company in exchange for those features. You can leave location tracking on (or set it to Only While Using the App) and turn off the history saving part. This is where data miners tend to get the most useful information from you.
Open the Facebook app on your iPhone or iPad.
Tap the More tab in the bottom right corner of the screen.
Scroll down and tap Settings.
Tap Account Settings.
Tap Location.
Turn off the Location History switch.
How to delete your location history from Facebook on iPhone and iPad
If Location History has ever been enabled on your iPhone, that history is stored with Facebook. You can delete your location history so that it's no longer stored with Facebook.
Open the Facebook app on your iPhone or iPad.
Tap the More tab in the bottom right corner of the screen.
Scroll down and tap Settings.
Tap Activity Log.
Tap Filter.
Tap Location History.
Tap Clear Location History.
Tap Confirm.
This deletes all of your stored location histories. If you choose to keep location tracking on in any capacity, you'll probably want to do this purge every once in a while.
How to stop sharing your location with nearby friends in Facebook on iPhone and iPad
If you like the check-in feature of Facebook's location tracking, but don't really want your friends to know that you're nearby, you can turn off just this feature, while still allowing Facebook to track your location (and store it if you don't want to disable Location History).
Open the Facebook app on your iPhone or iPad.
Tap the More tab in the bottom right corner of the screen.
Scroll down and tap Settings.
Tap Account Settings.
Tap Location.
Tap Nearby Friends.
Turn off the Nearby Friends switch.
Any location tracking questions?
Do you have any questions about Facebook's location tracking features and how to disable them? Let me know and I'll do some research.
○ How to use two-factor authentication
○ How to protect your data from being hacked
○ How to quickly temporarily disable Face ID
○ Best practices for staying safe on social media
○ Best VPN services
○ How to lock down your data on iPhone and iPad
○ Best ways to increase iPhone and iPad security
○ How to back up your iPhone, iPad, and Mac
○ Differential privacy — Everything you need to know!

Get the best of iMore in in your inbox, every day!
Lory is a renaissance woman, writing news, reviews, and how-to guides for iMore. She also fancies herself a bit of a rock star in her town and spends too much time reading comic books. If she's not typing away at her keyboard, you can probably find her at Disneyland or watching Star Wars (or both).
So you get all the Facebook users worked up, then don't explain just what Facebook is doing. Instead, you refer to a WSJ article, which you only get one paragraph, unless you subscribe. I've known a long time what Facebook is doing. Advertising! It's why I keep location services off for Facebook, except briefly when I share where we eat. Then I turn it off. And delete location history. This causes the Facebook weather to show my weather in Virginia, instead of in Alabama. Oh, well. I have 10 weather apps on my iPhone.

One of those 10 weather apps is probably also selling your location info to advertising

If you disable one method, Facebook will just use a different way to obtain your location. Even if Location Services were disabled and you deny permissions to track your location, Facebook will use your IP address, which as far as I'm aware cannot be disabled. I found that even with the above listed methods if I travel somewhere and open Facebook, at the top of my News Feed is a weather widget as well as a few local businesses and private items for sale with the new location despite never being there before. The only surefire way is to either not use Facebook, or use a VPN (preferably not their advertised Onavo option because that's practically spyware).

If you disable your IP address, you will disable the internet. A VPN is the answer, since this will give you an IP representing the VPN, which can be any location you like

I don't think anyone will regularly use the VPN option. Only businesses use a secure function such as VPN.

hey Lory. I'm stumped - I've never had FB installed on this iPhone (I did on a previous phone). I keep CHECKING IN everywhere. FB doesn't show up in my location services at all. How is this happening - any thoughts? And really, how can i prevent it?
Thank you for signing up to iMore. You will receive a verification email shortly.
There was a problem. Please refresh the page and try again.