How to set up and get started with Adobe Spark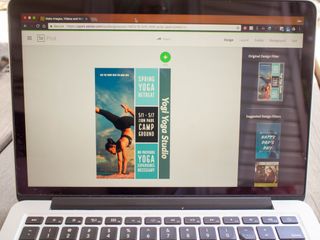 The Adobe Creative Suite is growing and Adobe's aim is to make it as easy as possible for you to create stunning images that you can feel proud of. Adobe Spark, the graphics creation content for Creative Suite, is great for creating graphics, adding text overlays to pictures (for the perfect meme), photo journals, and more. Here's how to set up and get started using Adobe Spark.
What is Adobe Spark?
In May of 2016 Adobe rebranded three of its content creation apps under a new umbrella called Spark. It rebranded Adobe Post, Slate and Voice as Spark Post, Spark Page, and Spark Video. Each one of these apps is available on iOS, or from the web, and their aim is to make it accessible for anyone to create eye-popping graphics without having the technical know-how required for programs in the Adobe Creative Cloud.
Spark Post is aimed at helping you make posters, memes, infographics, and more. It gives you the control to add pictures, change text, adjust the color palette of your project, and even resize your project for a specific social media platform. Everything here is laid out for you, and can be tweaked with the click of your mouse — or a tap on your phone.
This app is specifically aimed toward creating a single great image that pops with color, photos, and text, making it ideal for social media sharing.
Spark Page is better suited for larger projects. These include portfolios, photo journals and even event recaps. You're able to add photos, text, captions, videos, buttons and more. You can also change the look of your entire project using themes, which are the templates for Spark Pages.
This means if you want to share photos and information — like a wedding album online, complete with captions and links — then Spark Page is definitely the app that you want to use. You can even preview what your project will look like before sharing it so you know it's perfect!
Spark Video is the app built for sharing video, and includes audio overlay. This makes it great for presentations at work, lesson plans, or seasonal greetings. There are templates to help you get started, along with the ability to add audio, text, photos, video, and even icons. When you are creating your Spark Video project, it looks a bit like a slideshow, giving you control over how every frame looks.
For folks who need to relay information in video format, or who have a presentation at work coming up, this app can be a real boon. Just like Spark Pages you can preview your project before sharing, allowing you to tweak everything before the big day. You can also play with the layout quite a bit, giving you the ability to have text show up next to your video so that everyone gets all the information they need.
How to set up Spark
Navigate to spark.adobe.com
Click start new for free (it's in a yellow bubble on the upper right of your screen).
Click and enter your information to sign in using your Adobe account, Google account, Facebook account, email account, or create a new account.
How to start a project
Click on the yellow button with a plus sign to start a new project.
Click on the type of project you want to create (remember Spark Post is for single graphics, Spark Page is for large projects, and Spark Video is for video presentations).
How to choose a template
Click on the yellow button with a plus sign to start a new project.
Click on the icon above type of post you want to create.
Scroll to view template options and click to choose a template.
How to view projects
Click the menu button (it looks like three stacked lines).
Click My Projects.
How to download a project
Navigate to https://spark.adobe.com/sp/projects
Hover over the project you want to download
Click on the ellipsis (it looks like three dots)
Click download.
Questions?
Have you used Adobe Spark yet? Do you have questions about getting started? Let us know in the comments below!
Master your iPhone in minutes
iMore offers spot-on advice and guidance from our team of experts, with decades of Apple device experience to lean on. Learn more with iMore!
Jen Karner is a VR Specialist with a taste for all of the weird things. She's usually found playing the latest time-waster on her phone or tablet, when she's not wrecking aliens on her PlayStation VR.