How to turn off Instagram's Show Activity Status option and protect yourself from stalkers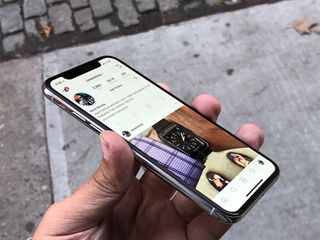 (Image credit: iMore)
Ingrid Goes West is a 2017 movie that centers around a young girl (played by Aubrey Plaza) who becomes infatuated with an Instagram celebrity named Taylor and tries to do everything and anything in her obsessive, manipulative power to be her best friend — by any means necessary.
While the movie is a bit over the top and the plot seems like something that's been fabricated in a Hollywood production studio, the reality here is that art imitated life — not the other way around.
Simply put, social media can be a harasser's BFF, and I should know: I had a stalker target me for over a year after writing an article about him — are you ready for this? — stalking other women. My car was broken into, a website was put up about me, and he took out ads in the paper advertising his obsession. The whole ordeal was horrifying, draining, and debilitating.
So why is Instagram, of all companies, implementing a feature that can help cyberstalkers, harassers, and those with an unhealthy attachment to social media?
Instagram now non-consensually shares your last active state to everyone. This is dangerous if you have a stalker (which most women on the on Instagram have experienced)

Disable it in your settings here -D pic.twitter.com/nisL6Y7BoRInstagram now non-consensually shares your last active state to everyone. This is dangerous if you have a stalker (which most women on the on Instagram have experienced)

Disable it in your settings here -D pic.twitter.com/nisL6Y7BoR— Consensual Software (@consentsoftware) January 18, 2018January 18, 2018
What is Show Activity Status?
Instagram's Show Activity Status feature allows accounts that you follow (along with any account that you've messaged) to see when you were last active on Instagram. It's enabled by default on all Instagram accounts, though you can disable it to hide your activity status, essentially taking you off the grid. (You also won't be able to see anyone else's activity status.)
At first glance, this might not appear problematic: In theory, anyone you follow should be trusted enough to know when you're online or not. But just because you press "Follow" on someone's account shouldn't necessarily give them the right to know whether you're browsing Instagram or adding to your story. Combine that with access for any accounts you've messaged in the past, and you can unwittingly give an ex-boyfriend or a fan you replied to once access to part of your daily schedule.
Thankfully, you can quickly turn off this feature from Instagram's settings menu.
How to turn off Show Activity Status
Launch Instagram from your homescreen.
Tap on your profile in the lower right corner.
Tap the options icon in the upper right corner. It looks like a gear.
Find Show Activity Status. You might need to scroll a bit to find it.
Tap the button to the right of Show Activity Status to turn it off.
Your Show Activity Status icon should be white instead of blue, signalling that it's off.
What do you think?
Do you think a feature like Show Activity Status could be potentially dangerous? Do you think it's just super silly? Or does it really matter at all?
Let me know what your thoughts are in the comments below.
Get the best of iMore in in your inbox, every day!
Cella writes for iMore on social and photography. She's a true crime enthusiast, bestselling horror author, lipstick collector, buzzkill, and Sicilian. Follow her on Twitter and Instagram: @hellorousseau
This app is a painful experience at the best of times. The messed up time-line and overly repetitive ads make it a chore to use. But when they start doing stuff like this and having it on by default, well that's the last straw for me.
I have now deleted the app. The web version works just as well and doesn't have these "hidden features".

If you do not want people to stalk you, do not empower them and give them the tools. The world did not start turning after Instagram / Facebook...... went online. That said, these companies should be held liable.

I think it's great that you posted this. Sadly, the world is not safe, and it's good to protect yourselves (and loved ones) from people who could mean them harm.

Thank you for posting this!

You shouldn't be using services like this if you're worried about being stalked. All those people can know is when you're online. They don't know where you live or any other important information. Simply block them if they're are a nuisance. Life is not difficult people.

I was very close signing up for Instagram just as it started to get big. I knew a couple people on it. It sounded cool. The Facebook bought it and I figured they would do stuff like this. Glad I never signed up. Another life decision affirmed. :P (I'm surprised it this long to put in a creapy feature like this.)

I just looked on my iPhone and this option is nowhere to be found. Maybe it is in limited release? (Also, what is with the comment system here? I went to post, and it said I didn't enter the verification code, which wasn't even visible when I posted. So I enter it, and it thinks I already posted so I had to wait 2 minutes. Does no one do QA testing anymore?)
Thank you for signing up to iMore. You will receive a verification email shortly.
There was a problem. Please refresh the page and try again.