How to transfer data from your old Android tablet to your new iPad Air or Retina iPad mini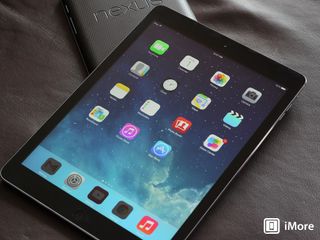 If you're coming from an Android tablet to a new iPad Air or Retina iPad mini, the transfer process isn't as easy as it is for current iOS users but it definitely isn't impossible either. Whether you just want to transfer contacts or you need to get calendars, movies, music, and more onto your new iPad, we can help you do it as painlessly as possible. Here's how:
Google, Facebook, and Twitter
Many cloud services including Google's native ones, Facebook, Twitter, and more can store your contacts, calendars, and much more for you. Cross-platform supported services such as Google, Exchange, or Yahoo! are all supported in iOS 7, which for you means minimal effort in importing all of your data. It's as easy as entering your credentials for any of the supported services that can be found within the iOS 7 Settings menu, and toggling which data you want to pull in; mail, contacts, calendars, and in some cases, even notes. They are already stored in the cloud just waiting for you to access them on your new iPad.
If you rely on Facebook and Twitter for many of your contacts, then that's just fine too. iOS 7 can natively pull down contact data from both services into the Contacts app. Head into the Settings menu for each of them, and tell it to Update Contacts and you're good to go.
Store your images with Dropbox
Dropbox is available for both Android and iOS and offers an automatic upload feature for images. If you enable this on your existing Android device, getting your photos to your new iPad Air or Retina iPad mini is as simple as downloading and signing into the Dropbox for iOS app.
On your Android device, just install the Dropbox app from Google Play if you don't have it already. The first time you launch it, you'll be asked if you'd like to upload your photos. Say yes. If you already have Dropbox on your Android phone but don't have automatic uploads turned on, you can do so through Settings.
The old fashioned way
If, like me, you like keeping a hard copy of your contacts on your computer, or don't trust cloud syncing, you can export your contacts from your Android phone as a .vcf file, and import that into either the Contacts app on your Mac, or into Contacts at iCloud.com
Start with your Android tablet or phone in hand and complete the following steps:
Launch the Contacts app.
Hit the Menu button.
Find the Import/Export option and select it.
Choose the option to export your contacts to storage.
Now either manually pull it from your phone to your computer or email it to yourself.
Once you've got the file containing your contacts you can either open it in the Contacts app on your Mac or upload it to iCloud.com.
We recommend storing this file somewhere safe too just in case you ever need it again.
Using Android File Transfer for Mac
If you use a Windows PC, then getting data from your Android device using your computer will be straight forward enough. If you use a Mac, you'll need to use the often horrendous Android File Transfer app (download links below.) This provides an interface with your Mac for you to browse the files and folders on your Android device, and copy them to your Mac if need be. Since certain files, and images can be imported to your iPhone via iTunes, this might be the quickest way of moving things between the two devices.
Google Apps on iOS are plentiful
Perhaps the easiest way to transition to iOS from Android is to make full use of the plethora of Google apps available in the App Store. Everything from Gmail and Chrome to Chromecast and Google TV remote are available, and Google is currently pushing out a single sign-on feature between the more popular ones. Aside from Android, iOS is the next best place to get your Google fix in the mobile world.
These are good apps too, really good apps. Google makes some of the best looking apps on iOS, many of which have already been updated with official support for iOS 7. If you live and breath Google services, you're in good hands with Google's official iOS apps. Here are some of the most common ones. And there's more where that came from!
Google Search, Free - Download Now

(opens in new tab)

Gmail, Free - Download Now

(opens in new tab)

Google Drive, Free - Download Now

(opens in new tab)

Chrome, Free - Download Now

(opens in new tab)

YouTube, Free - Download Now

(opens in new tab)

Google Maps, Free - Download Now

(opens in new tab)

Google+, Free - [Download Now](https://itunes.apple.com/us/app/google?at=10l3Vy&ct=UUimUdUnU21341 /id447119634?at=10l3Vy&ct=d_im)
Still need help?
The iMore Forums are here to help! We've covered a few of the easiest ways to get up and running on your new iPad if you've made the jump from an Android tablet, but the forums are a great place to go for more tips and guidance. Likewise if you know a trick or two, jump in and help out others who find themselves switching from Android to iPad and iOS 7.
Get more iMore in your inbox!
Our news, reviews, opinions, and easy to follow guides can turn any iPhone owner into an Apple aficionado
iMore senior editor from 2011 to 2015.
Allyson! It's you again! How do you do that?! But seriously, your always-excellent tech how-to's have once again been really useful and well done, and also timely as my potential father-in-law comes home from Best Buy with an iPad Air today. He's been a die-hard Android user right up until he got his Samsung tablet. Thanks again!

You're welcome! Glad it helped!

How do you transfer a game from the ASUS tablet to the iPad air?

What moron goes from Android to iOS?? That's like going from a fully customized Audi R8 to a bare bones Toyota Camry, an older model at that. Silly iSheep, iOS is for kids!

Your comment is obviously a well founded attempt to troll. Please at least try and bring something to the conversation.

I've gone from Android to iOS, Samsung Galaxy SIII Mini to iPhone 4S and I love how easy it keeps all my apps up-to-date without having to manually update any that don't auto update & I still use a Google Nexus 7 (2012) as I can't justify updating a perfectly good Tablet. So by your logic I'm a Silly iSheep. iOS is so much better than Android in many was, especially since iOS updates don't have to go through carrier approval and since Apple makes the devices and OS they update for many years after the device unlike Android OEM's that drop support for the previous years device as soon as they bring out a new device (e.g.Sony)

I have recently broke my andriod tablet, and i can no longer touch the screen or play on my apps. So i was wondering if you could please tell me how to transfer the app data of one of the games that was on my tablet, onto my iphone 4s.