How to use multitasking contacts in iOS 8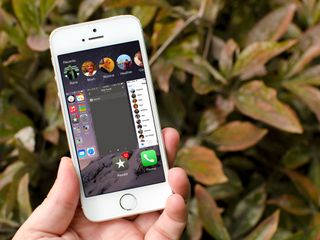 If you're running iOS 8 on your iPhone or iPad, it's never been easier to access the contacts you call and message the most. From most recent contacts to the people you've got marked as favorites, iOS 8 makes it quicker and easier than ever to get in touch with them.
How to access your favorite and most recent contacts in two taps with iOS 8
Double tap your Home button in order to launch the app switcher.
You'll see a list of your recent and favorite contacts along the top. Scroll from side to side in order to siphon through them.
Once you find the person you'd like to call, message, or FaceTime, tap on their contact bubble to expand your options.
Tap on the method you'd like to use to contact them.
That's it! Keep in mind that what contacts show in the app switcher can be customizing in Mail, Contacts, Calendars through the Settings app. If you use Favorite contacts frequently it may be more beneficial for you to disable recent contacts from showing so you always see a list of your favorites without having to scroll very far. You can also do the opposite and disable Favorite contacts if you choose.
Get the best of iMore in in your inbox, every day!
iMore senior editor from 2011 to 2015.
Currently I just have Favorites active. I will have to see if I keep it on my 5s/6+ or not.

I've currently just got it set to recent as having both recent & favourites caused an un-necessary over lap in contacts. Will have to see how much I use it before deciding whether or not to keep them active. Roland

I can't figure out what problem this feature solves. Has anyone found it solves a problem for them?

Thanks Aly. In my world, the 80/20 rules applies in so many places. In this case 80% of my phone/messaging time is with 20% (or less) of my contacts, so having quick access via "double tap" saves time for me. Always enjoy these and I always learn something. Either through the article or an occasional reply.

How do I set it to just favorites? Can't find that setting? Sent from the iMore App
Thank you for signing up to iMore. You will receive a verification email shortly.
There was a problem. Please refresh the page and try again.