How to use Siri with CarPlay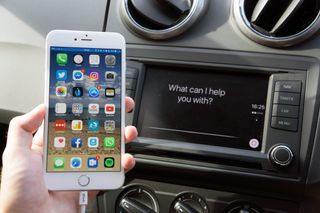 Trying to figure out how to use Siri with CarPlay? Well, getting started is easy, and making it work for you is easier. Whether you need to set a reminder or make a phone call, using Siri in the car is just as easy as it is on your phone. CarPlay is all about keeping you safe in the car, and Siri is a great way to ensure that you keep your hands on the wheel, and eyes on the road. Let's take a look at how to get started, what you can do with Siri, and more.
How to activate Siri
There are a couple of different ways to activate Siri in CarPlay, and they will vary slightly based on your vehicle. The first is the onscreen shortcut, which is also the Home button. Activating this one is easy, but in some ways, less ideal.
Find the Home button on the screen. (Bottom right or left)
Press and hold the button
Speak after the waves appear on the screen
The button placement will depend on where you are located. In the U.S., the Home button is on the left side, while in the UK and elsewhere you will find it on the right side. It will be closest to the driver seat, which is convenient. If you don't want to take you hands off the wheel, there is another way to activate it in some cars.
Locate the voice control button on the steering wheel
Press and hold the button
Speak after the waves appear on the screen
That's all it takes to get started with using Siri. This makes it really easy to activate it at any time so you can complete tasks with ease while on the go.
The easiest way to activate Siri on newer iPhones would be to use the "Hey Siri" command. Since the phone is charging while using CarPlay, some older models will work with the command as well.
Basic Siri functions in the car
Ever find yourself thinking of something in the car and hoping that you will remember it when you park? Whether you need to add something to your grocery list, set a reminder to call someone, or actually make the phone call, you can do all of it without touching your phone. You do it all the same way you would on your phone, with the same commands.
All you need to do is activate Siri, then begin with your voice command. Examples include: "Set a reminder to change lightbulb at 4 p.m.," "Send message to John," and various others depending on what you want to get accomplished.
A few things to consider
You will need to have your phone plugged in to use CarPlay. Be sure to have a good quality cable in your car that is long enough for it to reach where you are placing your phone.
Something else to consider: the noise in your car. Whether it's background noise or the audio playing in your car, sometimes Siri may have a hard time understanding you. You may need to repeat yourself one or two times during certain situations in order for Siri to fully understand.
What else can Siri do?
Do you use Siri for something that isn't mentioned above? If so, be sure to drop a note in the comments letting us know what you use it for and how you accomplish it.
Get the best of iMore in in your inbox, every day!
Jared started off writing about mobile phones back when BlackBerry ruled the market, and Windows Mobile was kinda cool. Now, with a family, mortgage and other responsibilities he has no choice but to look for the best deals, and he's here to share them with you.
I have Carplay and Siri works great with it. Quick question, when you are driving and you tap Music on the screen then go to Artist, should you be able to see all your Artists or is it blocked so you only use Siri? I try to click on Artist and they aren't there.

"With CarPlay, the "Hey Siri" command will not work to activate it." Ummm, are you sure about this? I activate it all the time on my 6S. I would presume that it would activate on an older phone assuming it's charging (which it is with Carplay). Another item to note is that different head units will have different methods of activating Siri besides long pressing the Home button. On my aftermarket Alpine CarPlay unit, there is a dedicated Siri button to push to activate it.

It didn't work when I had first tried it, but now it is working. Weird. Updating now!

The "Hey, Siri" works on my iPhone 6s when connected via CarPlay.

Can CarPlay be used without plugging the phone into the car? Sent from the iMore App

The new version of CarPlay is supposed to work without plugging the iPhone in. No cars have it yet. It'll probably be a couple of years before it's available.
Thank you for signing up to iMore. You will receive a verification email shortly.
There was a problem. Please refresh the page and try again.