How we take killer photos at iMore: From iPhone to DSLR, shooting to editing!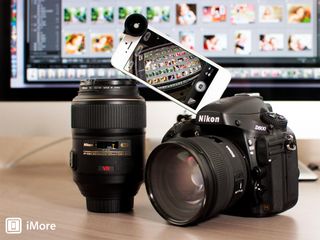 Although most of of what we do here at iMore is write, we also do a lot of photography. We strive to make iMore look beautiful and value good photography, whether it's taken with an iPhone or professional DLSR. But although we all have the same vision, the ways we go about reaching our final images are completely different. Whether it's using our favorite iPhone apps, or highly professional tools like Photoshop, each of us have our own workflows.
Ally Kazmucha, how-to editor
I take photos on a regular basis for both iMore and for AnoStyle. I do almost 100% of my editing and exporting from my iMac or MacBook Pro. I've never fancied editing photos on iPhone or iPad and have yet to find any program that makes me change my traditional workflow. It's just faster on a desktop. The most I'll do on an iPad is use a camera kit to upload photos to iPhoto for iOS in order to perform quick edits and share them if time is an issue.
As far as gear goes, I use a Nikon D7000 with a variety of different lenses. My main lenses are my NIKKOR 50mm f/1.8 and my 35mm f/1.8. They aren't super expensive lenses but they're extremely versatile when it comes to product shots. Probably 90% of the photos I take are with one of these two lenses.
I always try and take the best photo I possibly can in-camera but as with any kind of photography, editing programs and knowing how to use them are extremely important. For this, I use Adobe Photoshop CS6 and on occasion, Lightroom 4. I always shoot in RAW format because as anyone familiar with photography knows, when it comes to editing, RAW formats are more forgiving. They do, however, take up lots more storage space. That means it's good to have extra memory cards on standby. I almost never dump by cards so I keep a bunch on hand for when I need them.
For post processing from start to finish, I open my images in camera raw and edit settings such as exposure, clarity, temperature, and anything else I feel needs to be tweaked. Once I'm pretty much satisfied, I'll open the photo in Photoshop for final editing. This is where I'll adjust my black and white levels if needed and tone anything else. I typically always take product photos with device screens off unless I'm in a hurry. This prevents the screen from looking blue or yellow. This is where I'll edit in screens, mask or blur anything I need to, and do any final touchups. Once that's done, I'll constrain images accordingly and choose a good crop angle depending on what I'm using them for, followed by adding any appropriate watermarks. Finally, we're ready to export and save for web.
From here, it goes wherever it needs to go, whether that be to iMore or on the AnoStyle site.
Richard Devine, senior editor
I'm not what you'd call a big photographer, in fact, I'm probably the furthest away from that of anyone on the iMore team. But, obviously our work here calls for regular photo taking, so everything I shoot for Mobile Nations is done at present on a Panasonic Lumix DMC-G2 Micro 4/3 camera. I initially switched to using Micro 4/3 following last years IFA show in Berlin, where I decided a DSLR was too big for me to lug around the show floor. Micro 4/3 offers the flexibility of interchangeable lenses, but in a much smaller form factor. Most of my photos are taken using a 14-42mm lens, though at some point in the future I do plan on investing in a pancake lens too.
When it comes to editing, I'm not yet settled. Currently I'm playing around with the Adobe Lightroom 5 beta, but both Pixelmator and the open source GIMP have a home on my Mac. For a free tool, GIMP is surprisingly powerful, and has long served me well and confuses me much less than some of the other programs out there. But since taking good photos is half the battle, that's where my efforts will be focused for the time being. Of course, all editing from my digital camera is done on a Mac, either my 13-inch Retina MacBook Pro or my Mac Mini. Photos look gorgeous on the rMBP, but I have a 23" monitor attached to the Mini, which is handy when I need to get a lot done at once.
I actually spend more time shooting photos with my iPhone. I enjoy this kind of casual photography, snapping things and sharing them with my friends and family, and playing around with various filters and editing apps. I use Camera+ by default on my iPhone, I love the Lightbox on it, it helps me curate my photos before they save to my ever increasing camera roll. It also uses iCloud sync, so I can pretty quickly look at the shots on my iPad, and tweak them there if I desire. When it comes to editing apps, Snapseed is number 1, I just love how quick and easy it is to alter the photos and share them out. Mainly to Google+, but also I share a lot via Twitter and Instagram, and I'm just getting into Oggl by Hipstamatic.
For a while now Dropbox has been the de-facto storage service, by way of the auto-upload feature. But, because I'm lazy I now have a massive file filled with almost a years worth of images! The recent Flickr overhaul has me wanting to use it more, but I really would like an auto-upload function.
Leanna Lofte, App & Photography Editor
I use two different cameras: my iPhone and Nikon D800. My iPhone is primarily used for snapshots of my kids and other various events of my life, and I use my Nikon for all the photography I do for iMore as well as professional photography of newborns, families, and my kids.
On my iPhone, I usually use the built-in camera app because I can quickly access it from the Lock screen. Since most of my iPhone photos are of my kids, getting to the camera quickly is key to capturing those random moments. After I take a series of photos, I usually open the best one in Instagram, apply the Sierra filter, and share to Facebook and Twitter. It's all about speed for me. These pictures are never perfect, but I will forever cherish them. For collages, I usually use Fuzel Pro.
What I love about sharing with Instagram, is it automatically adds the photos to an Instagram album in my Photo Library. My Camera Roll is flooded with groups of the (almost) same photo and remembering which one had the best smile or pose is impossible when trying to quickly find a photo to show to someone. Instead, I just jump into my Instagram folder and can quickly find anything that I deemed sharable.
I also have three Photo Stream albums that I regularly add to: one for each of my daughters, and one for photos of my daughters together. These albums are shared with about 10 different family members. I created separate albums because it makes it easier for me to find photos of either one of my daughters.
For other iPhone photography that I'm trying to be more careful and artistic with, I use Kitcam to take the photos and do some basic editing. Then I open in Photoforge 2 to complete the editing process. If I'm looking for a specific look, I may open in one of the other many editing apps I have installed on my iPhone, like Mextures. Even though the iPad is an excellent device for editing photos, I quite honestly rarely use it.
I have two lenses that I regularly use with my Nikon D800: Sigma 50mm f/1.4 and Nikon AF-S Micro Nikkor 105mm f/2.8G. I shoot in RAW and import in Lightroom as DNG for photo management and first round of editing. For every session that I import into Lightroom, I add tags, location if appropriate, and create smart collections.
My least favorite part of photography is the curating process, but Lightroom makes it bearable. I go through every photo and either mark it as rejected or give it a star value. Next, I mass-delete everything that's been rejected and create a smart collection for all photos with 4+ stars. I go through every photo in this collection and flag the best ones and create a smart collection of the flagged images. Once I've narrowed it down to the best of the best, I do some basic editing and masking if needed. If more work is needed, I export to Photoshop and do more detailed editing.
For most photos I take for iMore, I skip Lightroom. Instead, I drag the image I'm going to use straight from my SD card to my desktop, open in Camera Raw, do basic editing, then finish up in Photoshop. I've created actions that resize and watermark the photos quickly. Once I save for web and upload into Drupal, I trash the images. Since I usually only do one photo at time for iMore, this is the quickest. But for big shoots like galleries of new devices, I use Lightroom.
Rene Ritchie, editor-in-chief
With my iPhone, I use the built-in Camera app for anything quick, because the fast access from the Lock screen gives Apple a home court advantage that's all but unbeatable. When I have more time, I use KitCam because it provides a dizzying array of options. I share photos on Instagram and sometimes Google+, though mostly just to troll food pics. If I have to edit while mobile, I'll jump into SnapSeed, until Google kills it. If I'm using my iPhone to shoot a trade show or a review, I'll use an olloclip for macro or wide-angle.
I'd only use my iPad camera in case of emergency. For example, if I was reading a comic and suddenly saw a Sasquatch pull up to Starbucks. (Though if the iPad is your only mobile camera, it's by all means serviceable.)
To transfer iPhone (and iPad -- mainly screenshots) photos to my Mac, I rely on Photo Stream. As long as my device is above 20% charge and on the same Wi-Fi network, it "just works". I keep Photo Stream switched on in iPhoto rather than Aperture, because iPhoto lets me drag into other apps, like Photoshop whereas Aperture is a pain in the ass for that kind of stuff.
For iMore photography and videography, I use a Canon 5D Mark III. I'm a decent artist with an okay eye, but I've learned to throw technology at my lack of photography skill. The sensor is so big, the low-light so forgiving, that I can general salvage even the worst photo in post. It's a crutch and I'd rather learn to get everything in-camera, but pragmatism is a hell of a dictator. I keep the 5D on a Carry Speed strap for walking around, or a Manfrotto 685B monopod with a Manfrotto 128RC head. For video, I have a SmallHD monitor so it's easier to keep focus, as well as boom and wireless lav mics for audio.
My lens collection currently consists of a Canon 50mm f1.4 prime, a Tamron 24-70 f2.8, a Canon 100mm f2.8 IS macro, a Sigma 70-200 f2.8 IS, and a Canon EF 100-400mm f/4.5-5.6. I use the 50 for single person interviews and hero shots, the 24-70 for multiple person interviews, the 100mm macro for hero shots, the 70-200 for interviews where I can stand further away and get a good bokeh effect, and the 100-400 for fun.
To manage DLSR images I use Aperture, though I use Lightroom for live blogging because the workflow feels a little more sane there. Because I've been using Photoshop most of my life, I almost always right click and dump image editing into it. Photoshop works on muscle memory for me now, and I have a lifetime of little tricks to draw upon.
I'm not sure where I'm going to store all my photos yet. Right now a lot of them are on a dead Drobo I need to replace when I have time, and small external hard drive. Dropbox is an option, since I use that already, as is the new Flickr and even Google+. I just need time to figure it out. (Any recommendations appreciated!)
I would really like to become a better photographer, and Leanna, David Lundblad, Martin Reisch, and John P have given me invaluable advice and help to do so (everything I mention above I stole from them). I'm not a fast learner, but I love it, I'm lucky enough to have a job that lets me justify a lot of gear and glass, and I'm in it for the long haul.
David Lundblad, Design Director, Mobile Nations
These days I only take photos that have been planned in advance so I rarely use my phone camera but when I do it is more than sufficient at snapping good street-style photos (which I always edit in SnapSeed). I have a Canon 5D Mark 2 with a trusted prime 24mm L-series lens that I use for everything. I prefer moving around to zooming and I don't really shoot portraits. I'm a recent Mono-pod convert and now carry a Manfrotto 561BHDV.
I work with light and have three Canon 530ex speedlights, an AlienBees 800W strobe, an AlienBees Ringflash ABR800, a bunch of softboxes of varying sizes and some reflectors too. I trigger lights with three PocketWizard PlusX. Although, on most shoots I only bring one Canon 530ex speedlight, one small foldable softbox, a stand, two Pocketwizards, the 24mm and the monopod. I get up at 5am on Saturday and sometimes Sunday mornings and shoot for a couple of hours before it gets to hot (I live in Florida).
I use my phone camera exclusively for shooting lifestyle/fashion shots for my girlfriend and her active Instagram (she is a fashion blogger). On these occasions I make sure that I never shoot in direct sunlight, always position her facing away from the sun and make sure that I shoot from a low position - the phone should be at her waist height or lower.
Martin Reisch, Videographer, Mobile Nations
How do you do photography?
That's how we do our photography here at iMore. We all have different workflows, use different apps, and have our own little unique ways of doing things. Now that we've told you ours, we want to hear yours! Do you ever use something other than your iPhone for photography? What are your favorite apps? And within those apps, what are your specific workflows like? Let us know in the comments!
Get the best of iMore in in your inbox, every day!
Former app and photography editor at iMore, Leanna has since moved on to other endeavors. Mother, wife, mathamagician, even though she no longer writes for iMore you can still follow her on Twitter @llofte.
I use a Canon T3i with a Canon 50mm f1.8, Canon 55-250mm, and a Canon 18-35mm which I do video and photo with. The 50mm is my go-to lens as of now, due to the versatility. However, for a few things, the iPhone 5 camera has been mind blowingly awesome. Using Camera+ for shots that don't need to be quick and editing them on the iPad iPhoto app, its a great process that allows for a mobile photo station. On the laptop, I prefer Aperture for batch editing and Photoshop for individual photos.

All I have is my iPhone 5 and a Panasonic Lumix DMC-SZ1. I can never take a photo I'm happy with on my iPhone so I usually just use my Lumix for photos. I also rarely edit my photos, I'm a perfectionist so I prefer to take the best photos that need next to no editing to look good. I have Photoshop on my iPhone and I know it works good, I just have no training or experience editing photos, though I did work in a photography lab that specialized in color for four years. That's one of the reasons why I use iPhone. Color is no contest.

Is there a reason you are using 3 pocketwizards since the Alien Bees can be set as slaves? Is it for remote adjustment?

for shooting with 2 speed lights - which I prefer to be honest. My 800 strobe is gathering dust since I dont shoot so much studio.

Ok. I picked up Yongnuo strobes and they can be set as slaves too.

like me, you'll probably end up wishing for the pocket wizards eventually. Once I started shooting with them I don't look back. It is a bit of an investment but the new PlusX are a good price

Thanks I will look that up. I currently use a cybersync to trigger my strobes.

Great seeing how you guys and gals all go about. I'm using a 5DMIII and my Lumia 920. The dslr is for the more serious photos and site work, while the 920 is for snapshots. Seems like most of you do the same. And I'm jealous of Martin's bag.

iPhone takes terrible pictures when natural light is not available. I am no expert but cannot understand how apple can make such high claims about the photo quality.

Thanks for the run down on gear and process! What sort of rig are you using for video? Rene you said you use a SmallHD monitor which must mount to something and I assume with all that gear Martin has a video rig on steroids. I have 5Dmkiii, 16-35 f2.8 L, 50 f1.4, 24-105 f4 L and 70-200 f4 L. I use Lightroom 4 for managing files and quick touchups, but use PS CS5.5 for serious edits. I'm primarily shooting photos but want to start shooting more video. I'm looking for handheld rig suggestions as I have a nice tripod setup.

i use canon T1i. Mostly i use it for stage photography, and sometimes fashion photography. but, when i'm using my iPhone 4, my imagination going wild, i can shoot from any perspectives, i only shoot stuffs, but not foods. i usually post it to instagram

I shoot with my nikon d3100 with a 18-55mm vr, 55-200mm vr and a tamron 55-300mm di.
I take my iphone with my where ever i go, so i shoot with that to! :)

For social and holiday photos I use my iPhone because it's light weight and always with me. I take photos with KitCam and upload them simultaneously to Twitter, FB, Flickr and Instagram using the Instagram app. I rarely use Instagram for filters since KitCam already has so many, but I may add extra film effects, light leaks, bokeh or frames with CameraBag 2, Camera Awesome, Picfx, PhotoToaster, Cameramatic, Snapster or Real Bokeh. For event and live music photos I use a Canon 30D and load them on to my iPad with the camera connection kit. There I adjust brightness, exposure, RGB, noise etc using Photogene and Photoforge2. I prefer to keep those photos naturalistic, so I don't add funky effects, but I like the diffusion filters in Photo fx. Finally I share them with Kicksend or upload them to Flickr or Dropbox, depending on what's easiest at the moment.

I seem to be the only Sony Nex user here, but here goes. Sony Nex 6. Favorite lens is 50MM/F1.8, also have the kit lens 16-50PZ, and 55-210/F3.5-5.6. Looking into getting some legacy Canon FD lenses with my fotodiox adapter. Certainly the iPhone 5 gets used a lot too, but with the portability and great image quality of the Nex 6 and lenses, a great photo is never far away. Thanks guys for sharing your gear, its always interesting to see what other people are using.

You asked for a suggestion on where you could keep all of your photos... this seems like a pretty cool option, www.filetransporter.com

I recently converted m43 Olympus PENs... And since the 1st Gen iPad, I have been editing on it.. I now use a 3rd Gen but the workflow is the same. My favorite go to apps are Snapseed, Filterstorm, CameraBag2 & Over for titling. I have documented my iPad workflow where I walk-through importing to sharing and to backing up back to my mac. My workflow is plain and simple... digitalchemicals(dot)blogspot(dot)com/2013/02/my-ipad-photo-workflow.html

Leanna, I love your work. I always enjoy seeing your professional work posted on the Facebook page. Rene, I don't think you give yourself enough credit! ------ I use the iPhone stock camera for quick shots because it's... quick. I also use it for full resolution shots. I typically keep Camera+ on optimized for snapping pics and sharing with friends, Twitter, etc. because of the smaller file sizes. I'll also bump it up to high quality for the more staged shots because you can adjust exposure and stuff. My Instagram style is all over the place. Sometimes I'll shoot straight from Instagram and sometimes I'll import an already taken photo. I like Leanna's workflow here a lot.

Nice post guys I'm thinking about getting the olloclip.
Thank you for signing up to iMore. You will receive a verification email shortly.
There was a problem. Please refresh the page and try again.