i0n1c confirms current untethered jailbreak works on iOS 4.3.2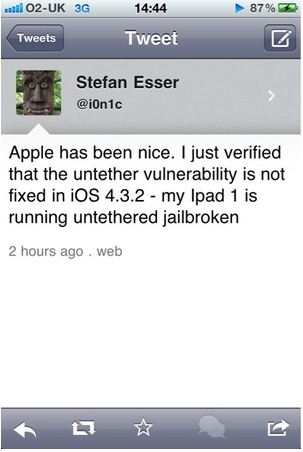 i0n1c has just confirmed via his Twitter account that the exploit behind the current untethered jailbreak is still working and alive on iOS 4.3.2. Apple has not patched it. He is currently running the jailbreak on his original iPad. Odds are that this will work for all devices minus the iPad 2.
I would still hold off on upgrading until a jailbreak tool has been updated if you can. But if any of you try out redsn0w on iOS 4.3.2, let us know what happens and how it turns out in the comments! If you run into any issues, check out our TiPb jailbreak forums too.
Get the best of iMore in in your inbox, every day!
iMore senior editor from 2011 to 2015.
He said straight on his Twitter that the current public redsn0w won't work on 4.3.2. He has to make an update to the current code, but the exploit itself remained open. Shouldn't be long.

Correct. The exploit is still working, but some other stuff was moved around, so he needs to recode the jailbreak to adjust to this.

good call. i would have tried it out for no reason. lol!

I'll stick on 4.3.1 thank you. I basically just jb'd and 4.3.2 offers zilch for me. I'm still deciding if I should jb my iPad 1 love jb'g my i4 though.

you can jailbreak IOS 4.3.2 on phone4 using pwnage tools. to check how to do that visit:
http://www.justmobilephone.com/how-to-jailbreak-ios-4-3-2-untethered-on-...

It seems so pointless to move to this one. I'm coming from a 3G where I never upgraded until full version upgrades. The patches are so small it will not help anything if your phone is perfect in your eyes.

Some people are just those "i want to be the first try and update my fb/twitter status" kind of people, nvr see whether it is necessary to upgrade

I don't get why they can't all be done as amazing as jailbreakme was??? By far the best!

Jailbreakme (first and second editions) required finding a serious user mode security flaw in Safari - Apple rightly spends a lot of time and effort trying to find ans close these holes, so it isn't easy to compromise everyone's phone by taking over a website.

I'll stick to 4.3.1 for both my iPad and iPhone. See no point in updating for now.

I don't have cable or sat anyway, but I use Hulu a lot, and I don't mind paying $10 to have it on my iPad/iPhone, even better if the app supports video out so I can play on my TV.
Thank you for signing up to iMore. You will receive a verification email shortly.
There was a problem. Please refresh the page and try again.