iBooks Author 2.3 adds support for ePub 3, opens up ebook creation to anyone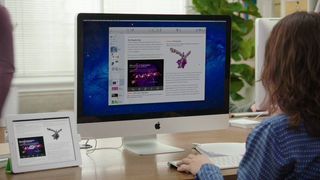 I've been building ebooks for a little under five years now for my various tech-related jobs, and as such, I usually follow the world of ebook-building pretty closely.
So, I was pretty psyched to hear a few weeks ago that the newest iBooks update—found in iOS 8.4—would let you view iBooks Author-created books on your iPhone. Previous to this, iBA-created books had been limited to the iPad and Mac, which made choosing to work in iBooks Author fairly audience-limiting.
But I hadn't been able to open up iBooks Author in the weeks since the June 30 rollout, due to this tiny little thing called Apple Music you probably haven't heard of.
Today, I did. And boy was I surprised to find that not only can iBooks Author create its special Made for iBooks projects, but it now has two ePub templates. Which, yes, create ePub 3 books.
This is huge for ebooks and ePub
Apple has essentially created an ePub 3-compliant WYSIWYG (what you see is what you get) editor in iBooks Author. This means that authors can—from start to finish—create gorgeous books with images, captions, video, and custom text, and publish them in the ePub 3 standard, which you can then easily convert to KF8 (the Kindle proprietary format based of ePub 3).
ePub 3 is an open standard created by the Digital Publishing Forum—as such, it's not owned by Apple. You don't have to sell your ePub 3 book on the iBooks Store or tie it exclusively to Apple. (There is a software licensing restriction for Apple's proprietary .ibooks-generated format, but no such restriction exists for the .epub files.)
Combine this with iBooks Author's already-available ePub import, and you can essentially use it for any part of the ePub process. You can edit the ePub in other apps and bring it back into iBooks Author. You can start in InDesign, export, then bring it to iBooks Author for cleanup. Whatever your workflow, iBooks Author now supports it.
I've been asking for a WYSIWYG non-proprietary ebook editor for years, and Vellum has been the only thing to come close. Now, Apple is offering a free tool to anyone to help them create ebooks with no knowledge of HTML, CSS, or complicated nonsense of the ebook industry necessary.
I'm a little excited about this.
Of course, there are limits
Unsurprisingly, iBooks Author's .ibooks-format ebooks still get the majority of the cool gimmickry available in the app; to build an ePub-compatible book, you have to first choose an ePub template.
Keeping with the basic ePub 3 standard, ePub templates remove floating text boxes, charts, shapes, and all widgets beyond the gallery and media boxes. But that's still an incredibly high bar for a WYSIWYG ebooks program: You can add images and captions; video; custom fonts; custom chapter headers; HTML tables (good glory yes!); and more.
The bright big beautiful tomorrow
I need to test the full breadth of iBooks Author's ebook templates more thoroughly, but they're an incredibly promising start.
Thanks to these templates, anyone with a Mac can now create a book for the iBooks Store and beyond, for free, without crazy knowledge. It's an amazing development from Apple's iBooks and iWork team, and I can't wait to play around with iBooks Author when I finally dig out from the Apple Music madness. (Maybe we'll write an Apple Music book! Who knows...)
Serenity was formerly the Managing Editor at iMore, and now works for Apple. She's been talking, writing about, and tinkering with Apple products since she was old enough to double-click. In her spare time, she sketches, sings, and in her secret superhero life, plays roller derby. Follow her on Twitter @settern.
Nice.. I always thought iBooks Author was a big miss that had soooooo much potential yet Apple just didn't address.

Is iBooks Author only available on Mac or is it available on PC as well? Sent from the iMore App

Only available for the Mac at the moment but that may change

This is Apple, so of course it is Mac exclusive.

Apple-exclusive still, but bear in mind 2.3 also added iPhone compatibility for Multi-Touch Format books it creates, so that opens up the market considerably into PC users (as many have iPhones). Good first step...

Pretty tired at the moment, so I may just be missing the obvious, but I don't see how that extends it to PC owners? We are referring to Author, rather than iBooks itself. I'm a Windows/Android user myself, but I have to admire this type of software. Glad to see more emergence out of the iCosystem (oh gosh that's a terrible pun) with support ePub 3.

Two ways this impacts PC owners: 1) Many of them have iPhones. The 150M-200M iPhones worldwide (of version 5 and up) can now enjoy Multi-Touch Format books created in iBooks Author. If you're a content creator, you can't ignore iBooks Author anymore. 2) iBooks Author now can create EPUB files. Yes, there's compatibility issues all over the place, but the fact remains that Apple's walled garden approach has been compromised to begin to suit the true needs and demand of the digital content creator marketplace and all the myriad industries that create ebooks and digital collateral. PC ebook readers, Android ebook readers, etc can now enjoy content, to varying degrees, created in iBooks Author. Baby steps, for sure, but big baby steps. Very exciting.

There is no comparison between reading a book on a Laptop eReader, a Small Tablet... and a 4.7-5.5" Phone. The latter, just doesn't cut it. That's why I don't buy any of my books from iBook Store. My Desktop and Smartphone is Apple, but my Notebook and Tablet are Windows. I buy from Kindle, instead. They need actual Universal iBook Apps for Windows to coax most Windows users. A smartphone is good for reading in a pinch when riding shotgun, on a train or plane, in the waiting room at your doctor's office, etc. but not for when you want to sit down and devote 2-3 hours to reading a good book. I don't think Apple honestly realizes the gaps in their ecosystem and service availability, because they strike me as the one company who simply doesn't care to use a competitor's product enough to see it first hand. The lack of even a Web-Based iBook Reader is a problem (from a user's point of view).

Well, FWIW, a lot of the ePub files in the iBookstore are actually DRM-free (it is the publisher's decision if DRM is used or not) and work on many devices, including Windows computers.

Great piece, Serenity. We're just as excited as you. Already, the user base of iBooks Author had been growing steadily over the last year since version 2.2 came out, but with this update, it could blow the doors off. After all, quick, name another digital publishing solution which publishes interactive, multimedia content with HTML5 capabilities seamlessly into a marketplace supporting 150M-200M devices worldwide (after iPhone support now added)? Exciting times. We'd love for those interested in learning (or re-learning) iBooks Author to join us in October at the iBooks Author Conference too (www.iBooksAuthorConference.com)!

> remove floating text boxes, charts, shapes, and all widgets beyond the gallery and media boxes. Do you know for sure if these are removed because ePUB 3 standard doesn't support it or is Apple restricting this intentionally to "degrade" ePub 3 books?

Might be "neither, nor"... iBooks creates these objects by using proprietary controls from the iWork apps (floating text boxes are from Pages, charts from Numbers etc.). So, even if ePub 3 does support similar functionality, it would still not understand that code. iBooks Author would have to internally convert objects to e.g. SVG, layers etc. This would be a) a lot of additional work and b) for the time being of limited use, as most standard ePub readers do not support these features yet.

This rocks! I gave up on this tool long ago, simply because I did not want to have to author eBooks twice. Now I can use one tool to do it all... love it.

Thanks, Serenity, for writing about this. I've written and published an iBooks book, but I always regretted that it is only available in the Apple Store. Now that I'm starting my second book, I'll be looking to use the ePub feature. Though Pages has limitations, I still prefer to write in it after drafting in Scrivener. The same goes for iBook.

Makes me look forward, more than ever, to my first iBook publication! WooHoo!. As a consumer I'm already a big-time fan of iBooks media - Lots and lots of iBooks read here.

Didn't it have EPUB options in the past?
I thought the licensing said (used to say) that you couldn't use it to create books for outside the Apple ecosystem (even EPUBs)?

Gary - answer to first question: Mostly no. Up until v2.2 (released Q4 '14), the answer was completely no. Version 2.2, however, ushered in the exciting new feature of being able to *import* EPUB files, among other things, and really got some momentum in iBooks Author's sails prior to v2.3 which now blows the doors off what this software tool can do for content creators in all fields. Answer to second question: yes, the previous terms/conditions did say that, but now (as of v2.3) it has changed radically to allow EPUB files created in iBooks Author to be distributed and even monetized in outside ecosystems. What remains is that .ibooks files which are sold must be sold through the iBooks Store. Very reasonable.

Not sure what I'm missing here, but it doesn't work for me. I have iBooks Author 2.3 (780). When I attempt to do a straight Open with an epub, even one created with Pages, all selections are greyed out. I can create a *new* iBA document selecting an epub template, which can then be exported as an epub, but if I choose File>New from ePub file... the document created can *not* be exported as an epub (only iBooks, PDF, Text). I notice that when I choose New from ePub file, I do *not* have the choice to open an epub template as I did when I created a new doc. As far as I know, my epubs are not DRM'd.

This is indeed good news for the EPUB 3 standard. For the PC guys, I can refer to a cloud-based alternative worth to assess http://epub3.pw Ask for a trial account and provide us some feedback.

Apple's latest version 2.41 is not compatible with Mavericks 10.9;5
Does anyone know where I can get version 2.3 or 2.4 ?
Thanks
Thank you for signing up to iMore. You will receive a verification email shortly.
There was a problem. Please refresh the page and try again.