How to save iCloud photos and videos so you can delete them from your iPhone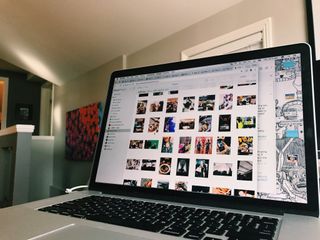 (Image credit: iMore)
I'll give you the full disclaimer: There is no way to simple delete photos from iCloud on your iPhone without deleting them everywhere. Because your iCloud account is connected to your iPhone's photos, simply selecting and deleting the ones you don't want on your iPhone would subsequently mean having those photos disappear in your iCloud account.
Now before you click out of this article going "THANKS, CELLA, THAT WAS SUPER HELPFUL ", know that there are a number of ways you can save your photos from your iCloud account without giving yourself a migraine.
Here are a couple of tactics you can use to save your iCloud photos so you can finally delete them off your iPhone!
How to download a photo or video from your iCloud Photo library
Launch any web browser and go to iCloud.com.
Click on the Photos icon from the main menu.
Click the Download selected item icon in the upper right corner.
The photo or video will begin downloading automatically.
How to quickly send your photos to your Mac (so you can delete them off your iPhone)
Before you import your photos from your phone, make sure AirDrop is turned on.
Launch the Photos app from your homescreen.
Tap Select in the upper-right corner.
Tap the photos and videos you would like to import to Photos for Mac.
Tap the share icon in the lower-left corner. It looks like a box with an arrow coming out of the top of it.
Tap the Mac you would like to send your photos or videos to.
On your Mac, click accept in the prompt that appears in the upper right corner.
Now that your photos have been transferred to your Mac, you can choose where you'd like to save them. Once you've confirmed they're stored away safely, you can delete them on your iPhone!
How to send your photos or videos to another storage drive
Whether you're using Dropbox, Google Photos, Google Drive (or whatever!), uploading your photos from your iPhone to another storage device can potentially make things a little bit easier so you can delete them off your iPhone!
Launch your preferred storage device app (mine is Google Drive).
Tap the plus sign in the lower right corner in the big blue bubble.
Tap Upload.
Tap Photos and Videos or iCloud Drive.
Tap to select the photos and videos you would like to upload.
Tap upload in the upper right corner.
Your photos will be uploaded to your new storage device and you can delete them off your iPhone for good!
How do you save your iCloud photos?
Are you someone who likes to keep all your photos or videos in one place? Are you working on keeping yourself more organized?
How do you use iCloud? Let us know what your preferences are in the comments below!
Cella writes for iMore on social and photography. She's a true crime enthusiast, bestselling horror author, lipstick collector, buzzkill, and Sicilian. Follow her on Twitter and Instagram: @hellorousseau
Google Photos FTW:
"Free up space" Done. Posted via the iMore App for Android

My Lilly Esin once in a blue moon got a new choice of the crop Chevrolet Corvette Stingray Coupe by unavailable off of a laptop... flash it out
,,,,,,,,,,,,,,,,,,,,,,,,,,,,,,,,,,,, http://www.moneytime10.com

i have about 40,000 photos on icloud. i am wondering what a good way is to download all of them so thatbi can stop paying them every month.

I would use Google photo. its free unlimited storage.
Or if you are paying for a Microsoft office subscription, you get 1TB of OneDrive storage included.
One drive and google photos works on any device or computer. even if its windows.

The issue on saving photos out of apple infrastructure is that those lose their features. I mean, Slo-mo and time-lapse pictures are not any more editable...

Ya, and how the heck do you save/backup Live Photos? That's what I need to know.

The way that some of their newer services work are really complicated for the normal and tech savvy to get their heads around. Apple Music, Photos/iCloud Photo Library, iCloud Desktop/Documents.... The ideas in whole are good, but the implementation details are terrible. And with such sensitive data, that makes it even worse imo.

But it seems to be a way to restore the deleted photos. I have seen a blog that seems to be able to do it.

So much easier to just use Google Photos or Amazon Photos if you've got Prime. Sent from the iMore App
Get the best of iMore in in your inbox, every day!
Thank you for signing up to iMore. You will receive a verification email shortly.
There was a problem. Please refresh the page and try again.