iCloud rumor roundup: What's coming next for iCloud at WWDC 2018?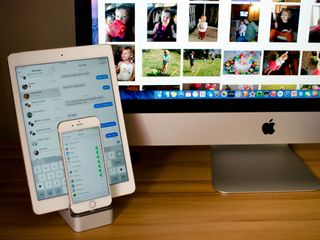 iCloud is Apple's cloud storage service, which lets you upload photos, documents, app content, and more to your iCloud account. It also makes it possible for you to download music, movies and TV shows you purchase on iTunes across all your devices. You can sync email, calendar, notes, and reminders, too. Apple is always working on new features and trying to make it perfect for every user.
Though there aren't many rumors floating around about what's in store for the future of iCloud, there are some interesting possibilities on the horizon. Here's what we know so far!
March 27, 2018: Apple's education moves could hint at iCloud updates
Apple's iCloud service for education customers got several big boosts at Apple's education event on Tuesday, with a storage limit increase to 500GB and multi-user support further expanding Apple's education reach. On the consumer side, both these aspects could prove exceedingly useful in a family household, but they've yet to be implemented; that said, we're hoping these features will make it into iOS 12 to make guest management a sinch.
Will Apple increase the free iCloud storage tier?
You can upgrade from 5GB of free iCloud storage on a personal plan for as low as $0.99 USD to 50GB, but it's getting harder to stick with the free tier, and some other cloud storage companies offer more storage for free.
With Apple's iPad Education event, the company added a special free tier for educators and students. Any student with an Apple ID issued by their school now gets 200GB of iCloud storage free. This causes one to ponder whether an increase in the standard free tier is coming. Though we haven't heard anything official, it's possible that Apple is looking into offering a little more storage in the free tier, doubling it to 10GB, or even pushing it to 15GB.
Will Apple add iTunes content to iCloud.com?
There have long been rumors that Apple is working on making it possible for you to start watching a movie or listening to a song on one device and then finishing it on another via Handoff. It would be even more awesome if Apple made it possible for you to access all your music and movies via iTunes on the web. Apple could add iTunes to its icloud.com access from any computer or device. All our iTunes-purchased movies, tv shows, and music are already in iCloud anyway.
What about controlling iCloud Photo Library syncing? Will we get more control?
This might be more of a pipe dream than a rumor, but iMore Managing Editor, Serenity Caldwell, will tell you how much she'd love Apple to give us the option to actually select whether we want videos, for example, to sync in iCloud. It would be a great improvement to see Apple give us a little more freedom for which folders get added to the iCloud list and which ones we prefer to stay put on our devices.
Are there any other rumored features coming to iCloud?
There isn't a whole lot of information swirling around about big changes to iCloud this year, but there is a chance Apple will let us selectively save iCloud desktop and documents folders instead of only being able to save all or nothing.
There are plenty of things we'd like to see come to iCloud, but we won't know anything for sure until we hear it straight from Apple.
Updated May 2018: Updated for WWDC 2018
Get the best of iMore in in your inbox, every day!
Lory is a renaissance woman, writing news, reviews, and how-to guides for iMore. She also fancies herself a bit of a rock star in her town and spends too much time reading comic books. If she's not typing away at her keyboard, you can probably find her at Disneyland or watching Star Wars (or both).
I would love to store some of my iTunes contents on the iCloud. iTunes Match ($25/year) does offer similar capability, but I should be able to use my storage for storing iTunes contents. I would also love: 1. Shared iCloud folders.
2. Shared iCloud Photo Library.
3. Versioning.

1. I don't care about cloud storage capacity, since it's hard to sit in one cloud ecosystem, anyways. iWorks is so bad vs. Office, that you basically have to have an Office Subscription unless your needs are very basic. That's 1TB of Cloud storage, and the service is a lot better than iCloud - frankly. This has actually gotten WORSE over the years, not better, since they made iWorks more in line with the more limited Mobile (i.e. iPad) versions... OneDrive is simply a superior cloud storage service, at this point. Adobe gives me 100GB of Cloud Storage as well, which I use for Creative Assets and things relating to that domain. 2. They'll be little late with the iTunes content, considering both Microsoft and Google have allowed you to put, basically, your entire library in the cloud for streaming - for free - for years, now. They really need to get on that. $24/yr. for a free feature anywhere else... which trashed my Library when I tried it with Apple Music (cause a lot of my Tracks came from Zune/Amazon, but Time Machine works :-P) Yea, okay! I'm sure Sally will enjoy it! 3. The problem with iCloud Photo Library isn't the Synching, it's how it handles different types of media. Apple Photos (macOS/iOS) doesn't have a control to always give you the Original when you drag a file out of it, or share a file out of it. It does this automatic transcoding/converting/downscaling mess which has driven me mad for years. I'm pretty much over it, and have began replacing each Mac with a PC last year. Only my iMac remains, and the iPhone is gone the minute the next Galaxy Note hits the market. - Windows has HEVC and HEIF support.
- Most premium Android phones have HEVC and HEIF support (Samsung devices can shoot HEVC video)
- iOS and macOS (High Sierra) obviously supports it. I am tired of dragging out a 1080p or 4K 60 FPS HEVC video from Photos to my desktop, and getting a 720p or 1080p 30/60 FPS transcoded M4V version, instead. This also happens randomly with Photos. Drag out an HEIF, and you get a converted JPEG (which is, obviously, going to look worse) - and good luck getting DNGs out of this software if you shoot RAW. Have fun digging in that package (grows in infuriation as your library grows in size). These are usability issues that have persisted since Apple Photos and iCloud Photo Library was introduced. It is why I am not staying with the iPhone this year. It's a usability nightmare for me. I have to fight too much with the device, and synching the content to other services often does not work as the Photos app will put "slow motion" segments into high frame video, etc. that you simply do not want there (and only FCPX/iMovie can handle this properly); or the service will only sync "Compatibility Mode" content, which can have the same issues mentioned above. Apple's photography/video workflow for mobile photo/video snappers only works if you only work with Apple Device and Apple software (iOS, macOS, Apple Photos, iMovie, Final Cut Pro X, etc.). It completely breaks down and turns into a bastion of frustration once you introduce anything non-Apple into the mix. 3a. Apple already has iCloud Photo Sharing. Not sure why people haven't been using it more. It does work like a mini-social network between iPhone users. Great for people who don't want to sign up for a social service just to share photos with Family and Friends, Social Circles, etc... 3b. I do think the ability to tell the software to use Cellular to Sync would be a good thing for those people with large Data Packages who don't necessarily have to worry about this. I would never do this, though. I take way too much video for this to be practical :-P 4. Don't care about versioning, since I would never use their cloud storage due to thier productivity software being useless to me. Office works better with OneDrive. It basically doesn't even support iCloud, and a lot of third party apps don't support iCloud anyways (especially cross-platform applications).

I would love to see iCloud include Messages. It would be great to message others from iCloud when you are on a PC desktop (work) when you cannot use your devices. Just a suggestion.

ICloud would be better suited if there was something between the $4/month and the sudden jump to $200/year at the pathetic limit of 200 GB. That combined with the pathetic way photos sync between PC and Mac. When this is combined with the non-standard and inconsistent SSD formats that make it ridiculously expensive to upgrade storage from the useless amounts the ship on devices, make me seriously consider spending the $1000 on a new pc laptop with an 8xxx (Coffeelake) processor and 1TB SSD and 2TB OneDrive (mine and my wife's in our shared Office 365) instead of the 3 year old cpu in the MacBook Air and our pathetic 200GB of shared storage.

Any further integration of iCloud into either iOS or MacOS just means more things for me to switch off. My experience with all sorts of apple syncing over the years is that I want it kept away from anything important. It's one of the reasons i won't use iTunes anymore. The 600+ CDs and 300+ tapes that I had carefully digitised, named and catalogued as well as my downloaded non-iTunes music disappeared off my computer when I foolishly allowed my phone to automatically sync with the default settings. The program decided that as none of my 250GB of music was present on my 32GB iPhone, I clearly didn't want it anymore and so it was deleted. What i would like is not new features, but some free storage that I can manage myself and that isn't integrated into everything unless I integrate it. In the meanwhile, I will use those services that offer more and demand less in return.
Thank you for signing up to iMore. You will receive a verification email shortly.
There was a problem. Please refresh the page and try again.