iCloud for Windows adds bookmark support for Chrome and Firefox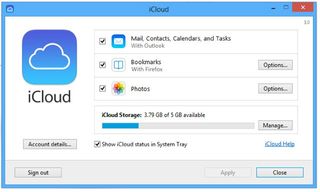 Alongside the release of iOS 7, Apple has also pushed out an update to its iCloud for Windows control panel. The bump to version 3.0 brings the standard mail, contacts and calendars syncing still, but now adds bookmark sync support for Google Chrome and Firefox browsers.
With the new browser support, Windows users can add bookmarks now on their iPhone, iPad or iPod touch and have them automatically synchronized to Chrome or Firefox back on their desktop. Support was previously only for Microsoft's Internet Explorer, so fans of either alternative browser will be pleased by this update.
To make use of the feature in either browser, you'll need to download an extension for each of them. All the download links you'll need are below. Tell me; does this improve your iCloud experience on your Windows PC now?
iCloud bookmarks extension for Chrome - Download Now
iCloud bookmarks extension for Firefox - Download Now

(opens in new tab)

iCloud for Windows Version 3.0 - Download Now

(opens in new tab)
via AppleInsider
Get the best of iMore in in your inbox, every day!
What about history syncing? Or transfering tabs from chrome to safari?

No, still not supported. Setup refuses to work with XP just like for the iCloud support versions before.

Yes, I was pleasantly surprised when the update said that. Firefox sync is a prime reason I bought Mercury.

Interesting that it's not even possible anymore to sync bookmarks with Safari. The only choices are IE/FF/Chrome. Could this be a sign about the future of Safari for Windows (e.g. no future)?
Well, the only thing I ever used the Windows Safari for was to access the iPhone bookmarks & reading list anyway..

It also added support for Outlook 2013. Yay finally!

my Aunty Bella recently got Lincoln MKZ Sedan by working part time at home... go right here
........... w­w­w.J­O­B­S­7­2.c­o­m

Would be great if they supported Chome extension on Mac...

I'd like a way to transfer browsing history from safari via iCloud to chrome. I use chrome mostly but when I open email links, it always goes to safari... :(
Thank you for signing up to iMore. You will receive a verification email shortly.
There was a problem. Please refresh the page and try again.