Id co-founder John Carmack joins VR headset maker Oculus VR as CTO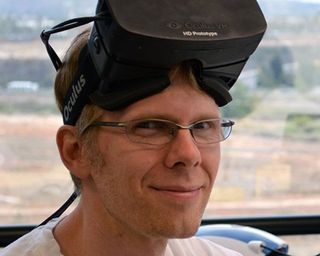 VR headset maker Oculus VR on Wednesday announced (opens in new tab) that John Carmack, the co-founder of Id Software and a pioneer in 3D game development, has joined the company as Chief Technology Officer.
In a statement, Carmack compared working on Oculus VR's technology to his own groundbreaking work to develop the genre of first-person shooters.
Id Software told Gamesindustry.biz that Carmack will stay on at Id, where his leadership is "unaffected" by his new responsibilities at Oculus.
The Oculus Rift has made waves in the game industry since it was publicly unveiled in 2012. The device is a headset that displays 3D graphics. The creators raised more than $2 million in development money through a Kickstarter campaign, offering "Dev Kit" versions of the headset to people who kicked in $300 or more. Now Oculus VR plans to sell a consumer version of the headset beginning in 2014.
Carmack was an early adopter and advocate of the Oculus Rift technology; in May 2012 he unveiled a special version of his Doom 3 game running on a prototype version of the Oculus Rift headset.
We've been hearing about the promise of VR since Jaron Lanier rose to prominence in the 1980s, but to date, it's been mostly promises. Oculus Rift has caught the attention of the game development community like few devices before it, but it's still largely unproven. Do gamers want something as bulky as the Oculus Rift strapped to their head to begin with? A software development kit (SDK) is in development, and Carmack will be crucially important to flesh it out; but his presence immediately lends credibility to Oculus VR, which already has the attention of developers. The company also has to manage scaling production effectively enough to meet demand at a price consumers are willing to make.
So, Oculus Rift remains a question mark. But Carmack joining the Oculus VR is a big push in the right direction.
Are you looking forward to Oculus Rift? Do you already have one? What's the future of VR?
re: "We've been hearing about the promise of VR since Jaron Lanier rose to prominence in the 1980s..." Getting VR "good enough" is just a matter of computing power.
Are we there yet?

I got my dev kit last week and honestly believe I'm experiencing the future. It won't be suitable for all types of games but it will certainly have a very prominent place in the industry, as well as the multimedia consumption industry. Watching a 3D movie on an IMAX sized screen inside a virtual theater is an incredible experience. Being able to look behind you at the projector and seeing the room illuminated by the glow of the movie screen in front of you is absurdly immersive. After using the low resolution devkit that lacks positional tracking (head tracking works flawlessly however already), I am incredibly excited for the consumer version and will be buying it day one no matter the price. If you get an opportunity to try one out absolutely do so, and if you want to find out more the oculus subreddit (reddit.com/r/oculus) is a good place to start.
Thank you for signing up to iMore. You will receive a verification email shortly.
There was a problem. Please refresh the page and try again.