If you're using Windows 8.1, here are some great apps for your iPhone and iPad!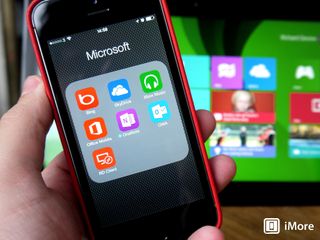 If Windows 8.1 is your desktop OS of choice – it's OK, we understand – you may or may not be aware that Microsoft has a pretty decent selection of cross-over apps to use on your iPhone and iPad. Truth is, it's never been a better time to be both a Windows and an iOS user. The popularity of the iPhone and the iPad makes both impossible to ignore, so if you want to get your Windows on, here are the iOS apps you'll need.
SkyDrive and SkyDrive Pro
Just like Google and Apple have their own cloud platform of choice, Microsoft has SkyDrive. If you've been using Windows 8 for a while you're probably already pretty familiar with SkyDrive – though that name may soon be gone – but you might not be so familiar with the iOS application. It isn't iOS 7 optimized, but otherwise it's a fairly decent app. It does have limitations, in that you can only upload photos from your iPhone or iPad to SkyDrive, but there is a Pro version of the app for those who require access to it.
Xbox Music
Apple's idea of going cross-platform with its music service might just be iTunes for Windows, but Microsoft has gone much further with Xbox Music. The iOS application isn't as feature packed as that on Windows or on Windows Phone, but it does give you streaming access to the full catalog and any collections you've built elsewhere and it actually looks really nice. Offline content is nowhere to be found, but is said to be coming down the line, thankfully. It will work on the iPad, but this is an iPhone app, so you'll have to make do with scaling or a really small window.
Bing for iPhone and iPad
Bing has always played second fiddle in the grand scheme of things to Google, but Microsoft is making great progress in turning it into a platform. If Bing is your preferred choice, Microsoft has a pair of apps for iOS, one tailored to the iPhone and one to the iPad. Both look quite nice, and give you all the Bing you can handle.
Office Mobile for Office 365
Microsoft Office made a long awaited debut on iOS, but not quite in the form everyone wanted to see. An iPhone only app, and one that you need to be an Office 365 subscriber to make use of. If that's you, and you have an iPhone, then great news! Office 365 gives you access to and editing for your documents right in your pocket. A little limited, sure, but important and useful if you fit the usage criteria.
OWA for iPhone
It isn't an Outlook app for everyone, but for Office 365 business users, OWA is all the Outlook you should need on your iPhone. It's essentially a web-app that provides access to email, contacts and calendars, and looks very Windows-like in its interface. It isn't perfect and notifications can be a little janky, but for the target audience it's sure to be a useful tool.
Microsoft Remote Desktop
Recently released, Microsoft has its very own remote desktop client now for iPhone and iPad. Designed to hook you into your Windows machine when you're away from home or the office, it represents the first time the folks at Redmond have brought the facility to Apple's mobile devices. There's already a client for Mac, but if you want to get your work done on the road, this free option is worth taking a look at. After all, it's from Microsoft.
OneNote
Microsoft's very own note taking application, OneNote has its very own iPhone and iPad application. It's a little limited in places, and creating new notebooks is basically non-existent, but if you use OneNote at all, you'll probably be OK with it. The iPad app in particular actually looks pretty nice, though we'd definitely go for an iOS 7 style makeover right now.
Your Picks
So, we've gone with everything Microsoft is bringing to the party, but what say you guys. Something out there you've come across that makes dual-wielding iOS and Windows 8.1 a dream? Shout out and let us know in the comments below!
Master your iPhone in minutes
iMore offers spot-on advice and guidance from our team of experts, with decades of Apple device experience to lean on. Learn more with iMore!