iFruit is your Grand Theft Auto V companion for iPhone, iPad and iPod touch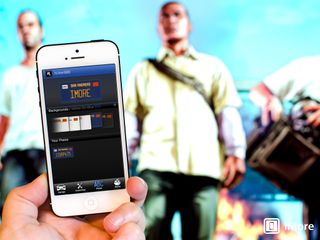 As the clock ticks over midnight around the world tomorrow morning, a gaming goliath goes on sale that has its very own companion app for iPhone, iPad and iPod touch. We're of course talking about Grand Theft Auto V, and the iFruit application which has become available in the App Store on the eve of the big launch. Only iFruit isn't just an app, it's an app representing a phone – just in case you didn't get the connection yet – with other apps inside of it. So, what do we get?
First up is Los Santos Customs. In here you can create your dream GTA V car, including custom license plate. Kind of like real life, if someone else takes your license plate it's gone for good. So I've already acquired iMore, well, because! Once you've designed your car and added all the trick parts to it, you can send the order for it to be paid for – with in game currency – and next time you fire up the game you'll find it waiting for you in your garage. If you create one mid-game, your mechanic will call you asking you to swing by. Pretty sweet.
Chop the Dog is somewhere between a Tamagotchi and Kinectimals. You care for Chop, your in game dog, by feeding him, walking him, playing with him, teaching him tricks basically as you'd care for a real dog. The interesting part; the better you care for Chop here, the better he'll behave in GTA V.' If you take him for a walk, direct Chop around the park to keep those pesky other dogs away from your gal. Just don't forget the pooper scooper...
There's also a bunch of links to other Rockstar content, versions of GTA available on iOS, the Social Club – of which you need to be a member to use the app – and links to Lifeinvader. So, Lifeinvader is basically the GTA version of Facebook. You 'Stalk' people on it instead of follow or friend them, and in doing so you get free in-game stuff like spray jobs at Los Santos Customs, free drinks and so on.
The app is compatible with both PS3 and Xbox 360 versions of GTA V, you just have to sign in and link the app to your PSN or Xbox Live account. After that, you should be good to go when you get your hands on a copy of the game. Rockstar is also pushing live at some point soon the GTA V user manual, since it's too big to go in the box with the game. We'll update as soon as it does.
Companion apps for big games are becoming more common, and with the next generation of consoles we'll be seeing a lot more of it. What do you think of it all? Happy to get this extra level of interaction with your favorite games?
Grab iFruit from the App Store now for free.
Master your iPhone in minutes
iMore offers spot-on advice and guidance from our team of experts, with decades of Apple device experience to lean on. Learn more with iMore!