iMessage bug prevents SMS from getting through to Android switchers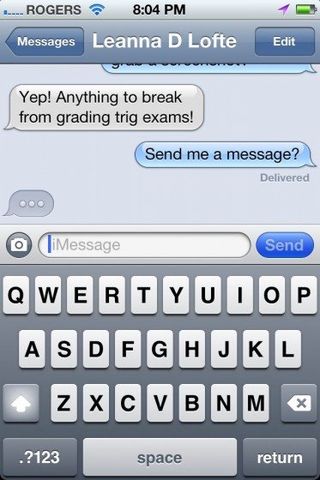 TechCrunch reports an iMessage bug causing problems for iOS users trying to send SMS messages to ex-iPhone users who have switched to another platform, such as Android.
What happens is, the iPhone attempts to send the SMS to the ex-iPhone user as an iMessage -- just like it always did before the recipient switched devices. But since Android doesn't support iMessage, the text ultimately fails.
Simple, if naive solution:
Don't let your friends switch away from iPhones.
Complicated, if realistic solution:
Tell them to go to: https://supportprofile.apple.com/MySupportProfile.do
Log in with their Apple ID.
Click on "edit products"
Click on the "x" to the right of the product.
Click "unregister"
According to a tipster in Apple's support forums, this should resolve the issue entirely. Unfortunately, this is just one of several iMessage related bugs we've been tracking lately. New service or not, Apple needs to get on top of this so users don't have to go through steps they ought not have to go through.
Source: Apple Support Communities (opens in new tab) via TechCrunch
Get the best of iMore in in your inbox, every day!
Andrew Wray is a Salt Lake City, Utah based writer who focuses on news, how-tos, and jailbreak. Andrew also enjoys running, spending time with his daughter, and jamming out on his guitar. He works in a management position for Unisys Technical Services, a subsidiary of Unisys Corporation.
If an iMessage isn't delivered after 5 minutes, doesn't it switch to standard SMS? So they should still get the messages, though it may take an extra 5 mins. I think after a bunch of undelivered imessages, it reverts back to text permanently.

Exactly. My wife's work place is like a Faraday Cage. Outside she has strong signal but inside she often gets no signal (probably has something to do with the doctor's offices on either side with x-ray rooms and the lead shielding that goes with them). So sometimes the iMessages do not get sent and after just a few minutes my phone sends them using SMS instead. It only reverts back to iMessage when she goes back into he Message app with a data connection.
The receiving iOS device must have an active data connection for iMessages to go through as Apple does not store them for later, unlike SMS.
Something else is amiss here or someone is making stuff up...

No, it only sends as SMS if it's set to in the settings, otherwise it fails.

Actually, you're incorrect. You can hardcode it to SMS only, but by default the behavior is as MrC indicated. I know, because I've seen the same behavior. If an iPhone drops out of data coverage, but is still within coverage that could allow for phone calls to go through, iMessage reverts to sending the message via SMS instead. I have several conversations with a few individuals in the Messaging app that have mixed conversations in them with the same person with both data and SMS messages. Minutes apart... it has to do with them having crappy coverage at their home and no WIFI either. Sometimes it's blue, sometimes it's green.

Except for the fact that I've tried this, and when its turned off, it never has sent as an SMS.

MrC is correct. my friend recently change to a galaxy nexus from her iphone and it still initially tries to send as an iMessage but after a couple minutes goes thru as a regular SMS and she didnt have to do any of the bs crap that this article is talking about.

Waiting several minutes for it to fall back to SMS is ridiculous. Apple gave no easy way to get out of iMessage. You have to have a phone, and disable it there. Oh, but wait. We did that. It still takes several minutes to have a 3 line conversation with my boss.

Because there is no such thing as an utiimlned data plan here which is, IMHO, the only valid reason to pay a flat fee of Rs. 2000 per month for a bloody phone.

Once you register, how are you to know that the Apple ID is unregistered? That's a serious question and there may be a serious answer, but the problem here is a design issue of how to figure out when someone has left a system to get them off all your stuff. And it won't be high on the priority list for Apple, because they like everyone else, want you to stay on their platform.

Nice chunk of video. Must've been fun wndierang around and filming the oddities, mediocrities, and rarities of night time Sydney. I'd love to get the iMovies app for my iPhone 4 just seemed more intended for iPad. Editing a .MOV file on a Windows PC gets old REAL quick, especially since no cheap editors can handle the HD format and I'm simply not paying $100+ dollars for an editor when iMovie is ike $5

Not only that. Let's say the person you're trying to reach by iMessage is at some place where Internet connection isn't available for some reason. How do you send a regular SMS message? I've been through this situation and could not find a way to do so.

It should automatically send the message as an SMS after a few minutes. My iPhone does when my wife's iPhone does not have a signal.

Apple says "working as designed - you shall never leave for Android!" haha

Do this if you want to force send an SMS to an iMessage user:
After you hit send, long-press on the message bubble. An option will pop up to send as a regular text instead. I believe the Messages app remembers your choice for a short period, so you for a while it will continue to send and receive as a regular SMS.
This doesn't fix the problem (I have yet to try the solution above), but it makes it a little better than waiting for iMessage to time out every time you want to send a text to a former iPhone user.

Thanks! I was a former iPhone user and wanted to unregister my iPhone, not because this issue but because I sold this iPhone and I don't want it linked to me any longer.

it will default to sms as long as you have SMS enabled in the imessage settings.

Anyone notice when you send a photo or voice recording via iMessage, it doesn't use data but sends as a MMS! 25 uk pence a time!!! Come on Apple?!? WhatsApp does all this perfectly over 3G or wifi! =-)

This is no different than RIM not discontinuing BIS data services when someone switches away from a Blackberry. The only difference there is that BBM wasn't integrated with SMS on the platform. I can't tell you how many times I see constant BIS server connections from people that switch from a BB to another platform even after they've switched platforms. In the past it used to take a good 6 months before RIM would totally deactivate BIS account services for the subscribers who terminated BB services and switched to another smartphone platform.
I guess what I'm getting at is that this isn't just an Apple issue, ALL companies out there have problems with "speedy" account or device unregistration when people switch away from their services. Ideally, it should be up to the end user to KNOW ahead of time that they're changing and terminate certain services on the old device PRIOR to the handset swaps, but of course they don't do that.

This has been a problem for me as I move my SIM card between an iPhone 4 and a Samsung Galaxy S II on a weekly basis. I always have to remember to deregister my iPhone and iPad for iMessage or else I will go through the whole day without receiving any text messages. As you can tell, most of my friends use iOS devices exclusively. Even then, my friends often tell me that their iMessage has to try to send and fail before it will prompt them to try as a text message. After that it will default to a standard text until I register one of my iOS devices again.

when ever i get the ispw the files open up it wont be a solid file its all these rnoadm files help Thank for replying

I am going to say this is just NOW getting reported. A lot of people complained about this back when iOS 5 first came out. Apple system of turning it off is beyond crap and in someways I think Apple did this on purpose for no other reason than to make life hell on switchers.

Even easier solution...on the phone itself go to settings and simply turn off iMessages. My wife joined me on the "darkside" and that's all she did and everything worked great.

Brian is correct, the easier way (I have been doing thus switching from my iPhone 4 to sgs2) is to just turn imessage off. You MUST however turn imessage off BEFORE taking the similar out of the iPhone. Of not it will still send the messages to imessage.

I wonder if that "unregistering of device" will also fix the bug of iMessages still going to stolen or lost devices ?
Anyone tried ?

Hi AbdoolCan you peasle provide with more info about the Mauritius Map on TomTom for Iphone. I have spent hours looking for it on the net in vain. it would be of great help. Thx

Meh, if they give up the faith they don't need to be contacted anyhow.

This is the pecefrt blog for anyone who wants to know about this topic. You know so much its almost hard to argue with you (not that I really would want HaHa). You definitely put a new spin on a subject thats been written about for years. Great stuff, just great!

how the hell do u cporame McDonald to apple. Apple makes there products build to last glass in front and the back there just is no comparison to the i phone sorry u fail peace

you're really a excellent webmaster. The website loading pace is incredible. It sort of feels that you are doing any unique trick. Also, The contents are masterwork. you've performed a fantastic job on this subject!

By deregistering, does that just mean turning off iMessage while it still has a data connection to register the change?

Is this sftw available for N80 ? Cant find information.

The only caution is that some banks are charging per deposit via mobile phone. I'm not willing to pay USBank $.50 to deposit a check via iPhone. Chase does not charge, but you need to be aware of these fees at your bank.

This is not true. Look at my website in my name. I built it using WordPress and I think it looks like a normal site. Also WP is extremely easy to use. Considering I built my site using it and I did not know anything about WordPress before I started.

So okay, you added your I-Devices (I-Phone and I-Pod) but more and more users have all kind of small devices (i run a android based mobile) so my question,wouldn't it be better if you check the screen resolution and if it's less than that much pixels, it should switch to mobile mode?

You are my intake, I possess few web logs and occasionally run out from brand . "The soul that is within me no man can degrade." by Frederick Douglas.

Excellent post. I was checking continuously this blog and I am impressed! Extremely useful info particularly the final phase :) I take care of such information much. I was looking for this certain info for a long time. Thank you and best of luck.

This article is legit and it is very frustrating. I switched from an iPhone to Android (Motorla Razr max) and the SMS messages kept going to my old iphone (I even switched from ATT to Verizon). I did what the article stated and that didn't work. I had to go on the old iphone into settings and turn off imessage and then my txt starting going to my new phone.
This is complete BS - and yet another example of a phone provider (Apple) hi-jacking your phone number. I also am not a fan of Google Voice as it does similar hi-jacking of your phone number and does unexpected things that are hard to get it to stop intercepting and doing.

I am not sure where you are getting your info, but great topic. I must spend a while studying much more or understanding more. Thank you for wonderful information I used to be in search of this info for my mission.

This fix did not work for me...still trying to figure it out. Apple was no help. I want to keep the Q10 but I need to be able to receive group texts without having to go to everyone who might text me one day and tell them to deactivate iMessage.

helping a coworker who got a Galaxy S4 about a month back and in an attempt to fix her iMessage issues she deleted her profile off of icloud (it doesn't show up in the provided link above either). After losing all her contacts, photos, and everything else, she still can't get sms's from iphone users. We even tried retracing the steps above but since she already deleted her device, she's not able to do anything. ALSO the iPhone is dead, she can power it on but the screen doesn't display so she can't even use the device.

In the current iOS7 version under the imessage settings. There is a check box to send sms if imessage fails. I don't believe this was a setting under the later version. That switch needs to be on for sms to automatically work.

I recently switched from an iphone4s to a droid 4 and had this problem after reading everyones comments i figured out that this is the most direct way. Login to your apple id and remove your number from the account. This takes care of the problem partially. Some i phone users still may not be able to message you so you have to tell those people to turn off their i message on there phone and to send a text through sms. After you recieve their sms text that person can turn their i message back on and everything works just fine. Come on apple.

That actually did not work for me. I finally found a site with instructions: http://switchiphone.com
Thank you for signing up to iMore. You will receive a verification email shortly.
There was a problem. Please refresh the page and try again.