iMore Editors' Choice: Endless Road, Episodes, Tripit, BabyBump, and more!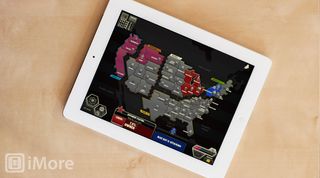 Every week, the editors at iMore carefully select some of our favorite, most useful, most extraordinary apps, accessories, gadgets, and websites. This week's selections include a few games, apps for tracking TV shows and pregnancy, and an app for travel planning,
Just when you thought the endless runner genre had been beaten to death, Endless Road sneaks up and makes a big splash. This sharply stylized game puts players in a car and pushes them along a road with a simple catch - the world is falling away behind you. In order to avoid untimely doom off an incredibly abstract cliff, you have to avoid crashing into other motorists, dodge incoming walls, and drive over speed boosts whenever you can in order to stay over 80 MPH. Although every run is broken up into separate stages, they're all randomized, making each play-through unique and interesting. Steering is dead simple, as there are only three lanes to switch between with left or right side taps, but the obstacles (and power-ups) come fast and furious. During their drive, players gather coins with which they can use to enable power-ups or unlock new rides. The icing on the cake is an absolutely cool soundtrack. Definitely pick this one up, either for iPhone or iPad.
If you grew up in a time when Rad Racer was a game you played, you'll most certainly want to check out Final Freeway R2. It won't push your devices graphics processing to the limit but it sure is fun. Complete with an 80's soundtrack to keep you bopping along, you can enjoy 14 stages of old school racing with the option of 3 difficulty levels. Recent updates to the game have brought joystick support as well as full iPhone 5 support. You can pick up Final Freeway R2 in the App Store for only $0.99.
This week's pick is for an app that I use to keep track of my TV shows and it has just received a fantastic new update too.
Say hello to 'Episodes', the most elegant way to keep track of the TV shows you love. Once setup with your favorite TV shows, Episodes will tell you when the next air date is via a notification so you never miss a show again. Even better, you can mark shows as watched so you always know what you have seen and what you've missed.
Digging a little deeper, you can see episode lists for all seasons of any particular show along with the synopsis too. Episodes covers TV shows from the US and the UK and is the perfect app for TV junkies like me.
TripIt for iPhone allows you to keep all your travel plans and arrangements in one place. You can save your flight, hotel, meeting, and dining information all within TripIt. It's a great way to keep track of confirmation numbers, reservation confirmations, and pretty much anything else having to do with your travel plans. With CES upon us, I was looking for a better way to organize all the events we've got going on and I remembered another one of our editors raving about TripIt. I can now understand why.
If you travel a lot and have a lot of data to organize, TripIt is the absolute best way to plan your trip, keep your friends and family up to date, and more. Pro TripIt subscribers can download a free version of the app but if you don't want to go Pro, there is a paid version you can use without the Pro subscriptions. It's what I've been using to plan and so far, it's worked wonderfully. I'd highly recommend any who travels quite often to check it out.
Conquist 2 - Joseph Keller
Conquist 2 is a turn-based strategy game for all iOS devices. If you've ever played RISK, you know how to play Conquist. There are four game modes, each with their own set of objectives, as well as eight different maps on which to play. There is support for single-player games against AI opponents with three difficulty settings, local multiplayer, in which multiple players use the same device, and online multiplayer. Gameplay is solid and well-paced, especially in single-player games. The AI players offer a decent challenge on medium and hard difficulties. Conquist 2 has a lite version, but it lacks online play. Both are available as universal apps. If you like turn-based, RISK-like strategy games, than Conquist 2 is the game you're looking for.
Global Video, CityTV Video, and CTV Video - Rene Ritchie
I cut the cable cord over a year ago, so now I watch almost all my TV on iPhone and iPad. Most major Canadian TV networks have apps now. The problem is, they're a mixed bag. The CTV app has just been updated, and now supports AirPlay Mirroring, but it doesn't yet support the 16:9 iPhone 5 or iPod touch 5 display. The Citytv apps has been updated for 16:9 but doesn't support AirPlay (it presents a screen saying they lack the legal right to provide AirPlay -- um, okay?). Likewise the Global Video app. Copy protection also hinders the apps, preventing them from using the much better, built in AirPlay media controls (that don't require mirroring), and encouraging them to make apps that are barely wrapped web pages than real native apps. It also causes a bunch of weird errors as they try to secure the video stream connection and insert ads into the stream.
But even though frustrating, even though less than they could be, they do work. I can watch almost every current TV show I want, almost always within days of them airing, and I can watch them at a time and place of my choosing. It's the closest thing I've found to video on demand.
Note: These apps are for Canadian TV networks. If you're outside Canada, check your local App Store for your local networks. You might just be surprised what you find.
I'm currently 32 weeks pregnant and one of my favorite companions this pregnancy (and my last pregnancy) is BabyBump for iPhone. It recently received a very significant upgrade that includes iPhone 5 support and a fully revamped UI.
BabyBump makes it easy to track your pregnancy, store photos, and learn about the current developmental stage your baby is at. Every week, there will be new information about your baby, body, and a list of activities that are good to prioritize for the week (like choosing a pediatrician, registering for the hospital, etc). In addition to the weekly updates, BabyBump also gives daily tips the address a wide variety of topics.
Some of the other highlights of BabyBump including a shopping section, groups, messages, baby names, kick and contraction counters, and a birth planning tool.
Seriously, if you are expecting, I highly recommend BabyBump. It's my favorite pregnancy app.
Your choice?
Now that we've chosen our favorites for the week, we want to hear yours! Did you pick up a killer app, accessory, or game this week? Let us know in the comments below!
Master your iPhone in minutes
iMore offers spot-on advice and guidance from our team of experts, with decades of Apple device experience to lean on. Learn more with iMore!
Former app and photography editor at iMore, Leanna has since moved on to other endeavors. Mother, wife, mathamagician, even though she no longer writes for iMore you can still follow her on Twitter @llofte.