Apps of the week: Puk, Gratuitous Space Battles, Zaxxon Escape and more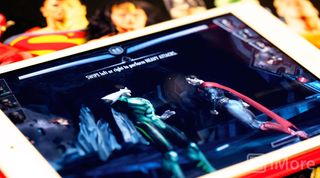 Every week, the editors and writers at iMore carefully select some of our favorite, most useful, most extraordinary apps, accessories, gadgets, and websites. This week's selection is all games! There's a simple flicking game, a superhero fighting game, a strategy game, an arcade game, and a couple casual games.
Puk - Simon Sage
Puk is a, simple, minimalistic flicking game for iPhone. Okay, so it's not so much flicking as it is slingshotting. Players are provided a set number of puks and a number of targets to take out by pulling back on the puks and releasing. You have a limited amount of time to take out all of the targets (many of which need more than one hit to be eliminated). If you can't quite make it, you can shake your phone up to three times to nudge the puk into position, but if you can't do it, game over. If you do wipe them all out, you move on to the next round. Eventually, barriers start popping up and the color scheme starts screwing with you, making it particularly difficult to get your targets in time.
Puk has a ton of polish, and the simple gameplay makes for some really instinctual gameplay. There's no real variation on the force of your slingshots, so it really just boils down to speed and accuracy. Ultimately, it's a really light, fast game that can kill small amounts of time really well.
Gratuitous Space Battles - Joseph Keller
Gratuitous Space Battles is exactly that: a lot starships slugging it out on a top-down battlefield. This isn't a traditional strategy or tactics game. You don't command the ships. Rather, the fun in Gratuitous Space Battles is outfitting and deploying your ships on the battlefield, finding the right combinations of weapons, armor, and positioning to make sure your side comes out on top. Choosing from an assortment of fighters, frigates, and cruisers, you carefully make decisions about which role your ships will play, attempting to overcome various hazards and restrictions each battlefield presents. Some, for instance, limit the types of ships available, or nullify defensive shielding. For those of you who have played and loved GSB on your PC or Mac, the version for iPad is every bit as fun as the original. Pick it up on the App Store for $9.99.
Enjoy a new twist on the 80's classic. As Sega describes it: 30 years later, ZAXXON is back and rebuilt for a whole new generation in this fast action arcade game. You're on a mission is to escape ZAXXON's asteroid city. ZAXXON's minions have transformed the fortress into a maze of tight corridors and you must fly your ship out safely! In other words, you get to fly in some really cool 3D planes and blow the heck out of stuff. There is pretty much no end to the game but you do have 30 missions to complete. You can do it the hard way, by simply just playing through the whole game numerous times or you can give in and purchase some in-app stuff. I say take the hard road, avoid the IAP's.
There are very few games that stay on my iPhone or iPad longer than a few weeks. One of the games that has stayed on my phone for the better part of 2 years is Tiny Wings. I absolutely love this game and the simplicity of it. It's one of those games that you don't mind unlocking all the achievements for and then going back and doing it again.
For me, this is one of the best games ever created for iOS and ranks up there with the likes of Plants vs. Zombies and Cut the Rope. They're the few that will always remain in my favorite games folder and still get played on a pretty regular basis. If you haven't played Tiny Wings, you're missing out on a classic.
Injustice: Gods Among Us - Rene Ritchie
I've said it before and I'll say it again -- there are a lot of great things I don't like, and a lot of dumb things I like quite a bit. Injustice: Gods Among Us by Warner Bros. and NetherRealm Studios, is decidedly in the latter category. I love superheroes, and any chance I have to play as a superhero, even in a game that's fairly horrible, I jump in with glee-filled abandon.
On the positive side, there are a ton of DC Universe characters here, including the entire Justice League lineup like Superman, Batman, Wonder Woman, Flash, Green Lantern, and more, as well as Batman Family staples like Nightwing, Harley Quinn, Joker, etc. And all of them come in a couple of Else World universe forms, including the standard Earth 1, as well as Insurgency and Regime.
On the negative side, there's a card-like system grafted on that's meant to introduce deeper, experience-based gameplay, but… I just want to crack superheads. Also, on my iPad mini, I constantly had "iOS mem warning" errors in ugly red font defecated across the top right of my screen. That should have caused a rejection and a rethink, because it's horrible UI.
It's also free-to-play, but not onerously so.
The fighting system is workable, given the limits of multitouch, and while there's the usual adolescent dose of testosterone and cheesecake, there's some interesting if muddy at times character design.
All in all, if you love DC characters, and fighting games, Injustice: Gods Among Us is a no-brainer. If not, it's probably a no go.
Since it's my pick of the week, I'm guessing you've guessed which way I've fallen.
Fruit Blast Mania is my new little time-killer game. It's a simple puzzle game where you have to blast bunches of fruit with the goal of eliminating as man of them as you can. All the adjacent fruits of the same color will be blasted away when you tap one of them in the bunch. You can't blast singletons, so you have to be strategic and think about how the fruit will fall after you blast away a group. This is just the general game play of Fruit Blast Mania, though. There are other little goals and missions with each level to make it even more interesting.
Fruit Blast Mania is simple, fun, and a great way to kill a few minutes of time when you can.
Your choice?
Now that we've chosen our favorites for the week, we want to hear yours! Did you pick up a killer app, accessory, or game this week? Let us know in the comments below!
Get the best of iMore in your inbox, every day!
Former app and photography editor at iMore, Leanna has since moved on to other endeavors. Mother, wife, mathamagician, even though she no longer writes for iMore you can still follow her on Twitter @llofte.
Downcast is on sale for 99 cents. (That's $1.00 off)
https://itunes.apple.com/us/app/downcast/id393858566?mt=8&at=10l3Vy I know it's not totally related but i thought this iphone community may have people interested. It's my go to podcast app and one of only a handful of apps I was happy to pay for. Anyways just thought i'd mention it in case anyone was interested. If not no worries.

That's a whole dosage of games, like a lot! Not a bad thing though, as I'm now planning to check out Tiny Wings right after writing this!
I don't usually have much games installed on my phone, unless they're something that I'm really into and love playing whenever I am in the mood to play. And the ones installed on my device right now include the likes of Cut The Rope, Where's My Water - the only game that I have on my phone right now with all inApp purchases made and unlocked, Perry, Cannon Cat, Cover Orange, and after Mittens having been reviewed on iMore, that as well.
And from the sound it, Tiny Wings ought to fit in nicely with that crowd. Thanks!!
P.s. And being totally obsessed with anything involving superheroes and the chance to go crazy with any character and smash around is obviously pushing me towards trying out Injustice: Gods among us...

Yes. Tiny Wings will fit in nicely with that group of games you have :) (all great games!)

I agree. It's amazing. Was my first purchased app. I'm happy that all of the Tiny Wings knockoffs are absolutely horrible. Sad that there are so many.

Purchased it... Tried it out... and in love with it! I remember trying this game called "Yellow Fins" that was apparently heavily inspired (a.k.a knockoff) by Tiny Wings, which I didn't like too much at the time. But somehow the graphics and the controls and the gameplay in Tiny Wings is simply awesome. Had been playing it non-stop for around an hour and finally had to put it down after my wife forced me to put my phone away. :) Purchased Badland today as well which I remember having been recommended last week. Haven't tried that out yet, but hopefully was worth the purchase.

Nothing here for those of us who don't play games on our iOS devices--nothing else going on at iMore this week?! ;-)

Space battle seems a nice game, but 9 dollars is kinda expensive, but i mean, you will enjoy the nice hd graphics on the ipad, so i think is worth

Great app recommendations. Thanks!

I just downloaded Injustice Gods among us yesterday and I really like it, it runs smoothly on my iPad 3, no lagging or memory problem so far, the graphics are amazing on the retina. Tiny wings have tried it before, not really into it. The other options sounds nice, but didn't really call my attention.

Wow, some days I wish I worked at a tech blog site so that my job can be playing and reviewing games as well as getting my hands on the latest and greatest hardware as soon as it is available.
Good job guys!
I like productivity apps. Using Tempo, which was reviewed a few weeks ago, since it has become available on Canada. Good app and good review.

One of my personal fav time killers is still Bejewelled as well as Bookworm. Both are oldies but goodies. They have been on my iOS devices for years.