iMore Editors' Choice: Repulze, Monitor Your Weight, Thirst for Twitter, and more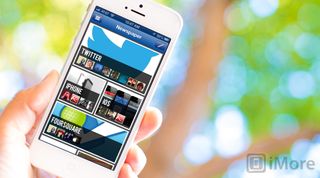 Every week, the editors and writers at iMore carefully select some of our favorite, most useful, most extraordinary apps, accessories, gadgets, and websites. This week's selections include a weight tracking app, racing game, wallpaper app, to-do list, twitter client, and travel app.
Monitor Your Weight - Chris
As this week sees many people returning work after the holidays, I have decided to go for an app to track my weight and hopefully inspire me to lose some too. All of the overeating and drinking over the past three weeks has seen me gain around 10 lb which is really pretty bad!
I have previously used Weightbot as a weight tracking app but as it still hasn't been updated for the iPhone 5, I looked for a different app and discovered Monitor Your Weight. Monitor Your Weight is a free app that lets you input your vital statistics and desired weight. It then gives you an idea on what your calorie intake should be to enable you to lose weight and how long it will take you to get to your desired weight.
It is a very simple app to use and shows you at a glance what your weight is, your BMI, body fat percentage and much more. I thoroughly recommend it as a weight tracking app and it fills that iPhone 5 screen perfectly!
Repulze - Simon Sage
Repulze is a fast, futuristic racing game with twist. On top of the classic gravity-defying gravtrak-style racing, unlockable hovercraft, and techno soundtrack, players have to guide their way through green and red gateways throughout the track in order to build up their speed boost meter. The trick is, every three gates of a color players ride through, the color switches. If you drive through a gate that's the wrong color, you lose speed. Repulze is very fast-paced and challenging, plus the graphics are fantastic, maintaining a solid 60 FPS. Currently there are nine tracks and six hovercraft, but two "phases" (content updates) are due to be landing soon.
I have a problem. It's one a lot of you out there I'm sure share with me. I can't stop changing my wallpapers around. They stick for a day or two and then I ultimately get sick of them and switch to a new one. To help feed my addiction and habit, I use the free Zedge Wallpaper app, which is filled with plenty of selection. Just pick from any one of the many categories and you'll have a whole slew of choices available to you. Plenty of HD / Retina optimized content is available and the app has support for the iPhone 5. Perhaps, best of all -- the app is free! Have at it folks and fill your wallpaper addiction.
Rise Alarm Clock is simple, beautiful alarm clock application. Set the alarm time by dragging the time up or down. Swipe left or right to turn the alarm off or on. Choose from a variety of sound effects for the alarm, including a song from your music library. While there are only a few settings to manage, you can do things like set a progressive alarm and set the phone to vibrate with the alarm instead of just playing a tone. Finally, when you turn the alarm on, if you're having trouble falling asleep, a small button in the bottom left corner allows you to activate a playlist of "Sleep Tunes" that you have put together to help you fall asleep. If you're looking for a simple, easy-to-use alarm app, look no further than Rise. It's available for both iPhone and iPad as a universal app for $1.99.
While Thirst is technically a Twitter client, it's a very different kind of client. I won't be replacing Tweetbot with it any time soon but I will use it on a regular basis, even though it's not to actually tweet. Thirst's main goal is to present news you care about on Twitter in a way that makes it easier to find what you're looking for. The main feature, Newspaper, allows you to view tweets that are sorted by topic. The main newspaper section will divide up topics and then filter tweets about those topics into them accordingly.
We all know that Twitter is probably one of the prime places to find out about news. That's what makes Thirst so great. I can sort tweets out by topic and I typically catch things that I may or may not have caught just browsing through a general stream or list. While the main purpose of Thirst isn't to be a Twitter client, it does build in basic functionality for composing tweets as well as viewing your timeline. It's great for times when you want to respond to something you see in Thirst but don't want to have to jump into another app to do so.
Any.Do is a to-do list with a beautiful design, cloud syncing, speech recognition, and more. The animations and gestures are what really drew me to Any.DO because, well, I'm a sucker for that kind of stuff. For example, when you tap the plus sign to add a new item, the text field slowly slides down from the top of the screen while the keyboard and folder name slides up from the bottom of the screen. The text field and folder name animate at different speeds, though, so that they reach their destination at the exact same time. Details like this are what make Any.DO so appealing to me.
As far as features are concerned, Any.DO includes Time & Location reminders, folders, notes, repeating tasks, calendar view, cloud sync, speech recognition, gestures, and more. And the best feature of all? It's free!
Tripit - Travel Organizer - Rene Ritchie
I'm about to leave for CES 2013, and then Macworld|iWorld 2013, and then maybe GDC, and come June, WWDC 2013. The first half the year is travel season for me. And that means, as soon as the holidays are over, I'm re-installing Tripit on my iPhone, and for at least a week a month, I'm putting it on my Home screen.
Tripit is just the easiest way to keep track of my travels. I get a confirmation email from an airline or hotel, I forward it to Tripit, and it shows up in the Tripit app along with all the information I need to know, including times, dates, maps, and more.
There's a free version of the app and the service, but I use the paid app and I pay for Tripit pro. I'd rather give money than waste my time or attention, and I'm glad they give me that option.
If you're traveling, especially if you travel a lot, check out Tripit.
Your choice?
Now that we've chosen our favorites for the week, we want to hear yours! Did you pick up a killer app, accessory, or game this week? Let us know in the comments below!
Master your iPhone in minutes
iMore offers spot-on advice and guidance from our team of experts, with decades of Apple device experience to lean on. Learn more with iMore!
Former app and photography editor at iMore, Leanna has since moved on to other endeavors. Mother, wife, mathamagician, even though she no longer writes for iMore you can still follow her on Twitter @llofte.