iMore Editors' Choice: Star Wars pinball, Instashare, Weathercube, and more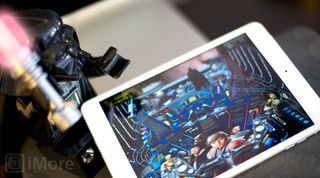 Every week, the editors and writers at iMore carefully select some of our favorite, most useful, most extraordinary apps, accessories, gadgets, and websites. This week's selections include an app that lets you share files from your iPhone or iPad to your Mac, a movie app, some killer bluetooth headphones, a Pinball game featuring Star Wars, a really cool weather app, and a shopping app for mom's with tons of great deals.
I'm always looking for a better way to get files from my iOS devices to my Mac, and vice versa. For photos and screenshots, I have to wait for iPhoto to open, then either connect my device via cable or wait for it to come through Photostream. For documents, it's a little easier, just having to wait for iCloud or Dropbox to sync. But I've been looking for something better, and Instashare is it. Instashare is like AirDrop for iOS. You can move files between Macs and iOS devices instantly.
To use Instashare, simply download the app, then download the desktop app, currently in beta for Mac only. To move something from your Mac to an iOS device, simply drag the file you wish to move up to the menubar icon, then, when the dropdown appears, drag the file to the desired device. A similar process is used on iOS, where you drag the file you want onto the available Mac.
There are some downsides. First, while iOS allows apps to access your photo albums, no such permissions are given to your documents, so documents can only be transferred from a Mac to an iOS device. Second, for now, it's Mac only, but apps for Android and Windows are currently in development. Instashare is a free universal download, with a $0.99 in-app purchase to remove ads.
Spideo Instant Movie Discovery - Chris Parsons
Like a lot of folks these days, I don't have much time to get up-to-date with all the latest movie releases happening and well, quite honestly I really don't want to try. I find a lot of movies released these days quite boring so to help me weed out some of the good from the bad I often turn to Spideo Instant Movie Discovery. Rather than spending time looking through movies, being indecisive about what I want to watch and ultimately just giving up altogether, I just tell Spideo how I'm feeling and a general idea of my mood. It goes out, finds some movies and lets me view all the details of it as well, view the trailer. It also works with TV shows but I've never really used that function. Now, while I find Spideo great for offering up choices, it's still up to you to actually go out and find the content if it's outside of iTunes.
Plantronics BackBeat 903+ - Chris
This week I have really stepped up my gym activities s and decided that I needed some Bluetooth headphones. I was sick of running and catching the cable on the wired set that I have so I went on the hunt for a good set of Bluetooth headphones.
My research kept bringing me back to the Plantronics BackBeat 903+ which received some great reviews based on sound quality, battery life and how comfortable they were to wear for long periods. I took the plunge and ordered a pair and I haven't been disappointed.
The sound quality is really great, not as bass heavy as my Bose wired set but not that far away either, The sound is very clear and the actual headset is extremely comfortable to wear too. Controls on each earpiece allow you to remotely turn the volume up and down, play and pause music and skip tracks.
I am really impressed with the Plantronics BackBeat 903+ Bluetooth headphones and can highly recommend them; the freedom they give you just by no longer needing wires is very liberating. The battery life seems excellent too, I still have over 5 hours left and I have used them for at least 3 hours since I charged them.
Zen Pinball's Star Wars Pinball - Rene Ritchie
Zen Pinball has a great thing going. They have a pretty darn good pinball game engine to start with, but they also have killer licenses. Last year it was X-Men, Avengers, and a half-dozen similarly colossal marvel comic book tables. This year it's Star Wars, starting with The Empire Strikes Back, Boba Fett, and the Clone Wars.
The play is classic pinball gone digital, but because it's digital, they can include little mini-games as well. I'm not someone who spend hours flipping paddles and lighting up every inch of a table, but for those brief moments when I just want to unwind and have fun, Zen Pinball and their new Star Wars tables take me right back to the arcade.
Best of all, they don't nickel-and-dime -- or quarter! -- you for every in-app purchase imaginable. The game is free to download and you get one basic table. Additional tables are $1.99 and that's it.
If you're a fan of classic pinball action or just love everything Star Wars -- or Marvel -- check it Zen Pinball and their new Star Wars Pinball tables.
I have an obsession with weather apps both on the iPhone and on the iPad. I don't know what it is. I either get bored or feel the need to check the forecast on a few different apps and see how they match up.
I stumbled upon Weathercube the other day and it's definitely an interesting take on the weather. You're basically given a cube that you can rotate around to see different aspects of the weather in different areas. Weathercube is completely gesture driven so there aren't a lot of menus to go around tapping through. If you've ever used Clear for iPhone, you'll notice a lot of similarities gesture wise.
Weathercube may not be as full featured at some of the other guys, but it's a gorgeous app and definitely a wildly different approach when it comes to viewing weather info. Weathercube is currently free in the App Store to celebrate being the app of the week so snag it while you can. Regular price is $0.99.
A friend recently told me about zulily, a shopping app with daily deals, and the first thing I did was search for an iPhone app. Not only is zulily a totally awesome and addicting shopping service with tons of adorable stuff for kids and moms, but their app is also very well made. If you're unfamiliar with zulily, it features daily deals for moms, babies, and kids with boutique and designer brands that are up to 90% off. With the zulily app, you can set alarms to remind you when something you've been keeping your eye on becomes available so that you can grab it before it sells out. I love this service, and I love this app.
Your choice?
Now that we've chosen our favorites for the week, we want to hear yours! Did you pick up a killer app, accessory, or game this week? Let us know in the comments below!
Get more iMore in your inbox!
Our news, reviews, opinions, and easy to follow guides can turn any iPhone owner into an Apple aficionado
Former app and photography editor at iMore, Leanna has since moved on to other endeavors. Mother, wife, mathamagician, even though she no longer writes for iMore you can still follow her on Twitter @llofte.