iMovie for Mac gets dressed up for OS X Yosemite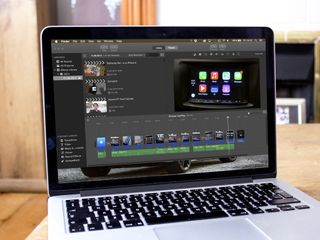 Now that OS X Yosemite is rolling out to everyone we're seeing app updates galore start to roll in. Apple's own iMovie is among the first batch and with version 10.0.6, which is rolling out as we speak, things have been given a full makeover in line with the visuals of Yosemite. So it looks pretty sharp.
Beyond the looks, which we love, Apple has also added some new features in there, some of which are again in line with new stuff from Yosemite. Here's the full changelog:
Updated look for OS X Yosemite
New file export options including Custom H.264, ProRes, and Audio Only
Share any video frame as an image
Email HD video with Mail Drop when signed in to iCloud
Select a portion of a clip in the timeline by dragging across the bottom of the clip
Adjustments Bar is always open for easy access to audio and video tools
Improves performance on older Mac computers
Addresses reliability issues with copying and pasting certain adjustments
Support for Indonesian, Malaysian, and Vietnamese
This update lets developers create app previews for the App Store, including:
Support for iPhone and iPad screen recording videos captured with QuickTime Player
11 animated titles designed to showcase apps in action
Share option to easily export for the App Store
The bottom few in particular look great for iOS developers. With iOS 8, Apple finally allowed video previews into App Store listings, so we're sure there's going to be a number of developers out there happy to have an easy way to get them done.
The update is pushing out right now through the Mac App Store and you'll find it at the link below.
Get the best of iMore in in your inbox, every day!
Haven't all OS updates been free for a while now?
I've been going through the house and our business machines updating them and even our 2011 MBAs, '10 & '11 iMacs and '12/'14 rMBPs. I believe my wife's Air is 2010 vintage and came with Snow Leopard! Seems like the only time I paid the fifteen dollar charge was SL-->Lion (10.7) & only for that specific rig. Each of the others has been gratis.
Both ios and OS X updates for the past four years ....or are there situations one would still have the 'pay'?

Still has a price attached in the store so it's a duty of care to tag that with the download link. Agreed for most people it's been free for so long now but you can never be too careful :)

iPhoto has a compatibility update too
Thank you for signing up to iMore. You will receive a verification email shortly.
There was a problem. Please refresh the page and try again.