Improve your mobile browsing experience with 1Blocker X for iOS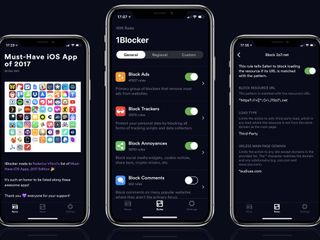 Sick of seeing a ton of ads while browsing your favorite websites? If you don't want to use Reader View every single time, you may want to consider adding some sort of content blocker to your iOS device. Thankfully, 1Blocker, one of the most popular content blockers out there, will soon launch 1Blocker X, the newest version of its mobile app.
For those of you unfamiliar with content blockers, they work within your internet browser (in this case, Safari) to hide all of those things like ads and other super annoying elements you may not want to see while you're keeping up on current events, shopping, or whatever else you do on the web. However, 1Blocker X goes above and beyond, allowing you to set full-custom rules for blocking trackers, cookies, website comments, widgets, and more in addition to ads. Plus, it's not just an update to the same ol' app — it's been rewritten from scratch in order to strike "a perfect balance between simplicity and power."
Here are some cool new features 1Blocker X offers, according to the company:
Over 120,000 rules: 1Blocker X boasts a greatly improved rule set, and will block ads (47.8K rules), trackers (13.3K rules), annoyances (39.7K rules), comments (262 rules), adult sites (3.7K rules), and German and Russian ads (16.3K rules).
User-friendly editor: There's an integrated, easy-to-use rule editor in 1Blocker X, allowing you to create your custom rules for a completely hands-on experience.
Touch ID and Face ID protection: Requested often by parents, 1Blocker X now offers Face/Touch ID capabilities, which protect parents' blocking preferences from being changed by their kids.
New interface: The new user interface combined what was already great in the old app with a plethora of improvements, making it more intuitive than ever to use.
Battery- and data-saving capabilities: Independent tests by Wirecutter, NY Times, and BrooksReview have confirmed that 1Blocker cuts data loaded by sites on average by over 50%.
Partial whitelist: 1Blocker X will now allows users to create "ignore-previous" rules for certain sites, so they can view ads and comments only when they want to.
More efficient blocking than any other ad blocker: While most other adblock apps block content by filtering elements of an already downloaded page, 1Blocker uses Safari content blocker technology (API) to tell Safari in advance what should be blocked. This vastly improves efficiency, doesn't slow down Safari, and, as mentioned above saves battery life.
If you'd like to try 1Blocker X for yourself, you can pre-order it now on iTunes now for $4.99 (which is 30% less than it'll cost once officially released). However, if you're a fan of the tried and true version of the 1Blocker app and don't want to upgrade just yet, don't worry — the company is keeping it up under the name 1Blocker Legacy, so you can use it until you decide you're ready to move on. 1Blocker Legacy will still receive updates to rule sets.
Thoughts?
Are you a 1Blocker fan? Share how ad blockers have made your browsing experience less stressful in the comments!
Get more iMore in your inbox!
Our news, reviews, opinions, and easy to follow guides can turn any iPhone owner into an Apple aficionado
Tory Foulk is a writer at Mobile Nations. She lives at the intersection of technology and sorcery and enjoys radio, bees, and houses in small towns. When she isn't working on articles, you'll likely find her listening to her favorite podcasts in a carefully curated blanket nest. You can follow her on Twitter at @tsfoulk.