Instagram makes posting from other apps easy with new share extension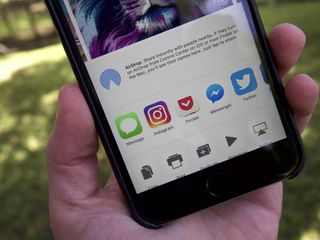 Instagram users rejoice: you can now share photos and videos directly to the service from any other app that supports share extensions. The ability to share to Instagram from any other app comes courtesy of the app's new share extension, which has been highly requested feature since share extension support was added for third-party apps in iOS 8.
In order to get started, you'll first have to add Instagram to your share sheet. To do so, open a photo app of your choice and tap the Share button. From there, swipe to the far right on the row of app icons and tap the "More" button. Then, simply scroll down to Instagram and toggle the switch to the "On" position. From now on, Instagram will show as an available option for sharing photos from other apps.
Are you excited to finally be able to share directly to Instagram from other apps? Let us know in the comments what other features you'd like to see from Instagram!
Get the best of iMore in your inbox, every day!
It's kind of ridiculous that it took this long for them to add this feature. Now if only they would give me back my chronological feed.

Kiss that goodbye. Facebook owns them and this is just the first if many changes to make Instagram "better" by Facebook standards. Sent from the iMore App

I think iOS is more to blame here. iOS should have had an equivalent to Android's sharing framework (the 'Intent' system) years and years ago IMO. No OS is perfect though. -- Posted via Titanium Galaxy S7 edge --

Huh? I don't see how iOS is to blame here. Apple sends out developer builds to... developers, so they can develop for the OS's new features in advance before it comes out to the public. Instagram just got lazy

It always takes a while for developers to support new features. e.g.: Are all the developers that didn't support 3d touch from day 1 'lazy'? Different devs have different priorities -- it's too easy to just chalk it up to 'laziness' while knowing nothing about what's going on inside these companies. But while force touch was something new and innovative -- a full sharing framework was something iOS should have had long ago (IMO). Had they had it, then Instagram would have had this feature long ago as well. -- Posted via Titanium Galaxy S7 edge --

Convenient timing now that it has been revealed that SnapChat is passing them. Looks like the beginning of a scramble to stay relevant

This came at a funny time. I took a picture earlier today and then decided I wanted to post it to Instagram. I couldn't believe that Instagram wasn't a share option. A photo sharing app with no share extension? Despite it taking so long for something so simple, I'm glad it's finally here. Lol.

Is a half assed implementation at best. Once you select the picture to share it it does not let you apply any filters or tweak the picture in any way. I guess I'll keep sharing through the workflow workaround instead. What a joke. Sent from the iMore App

Flikr is a much better app for photography in my opinion. Sent from the iMore App

Yes. What a joke. Faster access to post the pic but not able to edit it, in Instagram, before sucks. Much better to. "Open in.." and then choose Copy to Instagram (or other app) Sent from the iMore App

Honestly it should never have taken this long for Instagram to be added to sharing options. Heck Android has had this for ages. Sent from the iMore App

This brings up my issue with the share sheets to begin with. I get customization but can their just be on central location (in Settings) to edit all share sheets?? I know if the app doesn't support the share feature it won't show but it'd be a lot more user friendly if you could just select which apps you want to use in share sheets across your device and then grey/remove the ones that don't work in applicable apps. Please let this be a thing in iOS 10. And thanks Instagram for catching on I guess? (Finally?) Sent from the iMore App

I tot i had this in iOS 8? It's not even good now, can't even edit the photos. That was the reason i used vscocam to share from. Anyway instagram is getting less intuitive, I'm still posting from my iPhone sometime otherwise i use my g4 to post. Lg does have a better camera and better snapseed integration. Posted via the iMore App for Android