Instagram updated to support iPhone 6 and 6 Plus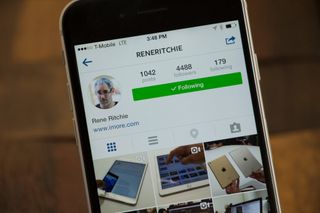 If you've been wondering when Instagram would get around to updating their insanely popular app for the iPhone 6 and iPhone 6 Plus, wonder no more.
A new update is currently available on the iTunes App Store and the change log that goes along with it is short and sweet, simply stating that it adds support for the iPhone 6 and iPhone 6 Plus. We're not sure what took so long, but hey it's available now so go grab the update!
Get the best of iMore in in your inbox, every day!
Editor-at-Large at Mobile Nations, gadget junkie, energy drinker, ranter.
Man, one of these days they'll enable two step authorization.

Chris, any harm done in yr opinion bypassing this update since I have an iPhone 5s? Any HD space I can leave free the better, so thinking of not opting for this since it did read as being pegged to the 6's.

Pretty lazy update. Still doesn't support the new iPhone 6/6 Plus keyboard.

These headlines are just funny. If an app needs to be updated to support a different screen size and resolution, the OS is doing it wrong.

Not really. Makes sense. Not everything is just simple scaling. Posted via the 5s I'm not ashamed of using in my home.

Perhaps you have never heard of this thing called Android, which has solved this problem since it was born??

Android is actually extremely fragmented and a lot of dev's have hard times making apps because they have to make it for several different screen sizes. (Source: was Android user) Sent from the iMore App

Honestly I don't like it! You can see more but text its on the small side. It should be balanced. Sent from the iMore App

I'm on a 5s and with this update it crashes immediately when I open it every time I try! Sent from the iMore App

They need a icon update badly. It's long over due. Sent from the iMore App

I love it. And it's about damn time. Sent from the iMore App

Ok when is the imore app getting optimized? Sent from the iMore App

Speaking of that... iMore staff, how about merging the iMore app together with the iMore forums app like it is on Android? It's way more convenient that way! :) Posted via the iMore App for Android

+1 maybe by the time the 6s is out imore will update their app Sent from the iMore App

I read the pics are STILL blurry and un-scaled for the screens... Sent from the iMore App

For some reason I can't get audio when watching a video on my feed, unless I mute my iPhone 6 and un-mute it. I've deleted the app and reinstalled but no fix. I have to do this for every video. Sent from the iMore App

I am having the exact same problem!! Thanks to your comment I now know how to get sound at least!

I have the same problem!! Do you have a solution yet?

What's the best Instagram viewer for iPad?

Thanks for the update Sent from the iMore App
Thank you for signing up to iMore. You will receive a verification email shortly.
There was a problem. Please refresh the page and try again.