Intel's grand Skylake unveiling promises faster, more efficient Macs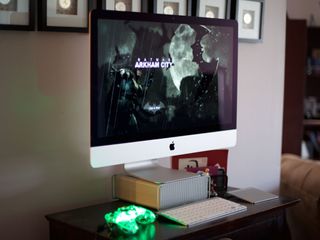 (Image credit: iMore)
Intel used this week IFA event in Berlin to unveiled its full line of Skylake processors. They're the sixth generation of Intel's Core processor technology, which powers the Mac and countless PC compatible computers. Hallmarks of the new Skylake processors include improved battery efficiency for laptops and performance improvements to computing and graphics processing. Now Mac users are waiting for the other shoe to drop: When will Skylake processors appear in the Mac?
Evolution of Core technology
First, a look at Skylake: Intel made famous a "tick-tock" approach towards semiconductor manufacturing and design, alternating architectural improvements with die shrinks. The new processors are the second generation to sport a 14 nanometer (nm) transistor size - the "tock" to the "tick" introduced with the release of Intel's fifth-generation "Broadwell" processors.
Broadwell was famously delayed, as Intel hit unanticipated manufacturing delays with the 14 nm process. As a result, Macs sporting Broadwell processors didn't hit their stride until this year, when Apple refreshed the MacBook Air and 13-inch Retina MacBook Pro with the new chips. A Broadwell-based Intel Core M processor graces the 12-inch MacBook, too.
Other Macs, including the 15-inch Retina MacBook Pro, also refreshed this year, as well as the iMac and Mac mini, continue to use "Haswell" (fourth-generation Intel Core) processors. The Mac Pro uses a workstation-level Intel "Xeon" chip of even older design, built to more exacting tolerances than the processors found in Apple's other Macs.
Intel's marketing material for the Skylake processor touts remarkable performance claims. "30x better graphics, 3x battery life" litter the page. But that's comparing Skylake's performance to the processors found in five-year-old PCs.
Intel is hoping to strike a chord with PC users who are interested in upgrading to Windows 10 and are looking for better-performing systems. Intel seems anxious to strike the beleaguered Broadwell product release from the world's collective memory altogether. But that same five-year-old apples to new apples comparison scales to the Mac: We can't all buy a new Mac model every time Apple announces one. Many of us are working with systems that we bought during the first Obama administration (or earlier). Skylake's release does promise some good performance and efficiency boosts there.
Refresh cycles
If you pay heed to Apple's refresh cycle and are familiar with current-generation Mac performance, expect more modest gains. On average, Intel says that Skylake will sport 10 percent overall better CPU performance, a robust 30 percent improvement in graphics performance, better memory performance and an additional hour of battery life compared to their Broadwell forebears. Broadwell represents the current state of the art on the Mac.
Expect to see USB 3.1 on more Macs, thanks to Skylake, along with Thunderbolt 3 where Intel's Alpine Ridge controller is present. Thunderbolt 3 doubles Thunderbolt 2's bandwidth to 40 GB per second. That's enough to drive a 5K display externally at 60 Hz, giving rise to hope that Apple will finally refresh its Thunderbolt display with something to match the detail present in the 5K iMac.
I've already mentioned Intel's introduction of Skylake-based Xeon chips for mobile. The idea of a Mac Pro-level MacBook Pro is certainly appealing to a certain segment of Mac users who depend on serious number-crunching abilities for graphics rendering and compute power. Lenovo was first out of the gate with a Xeon laptop announcement.
A gradual rollout
Intel isn't releasing Skylake processors all at once. They'll be released gradually over the coming months. In total, Intel now has plans for more than four dozen different Skylake processor variants. Only a fraction of these will be suitable for Apple's use.
Intel's staggered Skylake rollout started with desktop chips in early August. The first laptops with Skylake will start to appear in the next month or so, and Intel expects that consumers will see plenty of Skylake-equipped computers on store shelves in time for the holiday buying season.
As a result, I don't anticipate a sudden glut of Skylake-equipped Macs hitting the shelves all at once.
The iMac seems ripe for the Skylake treatment, as it hasn't been significantly updated in nearly a year. Apple did come out with a lower-priced 5K iMac with detuned specs earlier this year, but that's it. Even though the iMac is desktop model, its thin size means Apple relies on lower-powered, cooler mobile components, so the desktop Skylake chips we've already seen are unlikely candidates.
Most of Apple's laptop models are still early or mid-way through their release cycle, which makes them unlikely candidates for new processors in the short term. One thing I'm particularly excited about, though: Intel is also touting significant improvements to the Core M architecture this time around.
Boon for MacBook
Intel claims the Skylake Core M variants have 40 percent better graphics performance and more effective performance scaling under load. If you're interested in the extraordinarily portability and light weight of the MacBook but have been unimpressed with its forgettable performance, the promise of a Skylake-equipped MacBook should get your mouth watering. I wouldn't hold my breath on that one before 2016, though.
I'd be happy to be wrong on all this, of course: Only Apple knows for sure what its Mac release schedule is going to be.
One thing for sure: If you're working with a four or five year old Mac, the coming months are going to be a great opportunity for you to refresh your hardware with something new that's going to be faster, more efficient and better than what you can get today.
Source: Intel
Master your iPhone in minutes
iMore offers spot-on advice and guidance from our team of experts, with decades of Apple device experience to lean on. Learn more with iMore!