How HEIF and HEVC will keep you from running out of space on your iPhone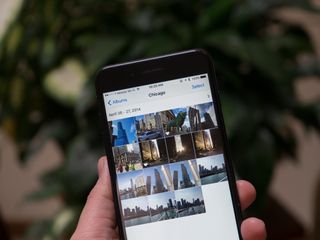 (Image credit: Joseph Keller/iMore)
Camera and Photos: Not a day goes by when you don't use them. And no matter how often Apple iterates them, there's always a little more that can be done.
In iOS 11, plenty of changes are coming. You'll have more control over Live Photos, see better low-light results, and play around with new filters—all while using less disk space thanks to a new compression format.
What's this about a new file format?
High Efficiency Image Format, or HEIF, is a standard created by the MPEG group as basically a still-image container format that uses the High Efficiency Video Codec (HEVC, or H.265), which Apple is also adopting in iOS 11.
The main benefit of HEIF and HEVC is compression. Apple says the standard can nearly double the amount of compression that's possible while maintaining the same image quality as JPEG. That means smaller file sizes, so you can store more images, share more images, and ultimately shoot more images.
HEIF also allows groups of images to be stored in one file—think bursts, or images that were captured simultaneously with different exposures or focal points. Sounds like stuff Apple is interested in, doesn't it?
Just so we don't have another GIF problem...how do you pronounce HEIF?
Heef. But either a hard or soft H is acceptable.
So the devices store images in HEIF format. But I can still send JPEGs, right?
Yes. As soon as you share an image from iOS, it arrives as a JPEG, whether you're sending it by iMessage, email, putting it in a cloud drive, or sharing it to social media. So you shouldn't have to worry about compatibility when you're sharing images and videos from the Photos app.
Developers get a choice. They can choose to always transcode exported images from HEIF to JPEG, and videos from HEVC to H.264, or they can keep the native formats, or decide based on what device will receive the file.
So videos I shoot are captured with HEVC?
Yes, iOS 11 will use the HEVC codec to compress your video, but they'll still be MOV and MPEG-4 files when you export them. Again, this means your videos will take up less space than they would in H.264 while keeping the same
What's new for developers?
Developers also get a new Depth Map API, so they can do more with the data captured by the iPhone 7 Plus's two-camera setup. Other new camera-related APIs include AVCapturePhotoOutput, which lets apps capture Live Photos and wide gamut color, and output RAW-format DNG files and HEVC-format HEIF files aside from JPEGs.
What about the Photos app, any new tricks for Live Photos?
iOS 11 lets you edit your Live Photos, which means you can choose which still should be shown, instead of the one that's picked by the app.
To get started, you'd just find a Live Photo (remember, they have their own smart album), then tap the edit button. The Live Photo gets splayed out frame by frame on a timeline, and then you can drag the ends to trim it, and drag the white box along the timeline to highlight the frame you want to use as the still photo.
Do Live Photos still look the same when you play them back?
Not necessarily—iOS 11 gives you three new effects to add to your Live Photos: Loops, Bounce, and Long Exposure.
Think of Loops like a GIF, just a continuous loop that repeats forever. Except, unlike with Vine, you don't have to plan ahead and agonize over getting the loop point just right—iOS finds it for you, and you can't adjust it even if you want.
Bounce is similar in that it goes forever, but instead of looping, the action proceeds forwards and then goes back—it's iOS's version of Boomerang. Again, iOS creates the effect automatically and you can't adjust it, but it's so much more convenient than Boomerang, because it works on any Live Photo already in your library.
Long Exposure mimics the effect of, well, taking a very long exposure. Think of those nighttime photos of highways, where the buildings and road are in focus, but the cars are blurred into streams of white and red light. Objects that stay still will stay in focus, but anything that's moving in your Live Photo will be smoothed out. The effect is a still photo with parts of it moving. Think a shot of the waves at sunset, or a waterfall in a forest, or cars on a road. Trying it with portraits of people or animals results in a blurry mess (which can be fun too, if that's what you're after).
But the best part of all these effects? You don't have to plan ahead. To try one out, just find a Live Photo in the Photos app, and swipe down. You'll see more info about it (where it was taken, which people are in it), as well as controls to slap on a filter or try one of these effects. You can try them all out one by one, pick which you like best, share it, and then change your mind later and pick a new effect.
Do the Loop and Bounce Live Photos share as GIFs?
It appears they are sent as MOV files.
You mentioned filters—are there new filters?
The set of filters in iOS 11's Photos app are different, and aimed more closely at changing the look of your photo without messing up the skin tones, if possible.
In iOS 10, for example, the color filters are Fade, Chrome, Process, Transfer, and Instant. In iOS 11, you get three variations on two filters, for six color filters total: Vivid, Vivid Warm, Vivid Cool, Dramatic, Dramatic Warm, and Dramatic Cool.
iOS 10 and iOS 11 both have three black-and-white filters, including Mono and Noir, but Tonal in iOS 10 is now Silvertone in iOS 11, and looks pretty different.
What about the iOS 11 changes on the iPad?
When you think about it, some of the iPad-only features in iOS 11 could be great for photographers who aren't heavy users of Apple's own Photos app and iCloud Photo Library.
For example, if you keep your images backed up to Google Photos, you could drag and drop photos from that app onto the Pixelmator icon you keep in iOS 11's Dock.
Or you could link your Dropbox account to the new Files app, use multi-touch to select multiple photos, and drag them into an app running on the other side of the screen. Since the Files app supports multiple cloud services, you'll be able to use the images you have stashed in each of them as easily as if they were on your local Camera Roll.
○ Everything about WWDC 2020
○ WWDC 2020 remote lineup
○ Download the Apple Developer app (opens in new tab)
○ iOS/iPadOS 14
○ macOS 10.16
○ watchOS 7
○ tvOS 14
○ Discussion forums

Get the best of iMore in your inbox, every day!
Susie is a tech-obsessed writer and mom, and former Executive Editor of Macworld and Mac|Life. Follow her on Twitter @sfsooz.
GIF's in your camera roll also play now when you click to view one.

What about your existing photos? Are those converted over to HEIF automatically? If not, is there an automated way to do this?

I'm wondering that same thing. Right now my library in iCloud is 70gb and I'd love to compress that down too

Well ... unless third-party apps are updated at the same time I forsee a problem. Editing images in those apps means editing a copy of the original. Argh! It's like we're back to iOS 9.

That's a very good point, although I still look forward to the increased efficiency.

And the ability to remove photos from your device whilst keeping them in the cloud - such as Google Photos can do - is still not a feature?

That already exists, in a way. Not quite what you're after, perhaps, but just turn on Optimize iPhone Storage. When space runs low, it will only keep smaller-sized, lower resolution copies on your phone (perfect for your device), downloading them to your phone fully only when you open them for editing or zooming. The originals are kept in iCloud.
Using albums and/or tags are good ways to keep your library organised.
Otherwise, there are alternatives such as Google Photos or DropBox.

Optimize Photos doesn't give you control over what's on your device and what's in the cloud, so it's not a feature that exists, LucienDol. Optimized Photos takes things you haven't viewed in a while and offloads them, and while that sounds nice that doesn't exactly line up with what many people want. Just because you don't view something often doesn't mean that you want it offloaded, or downgraded on the device to a really low resolution (i.e. Preview Quality). I do think they need to implement this feature, because it's very useful and it's a big reason why many people still use third party Photo Services like Google Photos, or Cloud Services like OneDrive which back up your photos. It allows them to delete everything they don't want or need on the device from Photos.app while keeping it backed up on another service. At the end of the day, this decreases the number of people who have a need to pay Apple for iCloud Storage, while diverting those funds to companies like Google and Microsoft (or Dropbox), where the bulk of their cloud storage use is actually concentrated. I also think Apple should focus on the social component of iCloud Photos. It's an underrated feature that they barely ever talk about anymore, leading to many iOS users being almost completely unaware that it even exists (iCloud Photo Sharing). More in line with the article's content... I barely care about this, because they aren't trying to improve image quality. By using this new format they had an opportunity to deliver images that were smaller than JPEGs with much less compression, but it seems like they are prioritizing size over quality so they can sell the space savings. The iPhone 8 really needs a major camera upgrade. My 7+ doesn't take very share images, and I've seen competing phones do better in the same situations (across all scenarios except "Portrait Mode" stuff, where the iPhone does best them). I need better quality photos, not smaller image sizes. We're running into a digital "thinner is better" type situation, here... I'm not convinced that you won't lose quality when sharing images from this format to JPEG (to conversion). Same for videos. It seems like they want everything to look great on iDevices, Apple TV, and macOS devices, but aren't really prioritizing the fact that most of the world doesn't use these - and many of their customers actually own non-Apple devices. I do most of my image editing on Windows. It will **** me off if every JPEG I pull off the iPhone is of a lower quality than on my Mac, and it's hard enough to get the RAW files out of Photos for Mac (Impossible on iPhone), so I'm really learning towards just ditching this mobile platform for something a lot more convenient.