iOS 12 and macOS Mojave's initial releases won't include Group FaceTime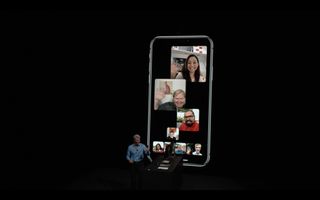 (Image credit: Apple)
Today, Apple released the seventh developer betas of macOS Mojave, iOS 12, watchOS 5, and tvOS 12. However, the releases came with some possibly disappointing news for those of us who were looking to FaceTime with multiple people at once as soon as the new operating systems drop in the near future.
According to the betas' notes to developers shared by Guilherme Rambo, Group FaceTime won't be available upon iOS 12 and macOS Mojave's initial release. Apparently, the highly promoted feature "has been removed from the initial release of iOS 12 and will ship in a future software update later this fall." Group FaceTime has been present in all the prior versions of the betas up to this point, and Apple has yet to give any further clarification regarding the deferment.
Once the feature is actually released to the public, users will be able to have face-to-face convos with up to 32 people at once by entering multiple contacts in the recipient field before placing a call. Once on the call, all participants will show up in a group of tiles that can be individually selected and made full-screen. What's more, if you're using the feature on iOS, you'll also be able to utilize FaceTime's face-tracking Animoji, filters, and more while chatting with your group.
Thoughts?
Are you disappointed that Group FaceTime won't be included in iOS 12 and macOS Mojave from day one, or are you willing to wait if it means a better product? Are you unbothered either way? Are you grateful for the extra time to make 32 friends you can chat with? Share your thoughts with us in the comments below!
Get the best of iMore in in your inbox, every day!
Tory Foulk is a writer at Mobile Nations. She lives at the intersection of technology and sorcery and enjoys radio, bees, and houses in small towns. When she isn't working on articles, you'll likely find her listening to her favorite podcasts in a carefully curated blanket nest. You can follow her on Twitter at @tsfoulk.
Since Microsoft took over Skype, it has gone from meh to worst going into a death spiral. For those not using google hangouts, FaceTime should become a skype and hangouts alternative by allowing video and voice communications from all sources (OSs and services, obviously no video from landlines). Meaning we should be able to FaceTime with people outside the Apple environment first. Then functions like multiple people at once will be more useful.

Skype went to Electron https://electronjs.org/apps/skype so it got crippled with that. I'd like to see FaceTime expand, but knowing Apple they'll just keep it to Apple devices, which is a big shame

I use Skype heavily. Works well on Windows and macOS. No complaints. This is not usable due to the hardware requirements. I video chat with people in Europe a lot, and they aren't as quick to take out a loan just to get a specific brand of phone or computer.

Skype "works", there's no doubt in that, the same way pretty much any major video chat service works. But it eats up a lot of RAM and isn't at all optimised, however this is due to the fact that it's now running on Electron. Electron also means it has a non-standard UI since the application is built basically like a website with CSS and HTML. Microsoft made a lot of decisions with Skype that went against its users, and sure it still works, it's just not that great compared to other video chat software. I rant a lot about Electron, but I'm a developer so it's my area to criticise, and if you run Skype on most computers today you probably won't run into many issues, but way too many applications use Electron now, and they generally use about 200-300mb of RAM each. That means it would take just 3 applications to use nearly 1GB of ram, and that's crazy. Microsoft simply chose to use it because it's a lazy way to quickly develop applications for multiple OSes, Electron is essentially the new Adobe Flash.
Thank you for signing up to iMore. You will receive a verification email shortly.
There was a problem. Please refresh the page and try again.