Apple already approving apps with iOS 4.3 specific features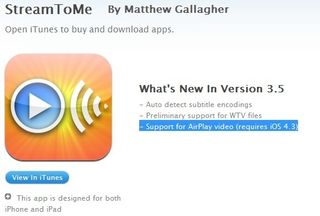 Apple has approved an update to an app that required iOS 4.3 for all the features to work correctly. The app that has received the approved update is called StreamToMe. StreamToMe is an app that allows you to stream music, photos and videos from your Mac or PC over WiFi and 3G. Nothing special there except that this version has the option to use AirPlay which requires iOS 4.3 to function.
Apple seems to be in a hurry to get iOS 4.3 out of the door. The normal two week updates have been reduced to every week for this beta so expect to see iOS 4.3 sooner rather than later. As with all beta's however major bugs can be found so this could all fizzle out and delay the whole process; it does however look like iOS 4.3 could be just around the corner.
[iTunes Link (opens in new tab)]
Get more iMore in your inbox!
Our news, reviews, opinions, and easy to follow guides can turn any iPhone owner into an Apple aficionado
UK editor at iMore, mobile technology lover and air conditioning design engineer.
They probably want it out soon for the iPad announcement.

Will there be a keynote for the new ipad at Macworld this weekend.

Just a note... Streamtome is a GREAT app too! Transcodes and streams most (all that I've tried... Mov, Mp4. Flv and Avi) movies to your iphone / iPad. If it'll transcode avi files to stream on appletv with the latest update that would be sweet!

Agreed, Stream2Me fills a nice gap since Simplify got purchased and killed by Google. I'm surprised that Apple hasn't jumped into this space, but this is fine for now.

Can it stream mkv files, too? Thanks

StreamToMe as well as Air Video use a PC/Mac app, which transcodes the media file (using ffmpeg).
If your PC/Mac is able to transcode those files on the fly, yes you'll be able to view MKVs.
I am at least.

I'm just happy the orientation lock switch is back with 4.3 on the iPad.
What was apple even thinking making it a dedicated mute switch!? FAIL.

Simply awesome, I don't know why but I am anxiously waiting for iOS 4.3.

Can someone explain to me differences between these apps (there are so many of them now)...
Streamtome
Zumocast
Logmein Ignition
Mocha VNC
Thanks.

StreamToMe (and I think ZumoCast) are ment to consume Media which is located on your Computer to be viewed on your iOS device.
LogMeIn Ignition and Mocha VNC are apps, which let you manipulate your Desktop using your iOS device. The update speed is normally not high enough to acutally view movies (and there's normally no sound either)

@ CHRIS iDOS PULLED FROM APP STORE

"As with all beta's however major bugs can be found..."
And as with all plurals, no apostrophes should ever be used (e.g. "betas"). :-)

Just killing some free time on Stumbleupon and I found your article . Not normally what I like to learn about, but it was certainly worth my time. Thanks.