iOS 4.3.2 should fix Verizon iPad 2 connectivity issues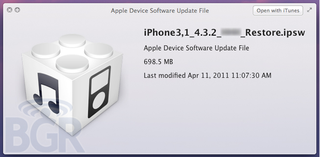 Boy Genius Report is claiming that the upcoming iOS 4.3.2 update should fix some of the connection woes Verizon iPad 2 users have been experiencing. The Verizon iPad 2 models seemed to be the only models affected. A dependable source has told BGR that the update should be available within the next week or so. It should also address a few WebKit vulnerabilities as well as a fix for some FaceTime issues certain users were having.
Hopefully this update will fix some extremely frustrating problems. Any of you Verizon iPad owners having 3G connectivity issues? How bad are they?
Get the best of iMore in in your inbox, every day!
iMore senior editor from 2011 to 2015.
What about the verizon iPhone ?? I have read no new info on this subject and it seems know one cares. I just want iOS 4.3 so i can stream my hd videos to apple tv.

No 4.3.whatever love for us Verizon users. what a gyp. Does Apple hate Verizon users? This os fragmentation is ridiculous, I'll never buy another iPhone... :)

For the folks in Rio Linda, that's sarcasm :)

... No! Just need to change the carrier... 

Ya.. about that iPad 2 jailbreak... that was supposed to be imminent

Never was immenent... False report all he said was he will start working on it.

How about a fix for the poor battery life of 4.3.1? It's the worst I've experienced thusfar.

Yeah, like a software update was supposed to fix the iPhone 4 antenna problem, only it didn't.

My unlock slider is still not 100% after 4.3.1 so I'm hoping for some more bugs to get squashed.

Boy am I ever. I hate using FaceTime on my iPad 2 cuz it glitches too much! It would freeze on an image and let me call... Or not show my icons on the bottom so I can't switch cameras! It's being dumb basically! I've reverted to using my iPhone 4 for FaceTime for the better experience

The problem is that it will also "fix" my jailbreak.

Apple is pissing me off already... Im waiting and waiting for my verizon iphone update , havent heard nothing... im about to be done with apple after 5 plus years of buying macs, iphones , and ipads anually

Oh no, what will Apple do!?

welcome our website _(( vipsho pper.us )) ( Please enter
the website
Please believe that we will be very good
)
Welcome to my web site please patiently watch will have your favorite items
__(( vipsho pper.us ))

Forget Verizon on iPad 2, what about us iPad 1 owners who have issues with 3G access on 4.3 onwards!
Thank you for signing up to iMore. You will receive a verification email shortly.
There was a problem. Please refresh the page and try again.