iOS 4.3.3 untethered jailbreak available now!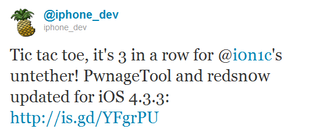 The Dev-Team has announced the release of the iOS 4.3.3 untethered jailbreak. Those of you holding off updating until this was released can now go ahead. The untethered jailbreak is still based on the exploit created by @i0nic for iOS 4.3.1. That is now three firmware releases in a row without Apple fixing the exploit; that is a first!
If you're new to Jailbreak, check out our Jailbreak starters guide, and if you need help, head on over to our Jailbreak Forums.
If you go-ahead and apply this jailbreak, let us know how it works out in the comments!
Get the best of iMore in in your inbox, every day!
UK editor at iMore, mobile technology lover and air conditioning design engineer.
Wow... that was quick!
...and there is me thinking 4.3.2 would most probably be myn last update for the foreseeable future.

Excellent work!!! I might just be getting a little bit spoiled by you guys right now!

love it!
even though the update is only to fix that 'location bug'

Does this fix the silent switch glitch

Anything for the 4.2.whatever crowd? (sfx:crickets)

The old Jailbreaks like greenpois0n don't still work for you?

I've not heard if anything works on 4.2.8 - which I went to #teampure for the location fix.

@Keith,
IH8sn0w tweeted something about jailbreak for 4.2.8 a few days ago and said there should be a jailbreak in a few days.

I like staying current with firmware and jailbreaks bug dang I have jailbroken like 3 time in the last 3 months. im happy were I am right. 5.1 lol

Hm. I think I will upgrade even though I said I wouldn't. Why go back on my word now? I want to test out how well that "xBackup" package works. ... Decisions, Decisions.

@keith,
Edit: IOS 4.2.8 jailbreak has been released!http://www.redmondpie.com/jailbreak-4.2.8-verizon-iphone-4-untethered-an...

All well and good... unless you have a Mac.

Mac users can find a PC and do the part up to creating the jailbreak ipsw file, then copy that to a thumb drive, or networked location and then pick up in the instructions with putting the phone in DFU mode, launching itunes and selecting the ipsw package from where it was saved after creating on the PC.

I'm just gonna stay on 4.3.2 until iOS 5 is released.

I recently JB/unlocked my old 3GS to give to my wife. I'm using OS 4.1, is it possible for my to upgrade her to 4.3.3? I don't want to mess up the unlock (I had to change the baseband to 6.15.00 to get the unlock to work).
If I am able to update what's the process? Will I have to reinstall all her apps and content? Is it worth updating if I need to reinstall everything?

Wonderful! Thank you Dev-team! i hope Dev team will find the way to jailbreak ipad 2 pretty soon

http://iphonefre.com/2011/07/untethered-jailbreak-iphone-4-3-3-via-jailb...
Untethered Jailbreak iPhone 4.3.3 using JailbreakMe 3.0

http://iphonefre.com/2011/07/iphone-5-3d-pictures-are-leaked/

iphone 5 3d pictures are leakedhttp://iphonefre.com/2011/07/iphone-5-3d-pictures-are-leaked/
Thank you for signing up to iMore. You will receive a verification email shortly.
There was a problem. Please refresh the page and try again.