iOS 5 Features: Nitro Javascript engine comes to UIWebView, WebClips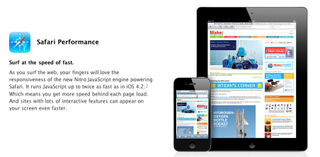 According to a poster Hacker News, the Nitro JavaScript engine brought to iOS 4.3's Safari browser, is now available to embedded UIWebViews and home screen WebClips in iOS 5. Apple originally claimed the Nitro engine, ported from desktop Safari, would make iOS Safari 2x faster, but due to restrictions on code interpretation (Nitro uses JIT, or Just-in-Time compilation), it was only available in the Safari sandbox. This effectively made web pages embed in apps and saved to the home screen feel twice as slow. No longer, according to this thread:
In other words, embed webpages and home screen web apps just became first class citizens, and should have the speed to prove it.
[Hacker News via CNET]
Get the best of iMore in in your inbox, every day!
Not in UIWebView according to the same post only in home screen webapps.

Hopefully comes to UIWebView, I want to use a real tabbed browser on the iphone. (Damn you apple for making real tabs for iPad only in ios 5)

i wonder if jailbroken, you can edit the plist to enable tabs. Kind of like how people would enable wallpapers and multitasking to the 3G
Thank you for signing up to iMore. You will receive a verification email shortly.
There was a problem. Please refresh the page and try again.