iOS 5.1 beta 3 reveals Siri dictation coming to iPad?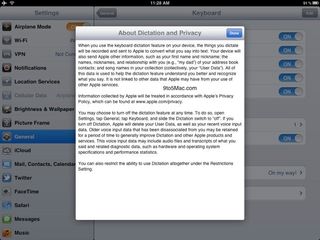 9to5 Mac has uncovered what could be Apple's plan to bring Siri dictation to the iPad once iOS 5.1 is released.
They also learned that, although present in the iOS 5.1 beta 3 code, Siri dictation isn't actually functional on the iPad running the latest beta firmware. This doesn't deter the possibility of Siri dictation becoming a launch feature for the iPad once it hits the public, however, and would help Apple take the first small step in expanding Siri to other iOS devices.
Indeed, this could be Apple's presumtive intention on bringing full Siri functionality to the iPad, and possibly the iPod touch further down the road.
Source: 9to5Mac
Andrew Wray is a Salt Lake City, Utah based writer who focuses on news, how-tos, and jailbreak. Andrew also enjoys running, spending time with his daughter, and jamming out on his guitar. He works in a management position for Unisys Technical Services, a subsidiary of Unisys Corporation.
iPad 3 only exclusive I am sure

When is this coming to the iPhone 4? Honestly, this is a standard feature on ALL Android phones since 2.2(froyo). Adding voice dictation (siri0us) was the main reason I jailbroke. Having that feature recently removed(servers permanently down) has forced me to return to Android.
It really is unforgivable that we pay a premium for these phones & they are lacking features that are standard on ALL Android phones- free navigation & voice dictation built in.

Its unforgivable? Entitled much?
What is included or not included with Android has nothing to do with iPhone, and it's your choice to buy or not.

Entitled? YES. Yes I feel entitled to a function of the phone that assists in sending messages while driving. yes, for wanting a feature that SHOULD be included on ALL phones, just not the newest. Apple charges mre than almost every maker, & for what? It is a maketing gaff & everyone knows it. I shouldn't have to fork out 600 bucks just to have a feature that is included on EVERY smartphone except iPhones.

You need to calm down, bro. Like NetMage said, if you don't want it, don't buy it. If Apple had released Siri to ALL capable devices at the same time, the Apple servers would be jammed, and you would be the first to bitch about the lack of server strength. I spoke with a guy I work with not ten minutes ago who is using Galaxy S II, who stated that he wished his voice integration was as smooth and intricate at Siri. My point is this... you've had voice integration since Froyo (2.2), but it is still not an excellent service. Siri is an excellent service, because Apple took the time to perfect its integration with the iPhone. And, in my opinion, the only reason Siri has not been released to all capable devices is for the before-mentioned reason... it would jam the servers. Be patient, and if you don't want to pay for quality, buy an Android phone.

from what i've heard, siri is not on older apple hardware because of a noise canceling chip that is only on the 4s, and presumably, the new ipad. Try using siri through a bluetooth headset where noise canceling is not used. most inquiries end up as garbage unless you're in a quiet room. And yeah, they need to calm down. Technology advances for a reason, who wants apple to support a device for many years down the road by keeping software compatible with old tech. It would be windows XP all over again. and we'd be reading about how bloated our phones are getting because companies feel the need to support everything instead of optimizing for current hardware. You can't assume software will work on whatever hardware just happens to sit under it.

Did Dragon Dictation not work for you? It's been around for a while.
That being said, I'm hoping Siri does a better job with it.

Dragon is not integrated into the keyboard. You have to open the app, record, copy or send it to another app. There is no reason other than hubris.

I would suggest it is more likely an accidental link left without a device type detection on compilation. I say this as the same link is in the 5.1 beta 3 for the iPhone 4 as well...

I really hope it's not just for the iPad 3.

This would actually be more useful for the iPhone / Touch in my opinion. Instead of trying to use a tiny keyboard for input if you have to create a document on the go, dictation would be very handy. For the iPad, you have a more usable keyboard handy. But I'm sure it will (hopefully) be spread across all of the iOS hardware platforms.

According to the info, it wants WAY too much of that User Data off your device. I don't care how secure Apple thinks its networks are, no way security conscious people will turn this on. There is absolutely no reason whatsoever in this day and time for your voice dictation info to have to leave a device to go online to get transcribed and then sent back just to dictate text. There is a ton of software for PCs that does this locally WITHOUT any outside interaction be it human or machine. There should be no reason for Apple to force you to work like this aside from them trying to farm out further data for their Siri BS logic. Even Siri needs to have local speech recognition on the device itself and only go out to the web to look up the info you request. Everything else should be done locally. Think of how much data that would save from having to be sent back and forth. This is a BS way of doing things in 2012!

I haven't noticed all of this data usage you are talking about.... Oh wait I'm on sprint I don't worry about things like that and on to the other point if I was all locally it would bog down the phone and then you would complain about how it slows your phone down and you can't use it

I'm starting to think apple does this to tease us.

Return of The King... Foreverwww.musicwillchangeforever.com

I hope Apple goes ahead and does it for you guys, but honestly SIRI is not that special... Sure you play with it a couple days but in the end you figure out it is easier just to do it manually....
Speech recognition:
As a native speaking American I can say its speech recognition is aweful... Good luck getting it to call friends with slightly unusual or ethnic names, "Call Mike" works but "Call Latifia" does not... But you can give Latifia a vulgar nickname and it will call her everytime... Furthermore it does not recognize "masters voice" so anyone can go "mail my wife, I want a divorce" or my favorite; "Siri, call me -Vulgarname-" "Do you want me to call you -Vulgarname- from now on?" "yes"...
Location based reminders:
It is also too stupid to remember places by GPS location for reminders, it needs to find an address... Plenty of places do not have addresses (or addresses SIRI can find and place correctly). When it is wrong you cannot even move the pin to the correct location... Examples:
1) you have a long driveway (1/16 mile+) SIRI will think you are not home if you are not at the mailbox
2) you travel to any country besides the 3 or 4 supported ones it will not remember your hotel
3) you work at a fairly large business or jobsite (if accounting is in building 3 shouldn't SIRI be able to remind you to hand in receipts when you leave building 1?)
4) you want a reminder when you get to the fountain in the park (maybe have SIRI propose to your girlfriend, IDK)
5) geocaching locations
6) a farmer wants a reminder to "check on XYZ cow when I get to barn 3" but SIRI needs an address
7) you need a reminder when you get to the subway station exit 4 or the bus stop
8) maybe you saw wildlife somewhere and you want SIRI to remind you to look again next time, also for hunters...
9) remind me when I get to the car...
This way of dealing with location is so frustrationing with SIRI saying "I cannot find an address for this location" and me saying "Just remember this coordinates" "I am sorry I don't understand what you mean by that"... Ahhh... Isn't it easier just to remember the GPS coordinates rather than converting addresses back and forth?
Summary:
Very beta software at best with the same voice of Dr Sabatso (artificial intelligence that came with some Sound Blaster cards) from 1992....

Thank you for creating this site so easy to find info. wonderful stuff. Saving this one for later.

I wanted to send you a little bit of note in order to thank you so much the moment again on the remarkable suggestions you have provided above. It is generous of you to offer without restraint exactly what most people would have offered for an e-book to help with making some cash for themselves, principally now that you could have tried it if you wanted. These smart ideas also served like the good way to be certain that other individuals have a similar dreams similar to my personal own to understand more and more concerning this condition. I think there are several more fun situations up front for folks who read through your blog post.

Wonderful beat ! I would like to apprentice whilst you amend your website, how can i subscribe for a blog website? The account helped me a appropriate deal. I had been tiny bit acquainted of this your broadcast provided shiny clear concept

I have to say that for the past couple of hours i have been hooked by the impressive posts on this site. Keep up the good work.
Thank you for signing up to iMore. You will receive a verification email shortly.
There was a problem. Please refresh the page and try again.